Motorcycles in Bedford Trucks

The SS Thistlegorm's cargo included Bedford trucks and BSA motorcycles that were stacked in the truck beds.

The Thistlegorm Stern Guns

The anti-aircraft and machine guns at the stern of the SS Thislegorm.

Crocodilefish

A crocodile fish is a common sight on the top deck of the SS Thistlegorm.

Tires in the Hold of the SS Thistlegorm

Stacked tires can be found in several holds with squirrelfish swimming around them.

Battery on the SS Thistlegorm

A battery, rubbed clean to reveal "Lucas, 1941, Birmingham England, Lead Acid."
0
The SS Thistlegorm
I'm a dive snob. I like to dive in small groups, preferably with no other boats in sight. But sometimes the crowd makes for a phenomenal dive. One of the most dived wrecks in the world is the SS Thistlegorm, a World War II British supply ship that sank in 1941.
The wreck is easily accessed from Sharm el-Sheikh, making it a common day boat trip and, due to its unique cargo, a stop on almost every Red Sea liveaboard itinerary. Our liveaboard pulled up to the dive site early in the morning (to beat the crowds) and already two other liveaboards and one smaller boat had beaten us to it. Luckily there is plenty of room underwater for lots of divers along the 400ft ship, and the dive is definitely worth sharing.
History
The SS Thistlegorm was launched in 1940 and had been making its way around the Atlantic: to the United States to bring back steel rails and aircraft parts, to Argentina for grain, and to the West Indies for sugar and rum. Its fourth and final voyage left Glasgow for Alexandria via South Africa.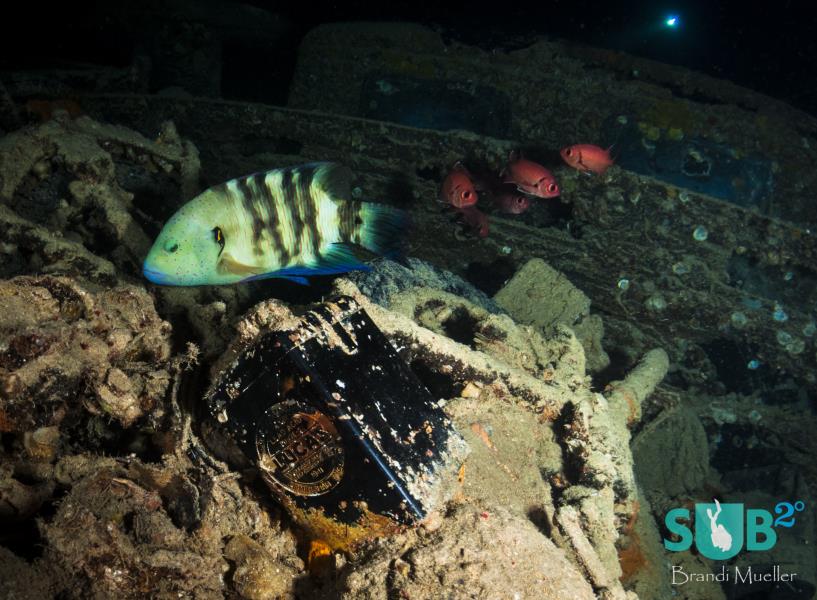 It was carrying war supplies including Bedford trucks, BSA motorcycles, armored vehicles, Wellington rubber boots, aircraft parts, rifles, land mines, ammunition, and other weaponry. On the deck were two LMS Stanier Class 8F steam locomotives for Egyptian Railways, among other miscellaneous goods.
The ship was at anchor waiting for clearance to enter the Suez Canal on the night of October 6th, 1941, when the Germans from Crete deployed two Heinkel He 111 airplanes on a seek-and-destroy mission. The Thistlegorm was not their target, but having failed to find what they were looking for, they headed back towards Crete.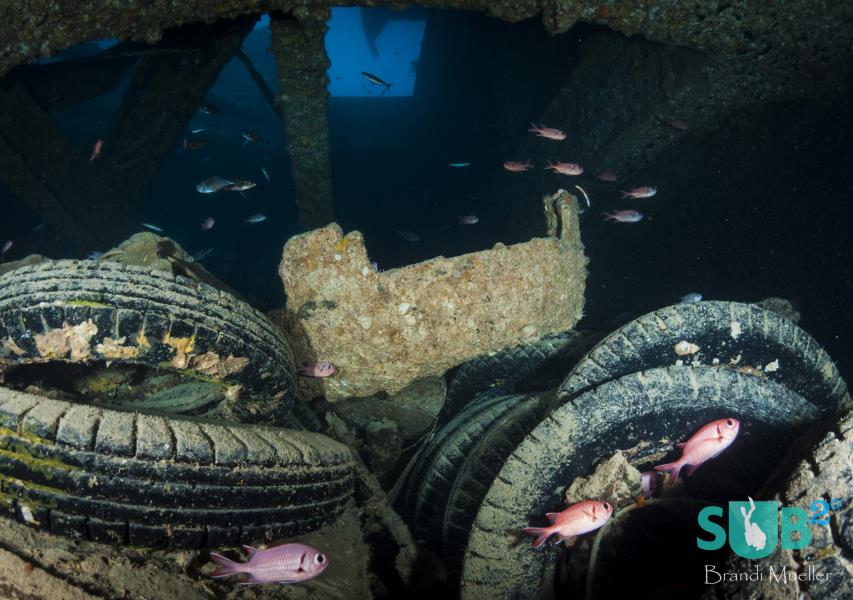 The moonlight revealed the Thistlegorm at anchor and the planes released two bombs that hit the ship. One hit contained ammunition, which caused a huge explosion; essentially ripping the ship in two before it quickly sank. A nearby British vessel was able to rescue all but nine of its crew.
Diving the Thistlegorm
The ship sank, taking its extensive cargo with it, and was not found underwater until 1955 when Jacques Cousteau used the help of local fisherman to locate it. He visited the wreck and brought home several souvenirs including a motorcycle and the ship's bell. No one thought of the wreck again until the 1990s when a local dive shop relocated it.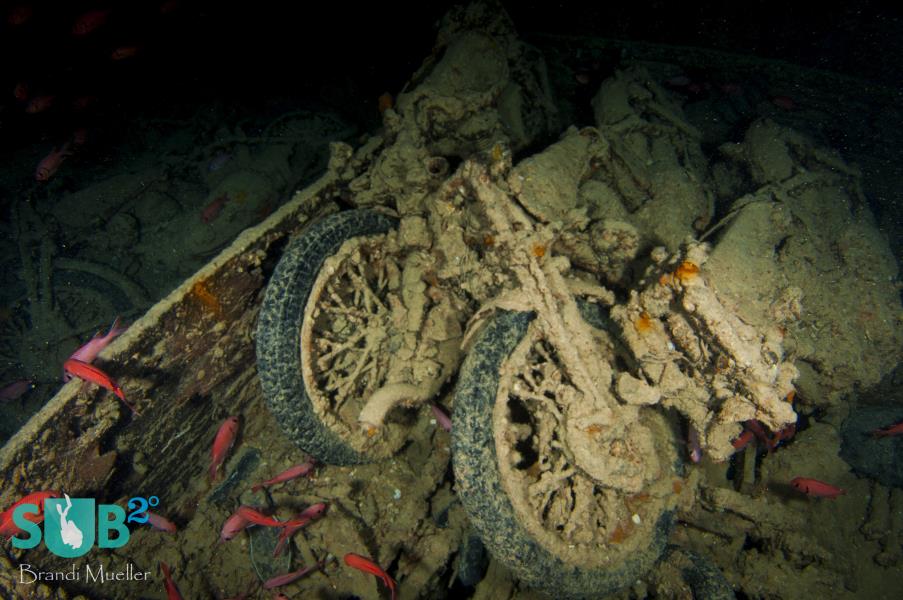 Now the ship is often found buzzing with divers and also with life. Over seventy years have left the ship covered in coral, sponges, and fish life. Upon descending it is common to see crocodile fish on the top deck and brightly colored anthias around the ship's mechanical gear. On the stern, two guns are still intact: an anti-aircraft gun and a heavy caliber machine-gun which both point down towards the ocean floor. With a maximum depth around 100ft, this is a great wreck for all levels of divers.
More advanced divers can take tours inside the wreck. Holds #1 and #2 are the most popular, and their easy swim-throughs reveal numerous Bedford trucks with their motorcycle cargo in their truck beds. Piles of tires are seen in every spare space, as are boxes of rifles, ammunition, and other weaponry. The ship was also carrying many pairs of Wellington rubber boots that still look brand new, even after so many years underwater.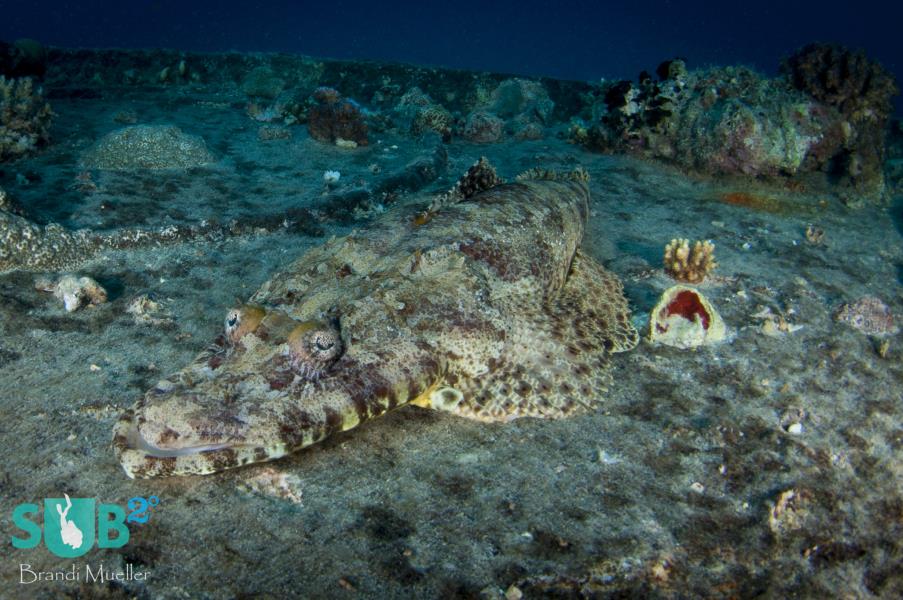 Dive boats moor directly to buoys on the ship or to other boats when the moorings are full. There is sometimes a mild current, but the mooring lines make it easy to pull yourself down the line and onto the wreck. Several dives are needed to explore the entire ship. Swimming around the exterior is a great way to see the stern guns and one of the locomotives just off the ship in the sand. Upside down tanks and car chassis are also scattered around the outside of the ship.
Keeping it Pristine
Divers have removed many of the ships treasures as keepsakes, which is sad given this ship's importance as a World War II memorial. Currently divers are not allowed to remove anything from the wreck so that future divers will also be able to see the ship's riches.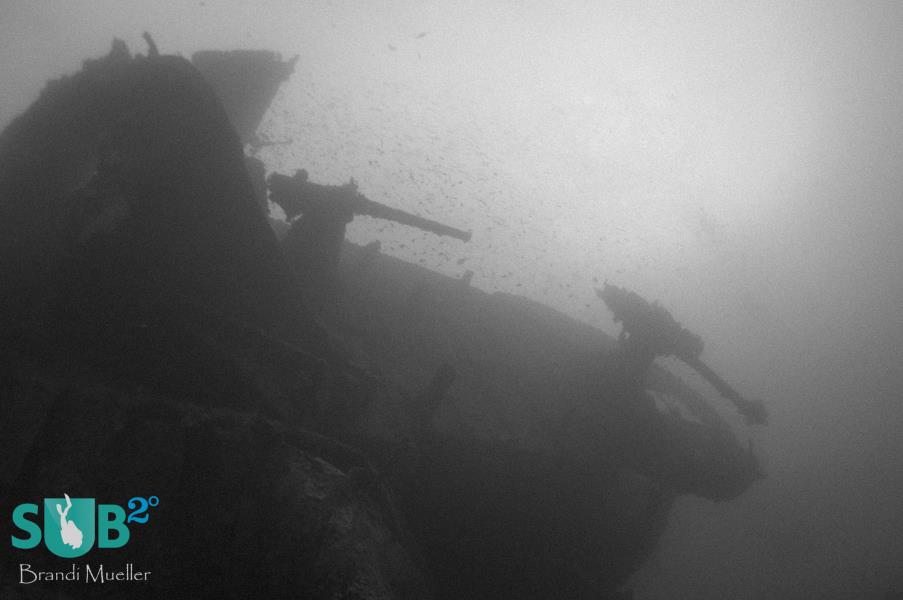 Its popularity has also led to the problem of overuse. As many as 20 boats have been seen moored to or near the ship at one time which puts unnecessary stress on the ship. No one wants to be diving one ship with that many other people! And as the ship ages it will continue to disintegrate.
The SS Thistlegorm is a fantastic wreck dive and one of my all-time favorites. Exploring the wreck both inside and out takes many dives and there are always new artefacts to find. Even with all the other divers there is plenty to see, and they might even point out some items you haven't seen. I guess it's not so bad to come across other excited divers while exploring a 70-year-old World War II wreck.
---
Further Reading
Overview of Scuba Diving in Dahab
Overview of Scuba Diving in Hurghada
Featured Posts
Often overlooked, the island of Guam is surrounded by fantastic diving. White sand beaches and calm, clear waters invite divers to explore the ocean and see the healthy coral and plentiful fish populations below.

Papua New Guinea is one of the world's best dive destinations and Milne Bay offers fantastic reef diving and muck diving in the same location. Clear waters and phenomenal creatures make for an excellent dive trip that's enti...

Shark feeding dives are no longer just for the avid diver or thrill seekers. Bahama's crystal clear waters are the best environment to come nose to nose with a frenzied school of sharks after they smelled the chum.