Healthy Guam Coral

Clear, warm waters, and lots of coral and fish can be seen during a shore dive off Gun Beach, Guam.

Green Sea Turtle

A green sea turtle resting in the coral at Gab Gab I, Guam.

Anemonefish

Guam's Gab Gab I dive site has an area with so many anemones and anemonefish that they appear to carpet the coral.

Diver and the Reef of Guam

A diver observes the healthy reef of Guam.

SMS Cormoran and Tokai Maru

A diver swims between the SMS Cormoran and the Tokai Maru. The only place in the world where a WWI and WWII ship touch underwater.
0
The Unique Diving of Guam
Often overlooked, the island of Guam is surrounded by fantastic diving. White sand beaches and calm, clear waters invite divers to explore the ocean and see the healthy coral and plentiful fish populations below. Guam has over 1000 species of reef fish and 375 species of corals.
Located in the Marianas Archipelago, Guam is the largest island in Micronesia. Guam is a territory of the United States and its official languages are English and Chamorro. And because it is a popular destination for Japanese visitors, Japanese is also widely spoken.
Great diving can be found around the entire island, depending on wind and other weather conditions – some areas are seasonal. Guam played a role in both WWI and WWII, leaving behind wrecks from both wars, which are in recreational dive limits and great dives. The best probably being the SMS Cormoran and the Tokai Maru, the only dive site in the world where a WWI and WWII wreck touch underwater.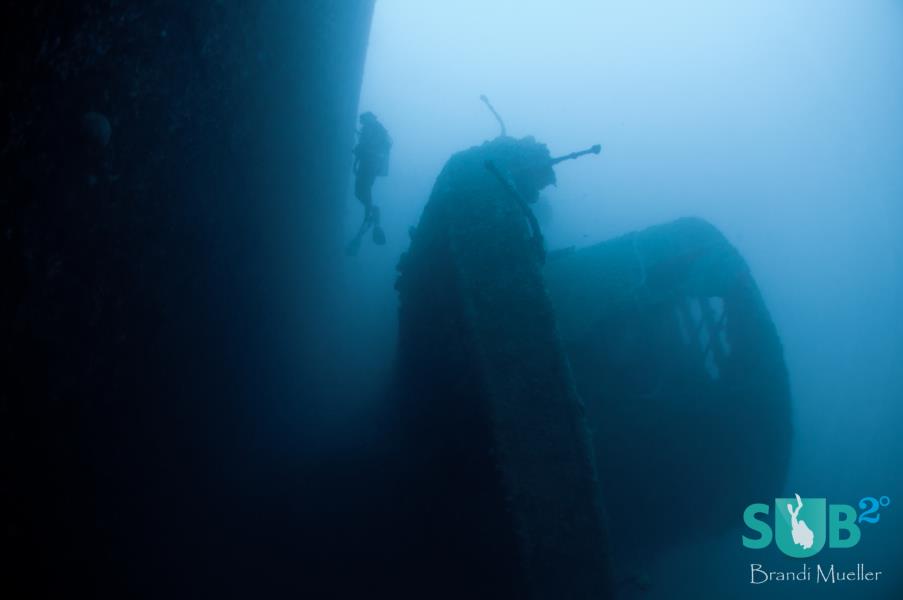 Located in the Northwestern Pacific Ocean, Guam is isolated. Guam is an eight-hour flight from Hawaii and four hours from Japan. The island has a good road system and renting cars is usually affordable and easy. The island is only 30 miles (48k) long and 12 miles (19k) wide.
Without proper diving resorts, the dive shops on Guam cater to divers with boat charters that dive around the island and by providing information for shore diving and tank rentals. Guam has more than 60 dive sites and most individual dive shops will dive many different sites around the entire island, making it easy for a diver to see all the best dive sites with one shop.
There is no liveaboard in Guam. Sometimes boat charters go to the same sites that can be accessed by shore. The shore diving should not be underestimated, as it is all easy entries and great dives.
Guam has a tropical climate with hot and humid weather year-round. Air temperatures average 80F (26C), the water is warm (28C/84F), and conditions are usually calm. The rainy season is from September to December but is usually mild, while December to April can be windy. Diving occurs year round. Summer has the calmest conditions, but also the hottest.
Dive Sites & Marine Life
Located just above the equator in the North Pacific Ocean, Guam has warm waters all year round and plenty of biodiversity underwater to keep any diver happy. Dive sites include beautiful coral reefs, stunning walls and wreck dives.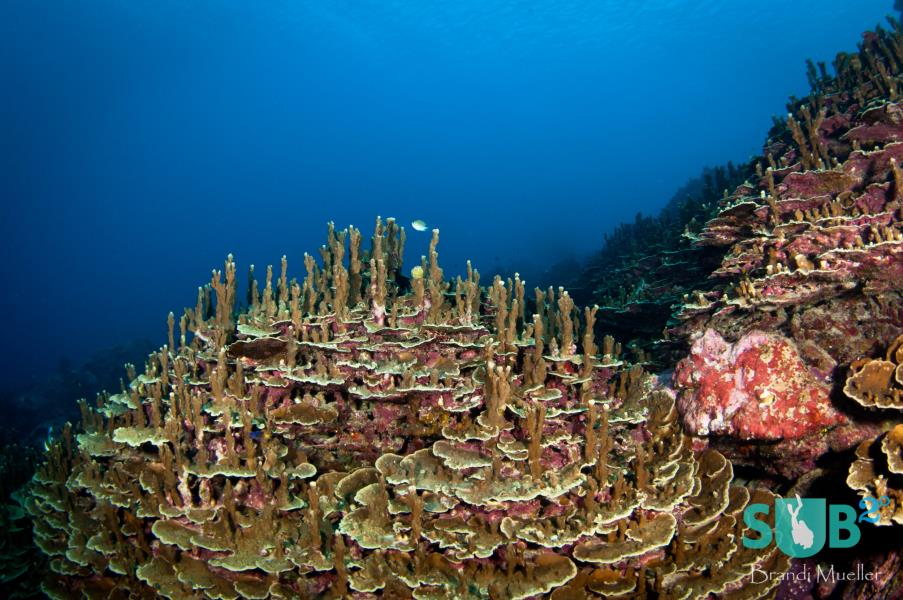 Diving occurs around the entire island, although conditions are better in different areas during different times of the year due to wind and weather. Many sites can be dived from shore and easily accessed via beach entries.
Boat diving is also common for sites further away or for harbor dives where boat traffic can be hazardous. Water temps of 28C (84F) all year usually require only a rash guard or a 1mm wetsuit.
Gun Beach is a fantastic shore dive located at the end of Tumon, the most popular tourist area where most of the major hotels are. Divers walk in off the pristine white sand beach to a carpet of healthy hard corals that cover the site. Many colorful reef fish are found here and turtles and rays are also often seen.
Two other popular dive sites are Gab Gab 1 and Gab Gab 2, which can be accessed by shore or boat. Shore entry is on the military base so only authorized persons can enter the area, but anyone can access by boat and most dive shops dive these sites.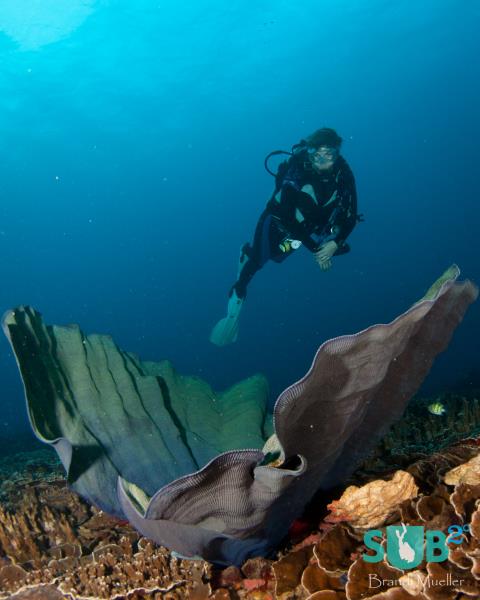 Gab Gab 1 runs along the shoreline and is home to many green sea turtles often found sleeping in crevasses. Getting further from shore, numerous anemones drape over the coral with many resident anemone fish. Gab Gab 2 is further offshore, and where Guam's Atlantis Submarine visits several times a day. This site reliably has white tip sharks, giant trevallies, schools of batfish, and grouper.
Fish Eye is another popular shore dive to the Fish Eye Marine Park, which has a built semi-submerged observatory with windows for people to view fish and other marine life in the ocean without diving. Divers can dive around this structure and wave in to the non-divers inside. This site also has healthy coral and many reef fish species.
Guam is the only place in the world where a WWI and WWII wreck have sank side by side and can be dived in one dive. The SMS Cormoran was a German merchant ship from WWI, and the Tokai Maru was a Japanese freighter. There is a point where the two ships touch, and a diver can touch both at the same time. Also in the harbor is a Japanese Val bomber and the Kitsugawa Maru.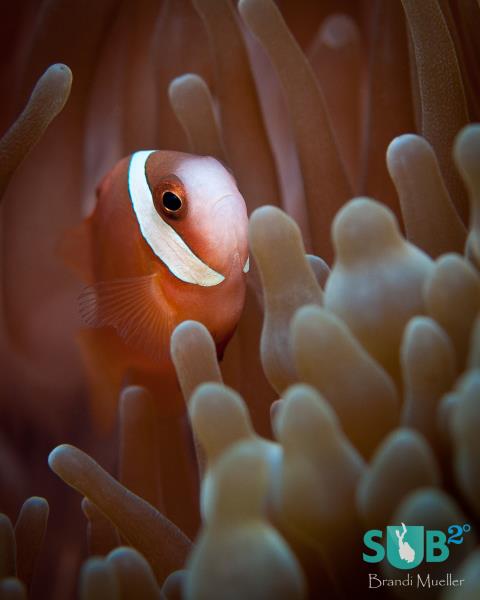 Just off the southern tip of Guam is Cocos Island, a small island with a barrier reef surrounding it, making for excellent drift dives along the deep walls around the island. Currents often bring pelagics including hammerheads and other sharks, turtles, and rays.
Dive Shops & Logistics
Unfortunately, Guam is a long flight from just about everywhere. The Antonio B. Won Pat International Airport (GUM) receives flights daily from Honolulu and Los Angeles in the USA, as well as Australia, Japan, and other Asian destinations.
Guam is also a connection point to many of Micronesia's best diving locations including Palau and Chuuk, so a stopover in Guam for divers going to those locations is easy and definitely recommended. As a United States territory, visas are required to those who would need a visa to enter the United States.
Guam has several dive shops and most cater to both English and Japanese speaking divers. Shops such as Micronesian Diver's Association (MDA) have several locations, multiple boats, and depart from multiple harbors, allowing a diver to dive all around the island with the same shop. MDA has been in business for over 30 years and is reputable in its PADI training as one of the largest PADI training centers in the United States.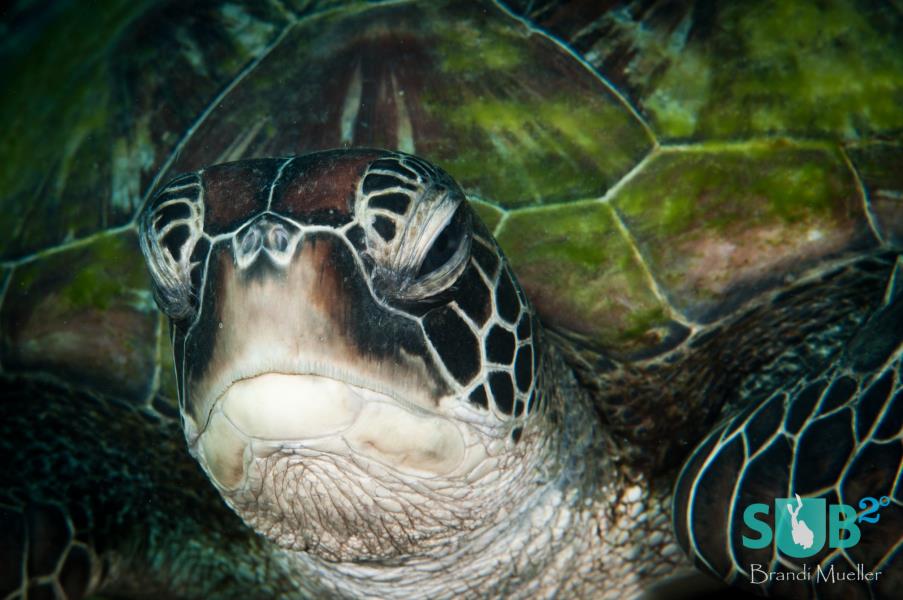 They also have a large retail section with a wide variety of brands and gear. MDA's boats reach more than 60 dive sites around the island including the popular wreck dives and Cocos Island. They run multiple daily boat charters including special charters such as all day wreck charters.
Another reputable and popular dive shop is Guam Tropical Dive Station, which also offers training and daily boat dives, and is multilingual. They also specialize in combo tours that include diving and snorkeling so non-divers can go on the trip too.
Sugary white sand and easy beach entries make shore diving on Guam popular. MDA can rent tanks and gear to certified divers and give divers briefings, suggesting where to dive and what can be seen. Shore diving maps are also available.
MDA has nitrox to rent to nitrox-certified divers, although not usually necessary for the shore diving. Wreck divers will appreciate the extra bottom time on sites such as the Tokai Maru and SMS Cormoran. Guam does not have proper diving resorts, but shops such as MDA can also help organize hotels and rental cars as needed.
Often overlooked by dive travelers, most will find few tourists diving in Guam, but there is a healthy population of local divers eager to share their diving. American military bases on Guam bring in many Americans who learn to dive and continue to dive while they are stationed in Guam.
---
Further Reading
All Other Articles by Brandi Mueller
Directory of Dive Shops in Guam
Directory of Dive Sites in Guam
Part 1: Overview of Scuba Diving in Guam
Featured Posts
Papua New Guinea is one of the world's best dive destinations and Milne Bay offers fantastic reef diving and muck diving in the same location. Clear waters and phenomenal creatures make for an excellent dive trip that's enti...

Shark feeding dives are no longer just for the avid diver or thrill seekers. Bahama's crystal clear waters are the best environment to come nose to nose with a frenzied school of sharks after they smelled the chum.

The last and only habitat for the Komodo dragon, the waters of the national park are home to some of the most amazing displays of life.