False Clownfish

A bright purple anemone is home to fluorescent orange false clownfish.

Cuttlefish

A cuttlefish tries to blend in with a sponge. Once it knew it was found it flashed many colors including reds, yellows, and blues.

Nudibranch

This nudibranch was crawling around the black sand during a muck dive.

Samarai Warf

Under Samarai Warf is a photographer's dream. Covered in coral, schools of fish hide under the pier and around sunset the lighting is perfect.

Diver Exploring the Reef

Colorful soft corals and purple anthias are abundant on coral bommies.
2
Papua New Guinea's Milne Bay
Papua New Guinea isn't easy to get to, but the diving in Milne Bay is worth the long journey. Often said to be one of the world's best dive destinations, Papua New Guinea is known for both its great reef diving and its muck diving. I had the opportunity to spend a week on a liveaboard exploring the 600+ islands of Milne Bay, and it did not disappoint.
Off the Beaten Path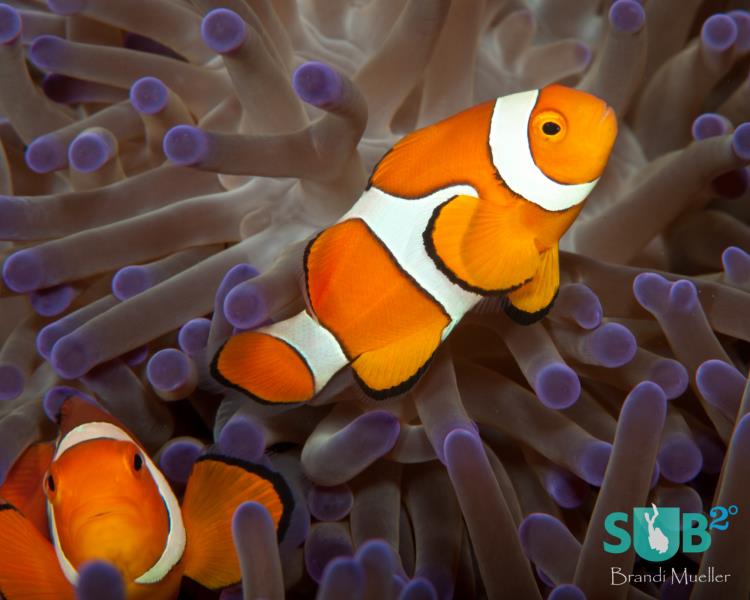 Off the beaten path is an understatement. The Milne Bay region is found at the far southeastern corner of New Guinea. The region's capital is Alotau, a small town accessed only by plane or boat.
One bumpy road runs through Alotau, continuing about 15km in one direction and 90km in the other, both terminating at the jungle and ocean. Papua New Guinea in itself is one of the most remote places in the world, and Milne Bay is remote within Papua New Guinea.
What does that mean for divers? Well, for one, you won't find many other divers. We didn't see another dive boat or liveaboard our whole trip. It was like having the ocean all to ourselves.
Healthy Marine Ecosystem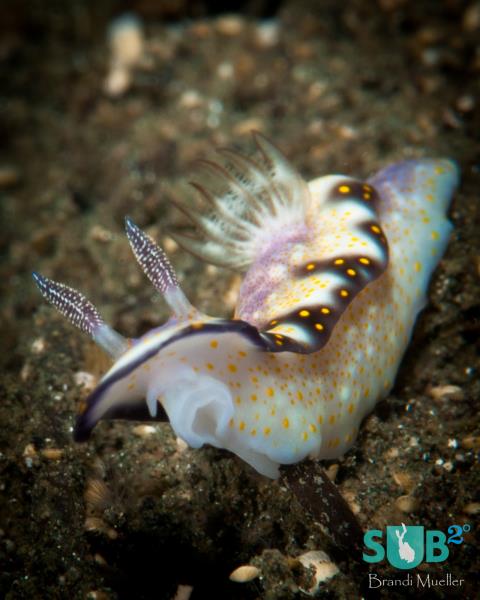 Milne Bay has a small population and only about 160 of the 600 islands are inhabited. With such little human interference from development or pollution (both in the form of runoff and garbage) there has been little damage to the underwater environment in the area.
People fish for food, but they use small dugout canoes and hand-lines, so they don't overfish the area the way large commercial fishing boats do.
Diversity
Location is everything. Located on the east corner of the coral triangle between the Coral Sea and the Solomon Sea, the waters around Papua New Guinea are some of the most bio diverse in the world. Not only is the marine life diverse, there are a variety of types of diving too.
Everything about the reef diving is "big," with huge barrel sponges, sea fans, and fish. Offshore coral bommies have sheer walls covered in life descending hundreds of feet. Sharks and rays can be seen darting past the bommies. For macro-lovers, the muck diving is out of this world- and Milne Bay was also where muck diving was discovered.
To make it even better, the visibility is significantly better than some of the other popular muck diving locals. There is also far less garbage, so the creatures live in their natural homes and not discarded bottles and old shoes.
The Diving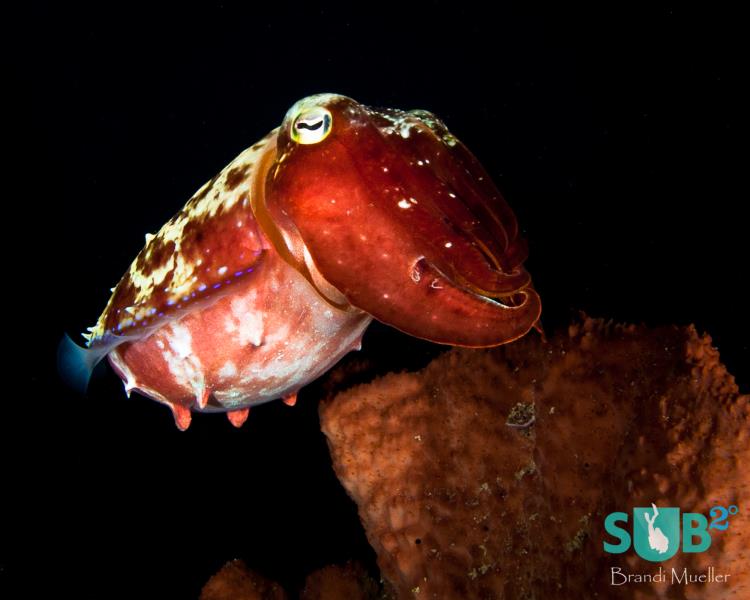 We started our trip off at Gona Bara Bara, a manta cleaning station, where we sat in the sand around a large coral head and five mantas with wingspans of12ft came in and hovered above us while small reef fish cleaned them. While swimming back to the boat from the cleaning station, we found sapphire flatworms and several nudibranchs in the patchy seagrass.
Close to the manta cleaning station was the dock of Samarai Island. Diving below the Samarai Warf, the wooden pillars supported corals and sea fans. Schools of batfish and barracuda live under the warf, and near dusk the light filters through the pillars. There were also several large cuttlefish hanging around the bottom, blending in with their surroundings, making them almost invisible.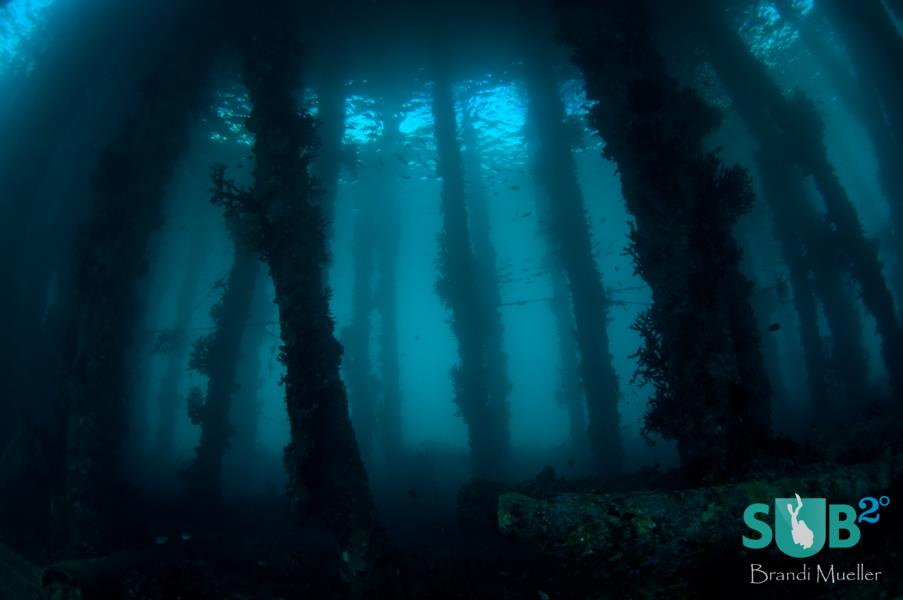 In the deep-water channels between islands, coral bommies rose up from hundreds of feet that made oases for marine life. With little disturbance, the corals and sponges have grown to be unexpectedly large and purple, and pink anthias seemed to buzz like bees over the coral. Out in the blue, we saw gray reef sharks, hammerheads, and turtles.
Several of the islands had black sand beaches, and just below the surface was a muck diver's dream. Careful eyes could find hundreds of species of nudibranchs, seahorses, frogfish, ghost pipefish, and all the weird and wonderful critters of the muck. The rare rhinopia is a common site in Milne Bay as well as stonefish, pygmy seahorses, stargazers, and other scorpion fish.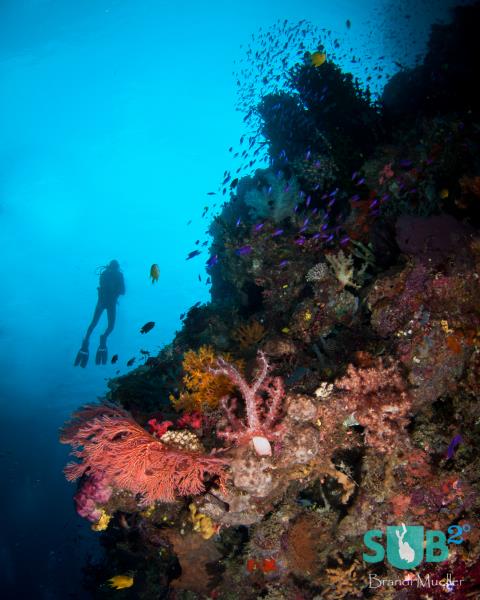 Curious children and local fisherman paddled out to our boat and watched in awe as we put on our dive gear and disappeared into the water. On several dives we had to be careful, especially when surfacing, as to not hit our heads on a canoe. Always friendly, the islanders showed us their carvings, shells, and beaded jewelry for sale.
The exceptional diving of Papua New Guinea is enough to please even the most spoiled diver, with the best of both the big, the little, and the weird of the ocean.
---
Further Reading
Overview of Scuba Diving in Papua New Guinea
Directory of Dive Sites in Papua New Guinea
Directory of Dive Shops in Papua New Guinea
Featured Posts
An overview on diving in Dubai, Abu Dhabi, Musandam, and around the UAE.

It doesn't matter if it's in tropical SE Asia or a cold inland lake, many divers just aren't interested in exploring what lies below jetties. But by passing up on diving under a pier or jetty, these divers are missing out on...

The best diving in India is the hardest to get to, in Andaman and Lakshadweep. However, for those a bit tight on time, Goa and Pondy are perfectly good fun, and both are really affordable places to do your open water certifi...