Sei Whale

Sei whales are members of the baleen whale family and are considered one of the "great whales" or rorquals.

Dead Fin Whale

Fin whales have a distinctive coloration pattern: the back and sides of the body are black or dark brownish-gray, and the ventral surface is white.
0
The 12 Most Endangered Marine Mammals (Part 1)
The oceans cover approximately 71% of the world's surface and form the largest habitat on Earth. The vastness of the ocean makes it hard to imagine that anything can ever run out, but it appears that pollution, over-exploitation of aquatic resources, habitat shifting and alteration, and human intrusion has taken its toll on our ocean's warm blooded residents.
Prior to the implementation of the International Moratorium on Commercial Whaling in 1986, extensive commercial whaling resulted in catastrophic declines, and in some cases, the near extinction in the majority of mammal populations during the 1800s and early to mid-1900s.
The ocean's gentle giants, the whales, literally took a major blow with the advent of the deck-mounted harpoon cannon in 1868, which resulted in the decline of up to 70% of theBlue Whale (Balaenoptera musculus) population. This estimate is believed to have continued to decline to 90% over the last three generations.
This magnificent creature, reaching lengths of 23-27 m (76-89 ft), heights of 9 meters, and weighing in at 100-120 tons, not only has the greatest blow among all whale species, but is also the largest animal to have ever lived on our planet.
The smaller Sei Whale (Balaenoptera borealis), growing of up to 21 m (69 ft) and weighing in at approximately 30 tons, has also declined by 80% over the last three generations. This species, which is already depleted in the eastern North Atlantic, continues to be captured by modern whaling, with an estimated 14,000 individuals caught in the North Atlantic Ocean and approximately 20,000 unidentified whales captured in the same region, which also turned out to be Sei Whales.
In addition, Fin Whales (Balaenoptera physalus), with a weight of approximately 70 tons and growing up to 24 m (79 ft) long, can reach speeds of 37 kilometers per hour, making them the fastest of all the cetaceans. Unfortunately, their speed counts for nothing when it comes to modern whaling techniques, which result in the capture of over 750,000 in the southern hemisphere alone during the 20th century.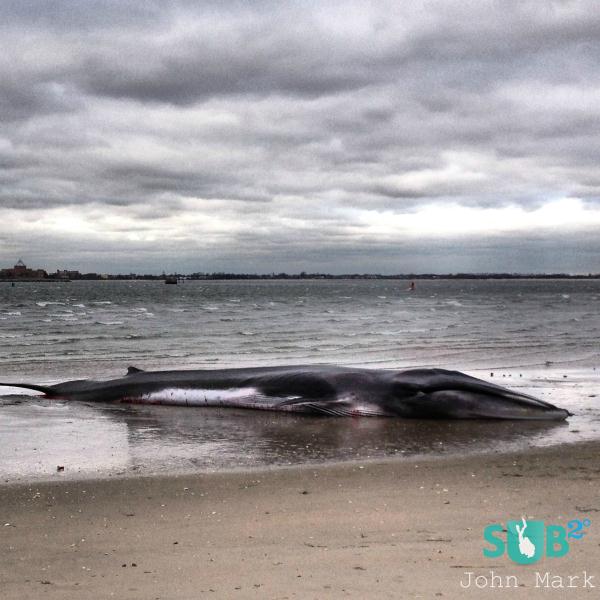 Furthermore, the North Atlantic Right Whale (Eubalaena glacialis) and the North Pacific Right Whale (Eubalaena japonica), reaching lengths of 13-16 m (43-52 ft) and 18 m (59 ft), and weighing up to 70 and 80 tons respectively, are the rarest whales of their size. They are distinct from other species due to the presence of whale lice (callosites), two blowholes that cause the distinctive v-shaped spray-cloud and baleen plates instead of teeth.
North Atlantic Right whales are currently extinct in the eastern North Atlantic, where they were previously distributed on both sides of the North Atlantic Ocean. Approximately 5,500 individuals from the North Atlantic and "possibly twice that number" were slaughtered between 1634 and 1951, and although hunting has been banned, over-exploitation left the current population at a mere 300-350 individuals.
Genus Balaenoptera and genus Eubalaena share a variety of threats, in particular sound pollution, which includes military activities, boat traffic, and marine seismic surveys that all cause potentially dangerous sound levels; chemical pollution such as radioactivity and heavy metals that can lead to bio-accumulation due to agricultural and industrial run-off; and environmental degradation, as a result of the ever-increasing direct and indirect human impacts on the ocean.
These impacts include: oil spills that contaminate entire marine habitats; non-degradable man-made objects that find their way into the marine environment, causing suffocation, entanglement and often death; collisions with ships which administer fatal-injuries; and finally, the fishing industry, which causes more fatalities annually than commercial whaling caused at its climax!
The Vaquita (Phocoena sinus), which is the smallest of the porpoise species, reaching lengths no larger than 2 meters, is currently the most endangered cetacean with an estimated 150 individuals remaining on the planet. The Gulf of California, where the Vaquita reside, is also where intensive commercial and artisanal fishing sites are situated, subsequently causing up to 84 Vaquita mortalities each year as a result of net-entanglement. Other potential threats include ecological changes such as damming, which may threaten the survival of the species if the Gulf's productivity is reduced, due to reduced flow from the Colorado River.
Almost all the cetaceans are disappearing and most of the remnant population sizes are so minute that any form of a threat that can result in casualty becomes a major threat. The death of a single individual has a massive impact on the future of the population as a whole.
And although most of these creatures now have protection, some of the smallest animals in our oceans don't, and the declining fish stocks due to over-fishing might become the greatest concern for the survival of these amazing animals.
Photography brought to you by: John Mark & ToxicWeb
---
Further Reading
The 12 Most Endangered Marine Mammals (Part 2)
Protecting the Perhentian Islands, One Tour at a Time
Ocean Threats Series - The Problem of Shark finning - Part I
State of the Reef: Australia's Great Barrier Reef Strategy (2012-2017)
Featured Posts
You might have known someone who had hydrotherapy treatment within a hospital's physiotherapy department. Usually, a physiotherapist or his assistant with expert training will demonstrate how to do the exercises. You'll be s...

Snorkel with millions of non-stinging jellyfish in Palau's Jellyfish Lake.

Have you ever spotted a cuttlefish? Here's some information about this interesting sea creature.