So Happy Together

Not one, not two, but hundreds of whale sharks can be found in the pelagic 25 miles north of the island.

Feeding Whale Shark

Cruising at 3mph, mouth wide open, feeding on bonito eggs.

Lifter

The gills filter immense amounts of rich water, and remoras are always around to feed on leftovers.

Out of the Blue

Mantas can be seen while snorkeling with whale sharks, so don't forget to look down.

Cruising on Rays

Getting out to the aggregation on rough water in small boats is not very comfortable, but when the sun comes out and the whale sharks appear, it's all worthwhile!
2
Isla Mujeres & The Whale Shark Feeding Aggregation
Arriving in Isla Mujeres, on a ferry where your luggage is stocked in the open (including your fragile camera equipment), is a bit hectic, but this is Mexico, more particular, laid back Mexico. There's nothing peaceful about arriving to Cancun from Miami, and looking for a taxi to get us to the ferry harbor.
Neither is arriving in Isla Mujeres (a small island 8 miles northeast of Cancun) and checking in at hotel 'Na balam' with my family of four. We don't get the rooms that we've booked 8 months ago, and we can't get rooms next to each other; our compromise is a ground floor room for the adults, which makes it easier to carry the heavy cameras, and on the other side of the street, an upper room for the teenagers, with the magic word: Wi-Fi.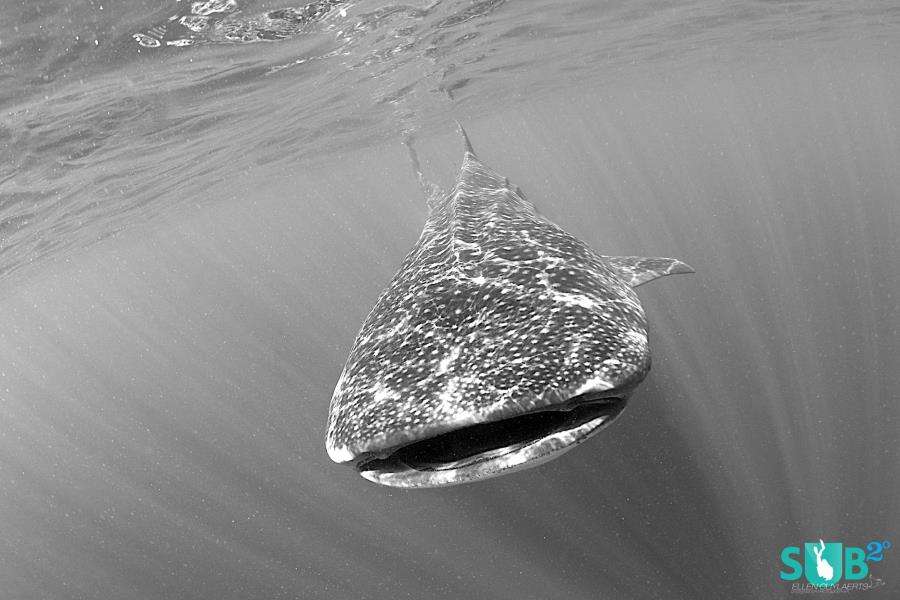 The next morning, we regret this room across the street because the boat that is supposed to take us to our destination every day leaves in front of the hotel's beach. Heavily packed, we still have to wade through the water to get on the boat. We arrive pretty exhausted before we start, but it is worthwhile.
Each day, for the next 4 days, we drive out, 25 miles north of the island, to look for the largest feeding aggregation of whale sharks known. Every summer, hundreds of whale sharks congregate in the deep waters of the Gulf and indulge in feeding on fish eggs, in particular bonito tuna eggs. (There's another renowned aggregation at the more remote Isla Holbox, moving through shallower waters)
We're booked on a trip with Bigfish Expeditions (Andy Murch & Laura McCall) and, to guarantee us the longest time in the water, they use the boats and captains of Solo Buceo, a Cancun based dive operator run by Rodrigo Friscione Wyssmann (an underwater photographer as well, thus understanding the needs of great encounters).
Their boats leave before 7 am and don't return before 2 pm. The early start allows you to be a part of the spotting process; no exact location can be given, and the aggregation resurfaces from the deep every day in a 7-mile range, so the first boats out might have some extra miles to cover.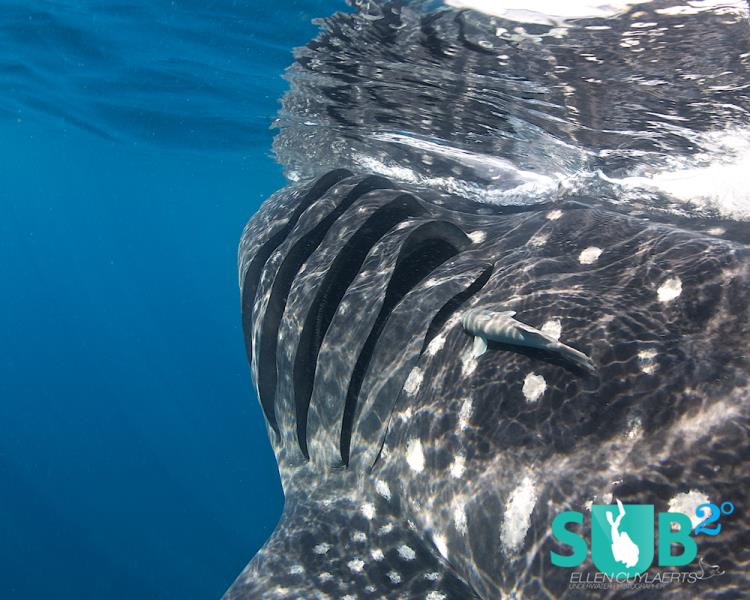 Off we go! The drive out is full of expectation and anticipation, with lots of questions on how to behave in the water, what is allowed, and what is not; if the animals suffer from our presence or just go on feeding? But it is a long drive, and once the land is out of sight, we all focus on not getting sick- pelagic encounters mostly involve choppy seas.
After an hour, a few boats in the distance catch our eye- are they fishermen or have the whale sharks been located yet? We're lucky, 15 more minutes, and we'll definitely be seeing huge dorsal fins slicing the surface. An unbelievable sight, as one giant after the other passes the boat, mouths wide open, filtering plankton and eggs, and leaving us speechless and staring at the tail fins.
The moment is there to enter the water- wetsuits on, long fins at our feet, no weight belts allowed, camera lights because no strobes allowed either-and it all makes us rather streamlined, ready and eager. But nothing could have prepared us for this experience!
Once in the water, under a cloudy sky, the visibility is not that good because of the richness of the water. It makes us 'spyhop': head above the surface, we scan for fins coming our way; once spotted, we fin control, hand on trigger, towards the anticipated direction.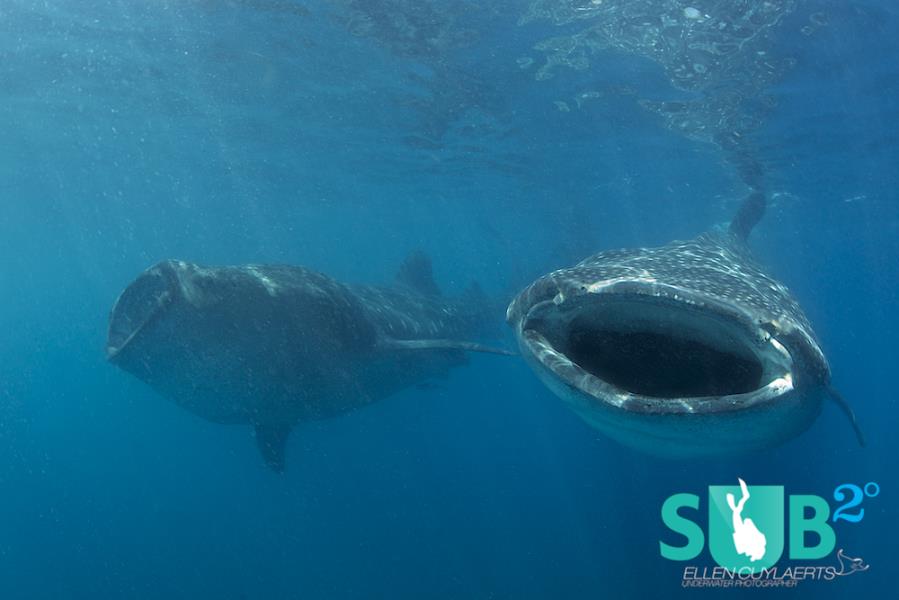 Then out of the blue, the contours of the biggest fish on earth become clear, coming straight at us, gulping water! And then disappear again before we know it. If you observe whale sharks from the surface, they seem to move slowly, but try to keep up with them in the water, you'll realize their massive body and huge tailfin provide an immense power.
By noon, some whale sharks seem to have enough of the feeding and swim deeper, making room for a manta spectacle: manta trains, barrel rolling, upside down swimming at the surface... all come up from the deep.
For the next few days, this will be the routine: driving out, finding the aggregation, getting in the water, drifting with the animals, finning our lungs out to anticipate an encounter, driving back to the hotel (exhausted and satisfied), sleeping like a baby, and doing it again... A surreal experience my family and I will never forget.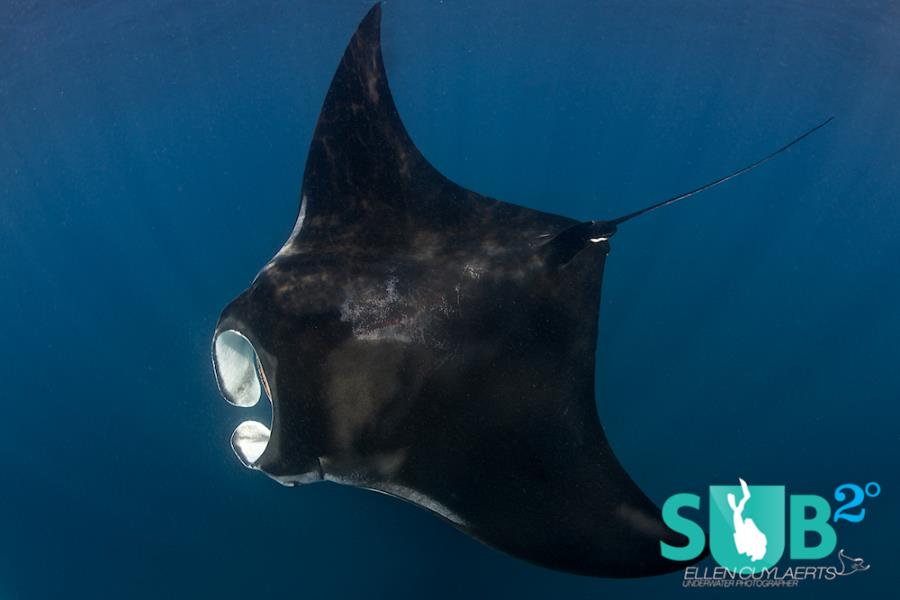 Once we were home, people were amazed by the big numbers we saw, but in all goodness, people tend to look for something bad: does this tourism hurt the sharks? So I start questioning my contacts, as I also did onsite. A lot of boat captains taking tourists are converted fishermen.
They understand that these magnificent animals are contributing to their daily life of making money and are worth much more alive and healthy than dead and finned.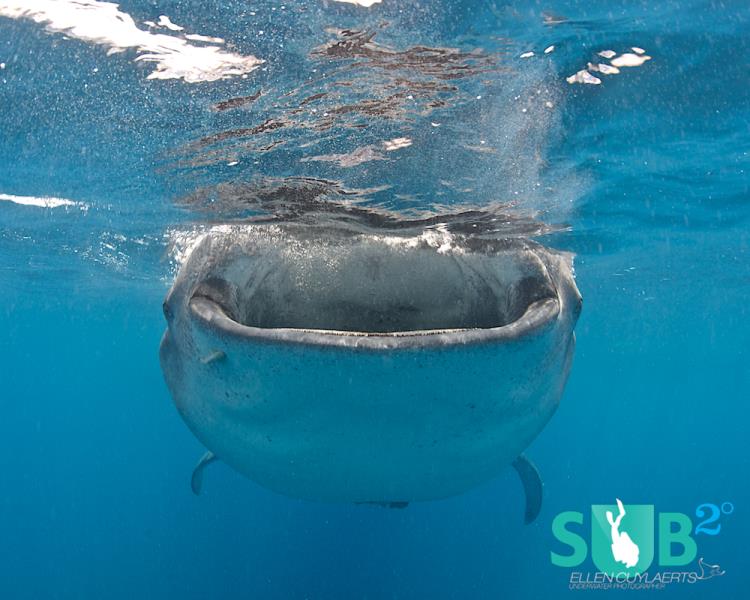 The captains and dive operators are very strict about the rules for these unique encounters and for approaching the animals and a violation could result in fines and even jail, both for the violator and the captain. But the rules are easy to follow and to respect; they are based on common sense and well being for the animals and visitors.
---
Further Reading
Overview of Scuba Diving in Mexico
Top 5 Shark Dives In The Caribbean Sea
Cenote Dos Ojos, Cancun, Mexico
Featured Posts
North America's muck diving. The weird and wonderful, under Florida's Blue Heron Bridge.

Choosing a base camp in Kubu Indah is placing yourself in between an astonishing religious culture with magnificent temples and fantastic ceremonies, and the overwhelming underwater world of Bali, Indonesia.

One of the world's top places for tiny critters is located in the Philippines: Cabilao! It's a small, quiet island surrounded with beautiful reefs. A place to relax and dive.