Barbie Cave

Cenote diving

Courtesy Chris E. / onrypt: http://www.flickr.com/photos/96592817@N00
0
Cenote Dos Ojos, Cancun, Mexico
First Time in Cenote Dos Ojos
I remember clearly the day back in 1997 when I decided I would learn to scuba dive.
I was on a group tour of Mexico, and found myself snorkelling at Dos Ojos - "Two Eyes", named after two caverns, which form the opening to one of largest diver-accessible limestone cave systems in the world.
Floating atop the crystal-clear waters of the huge entrance cavern, I was thrilled enough with my experience until I saw a group of divers far below me, snaking off into the distance. I realised that my experience paled in comparison to that of the people beneath me, attached to all those tubes and tanks.
In that moment, I promised myself that I would learn to scuba dive, and one day I would return to dive those caves.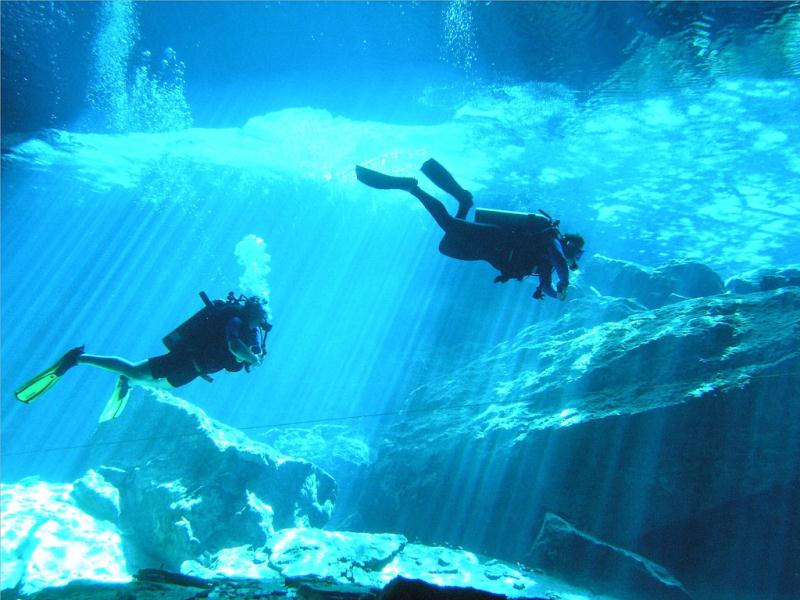 2nd Time
Thirteen years later, almost to the day, I climb aboard a minibus in downtown Cancún and head to Dos Ojos.
I am now an advanced open water diver with over thirty dives and dry-suit certification to my credit. I have travelled from Melbourne in Australia, via Los Angeles and Miami, almost 15,000 kilometres, to keep that promise to myself. 
As I hop out of the minibus and start to get ready, I see groups of independent divers around us in the car park.
They are an impressive bunch; full dry suits, customised octopuses, nitrox tanks, all sorts of head torches, and plenty of electronic gear. I pull on my rented wet suit and try not to feel upstaged.
The climb down to "Eye One" is a challenge in full gear and tank.
Rough-hewn stone steps curve steeply down to a wooden platform at the entrance cavern looking pretty much as I'd left it thirteen years ago.
One giant leap and the cool water envelopes me, along with the familiar sense of peace and serenity I get when I go underwater.
My blood pressure drops, my focus intensifies, and I find my sea legs. Despite having guessed at my weights for freshwater diving, my buoyancy is perfect.
The Experience
Divemaster Quetzal leads the way along an established guide line, down a wide tunnel. Over our heads exhaled air bubbles glisten like stars in the light of our torches.
No familiar technicolour scenery here, like my favoured tropical dive haunts; instead, all is pale and bleached. But the magnificence is there alright, in huge limestone columns, clusters of small and large stalactites, boulders sculpted by thousands of years of dripping water into fluid-shaped pools, and alien-shaped figures.
Ahead in the distance a blue glow up high indicates another entrance to the cave. Divers silhouette against the light like extras from The Abyss.
Never straying from the guide line, we still manage to poke our heads and bodies into smaller crevices and corners, feeling the smoothness of the limestone beneath our hands, marvelling at the rock formations. At the end of the line we find the unseemly diorama of a naked Barbie Doll being eaten by a plastic crocodile.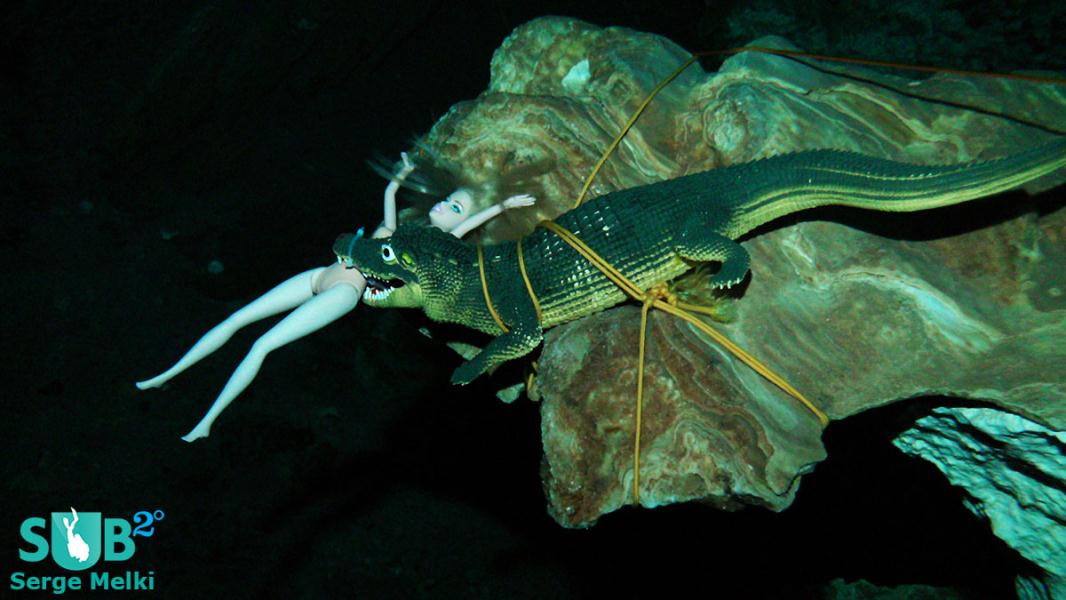 Now we know how the Barbie Cave got its name.
An hour later, after a rest on dry land and a chance to warm up, Quetzal gets us back in line. The giant leap is a little more shocking this time, my chilled body tensing against the cold water. I'm still keen, though. Down into the darkness we go, Quetzal occasionally stopping and looking behind, making slow circles with his torch, waiting for our response in kind: yes, we're still OK.
This time the destination is a small cave, the ceiling alive with bats. We surface for a time, watching the creatures sleep, taking in the moment. Definitely a more interesting terminus than the plastic Barbie Doll-crocodile scene earlier.
---
Just before surfacing in the Bat Cave I had become aware of a bit of earache. I often have trouble equalising, and just persevere with my attempts to clear the pressure in my sinuses.
Back underwater, the pain gets much worse and I can't ignore it anymore. I get Quetzal's attention by moving my torch backwards and forwards horizontally, and he comes to my aid. We hover around ten metres underwater whilst Quetzal communicates with me with impressive sign language.
It's likely your tooth, he gestures, not a pressure problem. Don't go too deep for the rest of the dive. Luckily we are on our way back, and apart from one slight descent, we are in relatively shallow waters. He takes me to the head of the line beside him, and I creep along at less than ten metres. I make it back in one piece.
Soon we see a large blue light ahead, the disembodied legs and fins of the next group hovering above us. I am frozen to the bone, even in a decent wetsuit and my polar gloves. My ear stops throbbing as I ascend, and I climb clumsily out of the clear cenote water. I have done it: I have finally returned to dive the place that inspired me all those years ago.
Back at the minibus, as I write the words "Dos Ojos" in my log book, I stop and take in the moment: it's not often you get to achieve a personal ambition and fulfil a promise to yourself.
It was worth the flight halfway around the world.
Read more about Diving in Mexico, or take a look at the directory of Dive Shops in Mexico.
Featured Posts
Often overlooked, the island of Guam is surrounded by fantastic diving. White sand beaches and calm, clear waters invite divers to explore the ocean and see the healthy coral and plentiful fish populations below.

Papua New Guinea is one of the world's best dive destinations and Milne Bay offers fantastic reef diving and muck diving in the same location. Clear waters and phenomenal creatures make for an excellent dive trip that's enti...

Shark feeding dives are no longer just for the avid diver or thrill seekers. Bahama's crystal clear waters are the best environment to come nose to nose with a frenzied school of sharks after they smelled the chum.