Sailfish Feasting on a Bait ball

Sailfish are consistently clocked as the fastest fish in the ocean, reaching speeds up to 68mph (110kmph).

Sailfish

A sailfish with its sail fully extended near the surface.

Sailfish Encounter

A sailfish, paying no attention to the snorkeler, continues to feed on sardines.
1
Isla Mujeres Sailfish
We spent hours scanning the horizon for birds. Not just any birds though, low flying and diving groups of birds. Diving birds signify fish below, and we hoped their dinners consisted of a school, or bait ball, of sardines. If we were lucky, there would be another predator feeding on the sardines, the Atlantic Sailfish (Istiophorus albicans).
Usually an elusive open water game fish, the Atlantic Sailfish can be found somewhat reliably in the winter months of January to March, off the shore of Isla Mujeres, Mexico. Sardines school this time of year, and the sailfish come in to feed on them. Of course, there are no guarantees in the ocean, and although we'd shown up at what everyone had said was the "perfect time", we had gone six days at sea without seeing anything.
Sailfish
Sailfish are known for- and named after- their long and elegant dorsal fin that encompasses most of the length of their body. Having a distinctive sword-like bill, they are a species of billfish and are related to marlins and swordfish. There are two species of sailfish, the Atlantic and Indo-Pacific, and we were in search of the Atlantic sailfish, which can grow up to ten feet long and weigh more than 200lbs.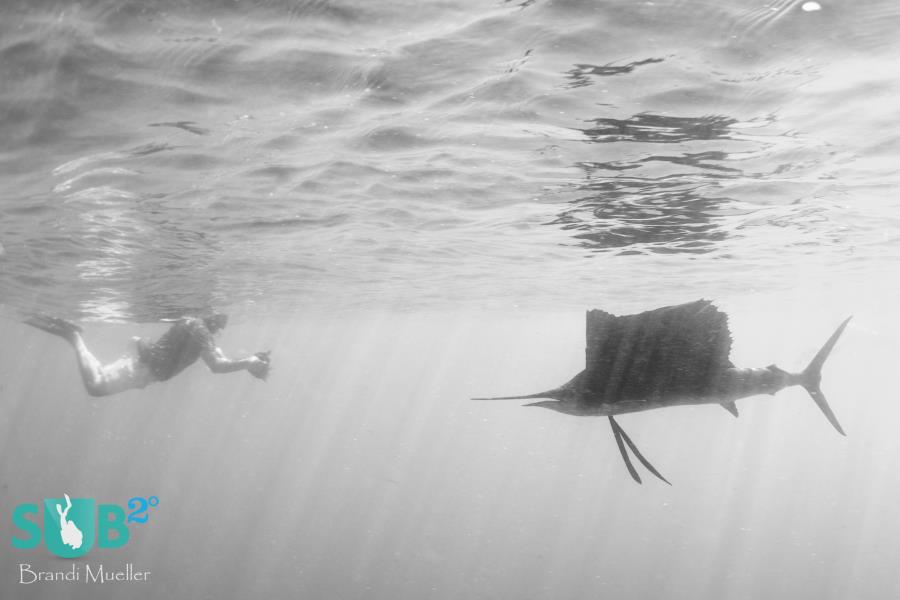 Its beautiful sail, which changes color rapidly, can be elongated and extended, usually when the fish is threatened or feeding, or it can lay flat on its back. Sometimes on the surface, the Sailfish can leap up and move along with the surface, using its tail to propel it above the water.
Sailfish are the fastest recorded water organism, having been clocked at 68mph (110kmph). They use their speed and agility to feed on schools of small baitfish and squid, sometimes piercing the fish with their bills. Several sailfish will herd their prey into tight balls near the surface and then pick the fish from the ball. Sometimes as many as twenty sailfish attack the same bait ball, creating quite an underwater spectacle, as they zoom through the sardines.
In the distance, our guide spotted a group of diving birds and he signaled us to get ready. Mask and fin on, camera ready. The captain brought us closer to the birds, and on his signal, we jumped from the boat and started swimming as fast as we could towards the birds. With any luck, there would be a ball of sardines being devoured by sailfish underwater.
We could see the birds were moving quickly, so it was likely the fish below would also be moving, and we'd have to swim a lot to keep up. I saw blue water underneath me, but above me and a bit further away, I could see birds still diving. I continued to swim, and spotted a shadow in the water in front of me.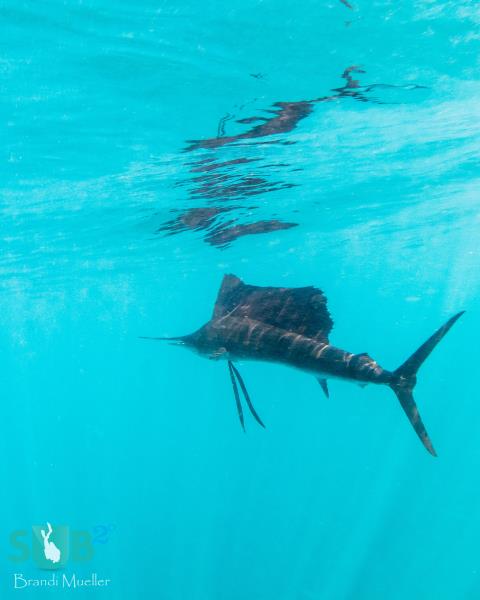 It darted out of view. I kept swimming, and suddenly I saw a ball of sardines in front of me, and a sailfish whizzing by. I looked down and below the ball was about seven sailfish moving faster than my eyes could keep up with, darting from side to side, in and out of my range of view.
As we approached them, the sailfish took no notice of us, or our cameras, and continued to plow through the bait ball, often catching a fish on each pass. As they sped up and slowed down, twisting and turning through the water, their graceful sails flared up with a full display of changing colors, from black to purple to silver.
Their sail also swiftly went from fully extended to lying flat against their back. Their entire bodies changed colors, from dark to silver-white and then to turquoise and glittery purples. With the sail up, the fish would look almost twice its original size, and when it was down, the fish looked like a torpedo made for speed.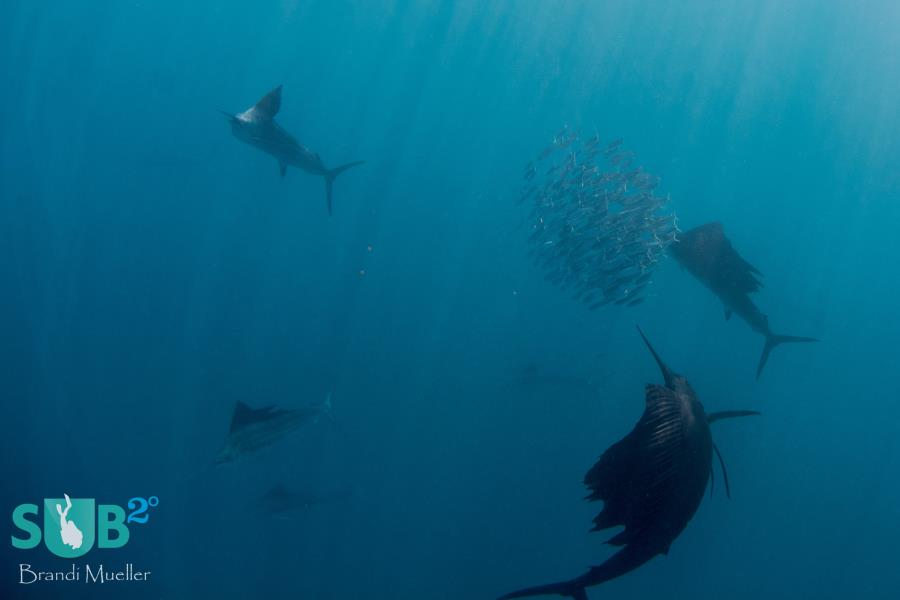 Our encounter lasted for about an hour, as we swam with the bait ball, watching the sailfish pick them off one by one, but not allowing the sardines to swim to deeper waters. Their speed kept our adrenaline racing, as we tried to keep up and photograph the beautiful and swift sailfish.
Isla Mujeres, Mexico
Isla Mujeres is a quiet touristic island located east of Cancun. Daily ferry boats or flights bring visitors from mainland Mexico to the island, which is a great jump-off point to search for sailfish. The sardines usually congregate between January and March, and boats take free divers and snorkelers to look for bird piles, which will hopefully lead them to sailfish.
---
Further Reading
All Other Articles By Brandi Mueller
Top 5 Shark Dives In The Caribbean Sea
Cenote Dos Ojos, Cancun, Mexico
Featured Posts
The Apo Reef: A pristine reef with rich life, located in the west of occidental Mindoro (Philippines), at the northern tip of the coral triangle. Don't confuse Apo Island with the identically named island in Negros oriental.

During winter, you can bet the Costa Brava waters won't be crystal clear and tropical warm. Usually, there's low visibility (less than 5 m) and really cold water, 11-13ºC (38-40F). But for those who dare to dive during winte...

Swimming with stingrays in the wild, up for a wing massage, Grand cayman is the place to visit!