Huge Sponges Dominate the Reef

Luminous orange sponge grows alongside large barrel and rope formations. Blackbar soldierfish use the shelter of the sponges for protection.

Wreck of the MV Shakem

The MV Shakem; discover the solidified cargo full of cement in the hold beneath the intact crane.

Healthy and Abundant Coral Reef

A diver cruises along the pretty dive site called Purple Rain. Many different soft and hard corals decorate the sloping coral reef.
0
Grenada Diving
Above water, Grenada is famed for being the 'Spice Isle' - lush rain forests with great hiking, rare flora and tropical fauna. Below water, the island is renowned as the 'Shipwreck Capital of the Caribbean', distinguished by amazing wrecks and the world-famous Sculpture Park. With so much to offer, both onshore and underwater, it is the perfect destination to visit on your dream vacation.
Grenada is the largest of the three sister islands; diving is predominantly along the west and south coast, where the Caribbean Sea meets with the Atlantic Ocean. The smaller sister island of Carriacou is home to wrecks, pretty coral reefs and wall dives. Divers can opt to spend a couple of days relaxing on quiet Carriacou, after experiencing the spicy delights of Grenada's seascape.
Petite Martinique offers land visitors a tranquil and unique experience, infused with island culture and tradition. Only 800 people live on this tiny island, that is accessed solely by boat. On the 17th - 20th May, the island comes alive with the Whitsuntide Sailing Regatta - a competitive highlight!
Divers often choose to stay at one of Grenada's resorts that has a dive center on site, such as ScubaTech Dive Center at the Calabash Hotel. The option to charter a sailing yacht is also popular, as there are many bays and anchorages to explore. Hire vehicles or land tours can be organized to explore the interior of the island. Cruise ships dock at the terminal in the capital town of St George's, and dive centers can collect visitors when pre-arranged.
As a year-round destination, the average water temperature is similar to the air temperature, ranging between 75F to 85F (24C to 30C). The lowest temperatures are between November and February, when the cool trade winds occur. The dry season extends from January to May, although the months through to August are suitable for scuba diving, as tropical rain showers tend to last no longer than an hour. Diving conditions are great during the off-peak months of August to October, however, there is a chance of tropical storms. A full 3mm wetsuit is suitable for most dives, but some people do prefer a 5mm on longer or deeper dives.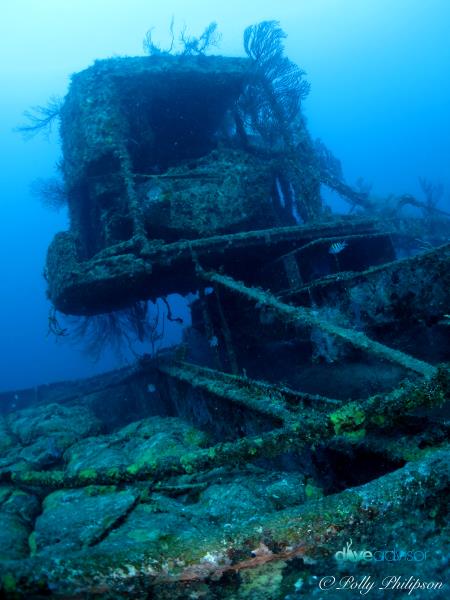 Dive Sites & Marine Life
With over 40 boat diving sites to explore, mainland Grenada offers a full selection of exciting wrecks and relaxing reefs. Varying from plateau patch reef to sloping coral gardens, the marine life is abundant, and divers can expect to see all the common Caribbean reef fish. Eels, turtles, nurse sharks, and rays are frequent visitors to both wrecks and reef. More unusual critter life is found at the shallower sites such as frogfish, blennies, and nudibranchs.
The famous site of the "Titanic of the Caribbean", the Bianca C, is on every diver's bucket list and is a must-do for advanced scuba divers. The Bianca C sank in 1962, after a fatal explosion onboard and she was towed out of the harbour to her final resting place. Exposed to strong currents, her shallowest point is now at a depth of 37m; she makes a thrilling wreck dive for both recreational and technical divers. Whibbles Reef runs parallel to the wreck, allowing a pleasant drift at the end of the dive.
The MV Shakem, a cement-carrying cargo ship, lies upright on the seabed at 32m. Competent divers can explore the interior of the bridge and captain's quarters, where you can find floating light bulbs and the head. Sea horses, green moray, and lobster are found among the pretty white telestro that decorates the ship. Solidified cement bags line the hold, overshadowed by a huge crane.
Three miles off the Atlantic coast is the MV Hema I, a coastal freighter from Trinidad that sits at 30m. Currents make this an advanced dive; but divers are rewarded with sightings of nurse sharks, and frequent squadrons of eagle rays.
The second world-class Atlantic wreck is the large minesweeper, King Mitch. She sank on her side, six miles offshore at a depth of 37m. She is also challenging to dive, as another advanced dive due to strong currents. Divers are highly rewarded, with large marine life encounters such as turtles, southern stingrays and reef sharks.
To contrast the dramatic deep wrecks, Grenada boasts many shallow wrecks too. The Veronica L, a small freighter, sits upright in 15m outside the mouth of St. George's Harbour. It's a great night dive, with the opportunity to see many critters such as black brotula, shrimps and an array of crabs.
The Grenada Marine Park (MPA) is home to many shallow reefs, small wrecks, and the stunning Sculpture Park. Founded in 2006, by sculptor Jason DeCaires Taylor and the Grenadian Ministry of Tourism & Culture, the park promotes ecological regeneration and sustainability. Frogfish, hawksbill turtles and a variety of eels are common, with large amounts of schooling fish. Divers and snorkelers can tour the unique sculptures and explore the hard and soft corals found on the surrounding reef.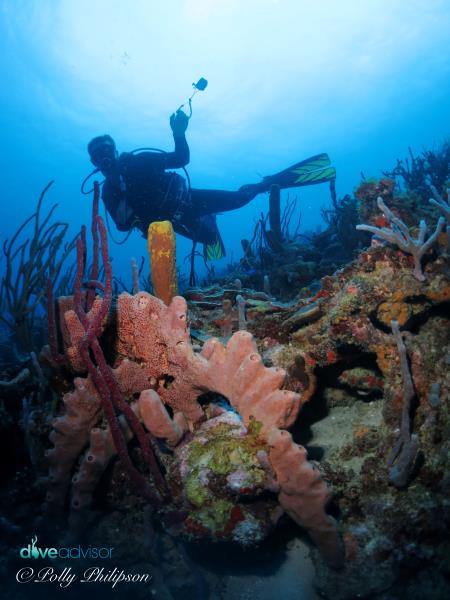 Dive Shops & Logistics
There are six PADI dive centers based in the parish of St. George's on Grenada. ScubaTech is based in Prickly Bay, on the Atlantic coast; the remaining centers are all located along the Caribbean coast in the Grand Anse area. Some dive centers will arrange free collection services if you are staying at an alternative hotel, villa, or yacht.
Dive Grenada, a PADI 5 star and BSAC resort, is located centrally on Grand Anse Beach at the Flambouyant Hotel & Villas. British owners - Phil and Helen - offer a small and flexible service designed to suit all levels of recreational diver. Safety and fun are their highest priorities, and they offer the full range of certification courses and snorkel tours.
ScubaTech Dive Center - a German-owned PADI and TDI resort - caters to recreational divers and specializes in technical and rebreather diving, with the full complement of certification courses. They offer non-diving excursions such as the famous Gouyave Fish Friday boat trip, sunset champagne cruises and sightseeing coastal tours. Exceptional safety standards and one of the friendliest teams.
Enriched Air Nitrox is highly recommended due to the deeper wreck diving profiles. Reputable operators offer complimentary nitrox for this reason - PADI and TDI certification courses are available. Boat dives are predominantly conducted as drift dives with the dive leader towing a surface marker buoy. Four out of the six dive centers operate large, customized pirogue dive boats allowing for timely trips to the dive sites. Inshore dive sites are all within 30 minutes of all the dive centers. The north end of Grenada has beautiful unspoilt and less frequented dive sites - usually offered as a 3-dive day trip.
Carriacou, "Land of Reefs", has three PADI dive centers that are happy to show you the unspoiled, healthy marine environment. Arawak Divers and Lumbadive are based in the harbor at Tyrrel Bay; Deefer Diving is in the main town of Hillsborough.
The Maurice Bishop International Airport (GND), at Point Salines, is the main gateway from the EU, North America and Caribbean. Inter-island charters are available to Lauriston Airport (CRU) on Carriacou. Osprey Lines Ltd. offers a fast ferry passenger service between the islands of Grenada, Carriacou and Petite Martinique. Cruise ships arrive at Grenada from Florida and Puerto Rico.
---
Further Reading:
Top 5 Shark Dives In The Caribbean Sea
Innovative Reef Restoration On Grenada
The 12 Most Endangered Marine Mammals (Part 1)
Featured Posts
Often overlooked, the island of Guam is surrounded by fantastic diving. White sand beaches and calm, clear waters invite divers to explore the ocean and see the healthy coral and plentiful fish populations below.

Papua New Guinea is one of the world's best dive destinations and Milne Bay offers fantastic reef diving and muck diving in the same location. Clear waters and phenomenal creatures make for an excellent dive trip that's enti...

Shark feeding dives are no longer just for the avid diver or thrill seekers. Bahama's crystal clear waters are the best environment to come nose to nose with a frenzied school of sharks after they smelled the chum.