Anemone on the Shinkoku Maru

An anemone living on the deck of the Shinkoku Maru, a sunken ship that was part of the Imperial Japanese Navy during WWII.

Inside a Wreck

Gauges and knobs on machinery inside a wreck.

Coral and Fish Life on the Shinkoku Maru

Underwater since 1944, the Shinkoku Maru was sunk during WWII. Now it is covered in corals and home to much ocean life.

Shinkoku Maru

Schools of fish swim around the wrecks of Chuuk.

Coral Growth on the Wrecks of Chuuk

Some of the worlds best WWII wreck diving is found in Chuuk, formerly known as Truk, in the Federated States of Micronesia.
2
Going Deep and Dark - Penetrating the Wrecks of Truk Lagoon
Truk Lagoon (now known as Chuuk) has one of the highest concentrations of wreck diving in the world. The 1944 World War II battle, Operation Hailstone, left over 40 ships and many airplanes underwater. Some of wrecks are within or partially within recreational limits, and the calm, clear, and warm waters of Chuuk make this a fantastic diving destination.
The Dive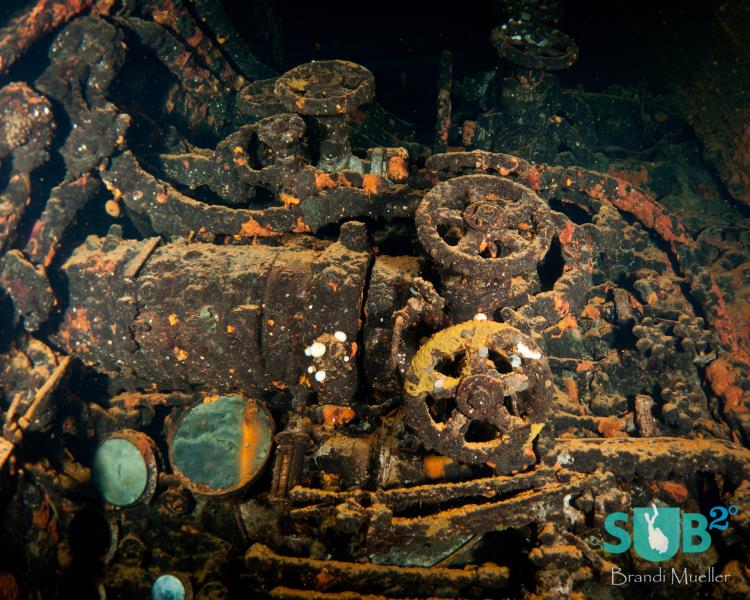 In all honesty, the idea of going really deep or inside wrecks has never really thrilled me that much. As a photographer, I prefer to spend as much time underwater as possible in order to make the most of the photo opportunities.
So on a weeklong liveaboard trip on the M/V Odyssey in Chuuk, my main interests included the outsides of the ships and the beautiful marine life that has taken over those ships.
The wrecks of Chuuk have been underwater for almost 70 years, giving the ocean ample time to turn those ships and planes into beautiful reefs. Pink and purple soft corals have flourished on the decks, covering the beams and masts.
Reef fish have made their homes in the wrecks, and schools of jacks and barracuda patrol the fleet. I wanted to take pictures of all that- no need to go inside- but one dive master had other plans for me.
I believe his exact words were, "I'm going to blow your mind." His dive plan included a penetration of the Shinkoku Maru, a 500ft long Japanese Imperial Navy tanker. This ship participated in the attack on Pearl Harbor and was sunk February 14th, 1944 by a bomb that hit amidships.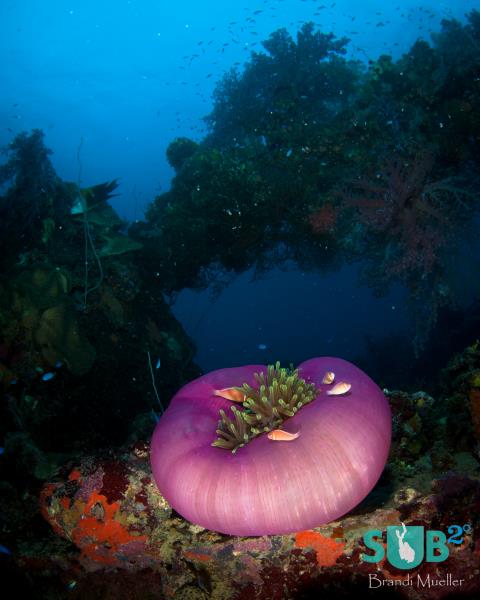 It now sits upright between 30-135ft (9-40m) and is one of the prettiest wrecks in the lagoon with pink, purple, and orange anemones and plenty of soft coral.
Even though I've been diving for 15 years and been an instructor for 8, I still let the DM know that although I wasn't scared of wreck penetrations, if I didn't feel good about the dive I would signal him so we could exit the wreck and end the dive. With our dive plan thoroughly discussed, we geared up for our dive.
We descended down to the Shinkoku and swam down to the smoke stack at 60ft (18m). The dive master motioned we'd be going down through the smoke stack, and signaled if my dive buddy and me were okay and ready to go. We both responded with our own okay sign, and our dive master inverted himself head first.
Down he went, disappearing into the smoke stack. The other diver followed and then it was my turn. Swimming straight down, we kept going, and going, and going.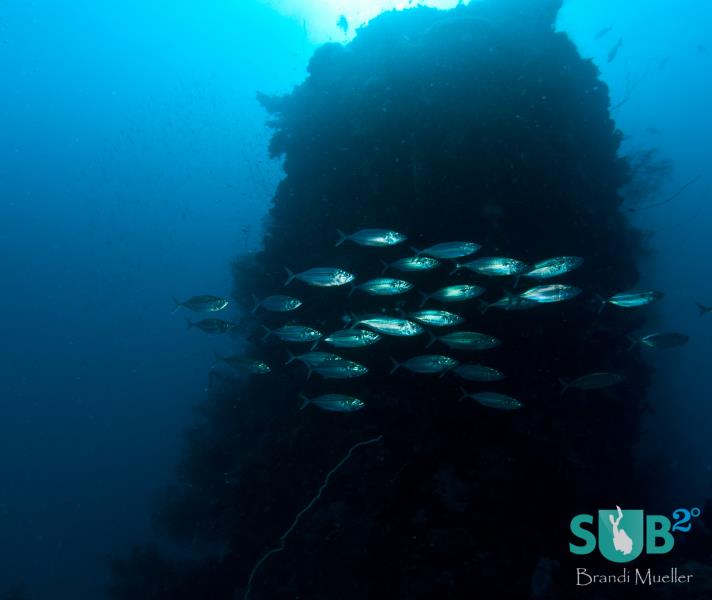 The smoke stack opened up to a larger room around 110ft (33m), and our dive master pointed out the torpedo hole which was large enough to swim though and we could see blue water and light out the other side. We swam through to the outside of the ship and looked up at the massive Shinkoku Maru in the clear, warm Micronesian water, seeing where we'd entered.
Signaling again to us if we were okay, we continued the dive back inside the Shinkoku. We made our way through multiple rooms including the engine and generator rooms, still equipped with the massive machines that used to make this ship run. We swam through catwalks, pulling ourselves with the rails, but our fins behind us, not below.
Inside the wreck, it is required that each fin kick be carefully calculated to not stir up silt, which could cause decreased visibility. Everything is coated with a fine layer of rust and even exhaled bubbles from scuba gear can knock off this rust, decreasing visibility.
I paused for a moment and looked behind me, seeing nothing but darkness and being grateful for our super bright sola video lights and other LED flashlights.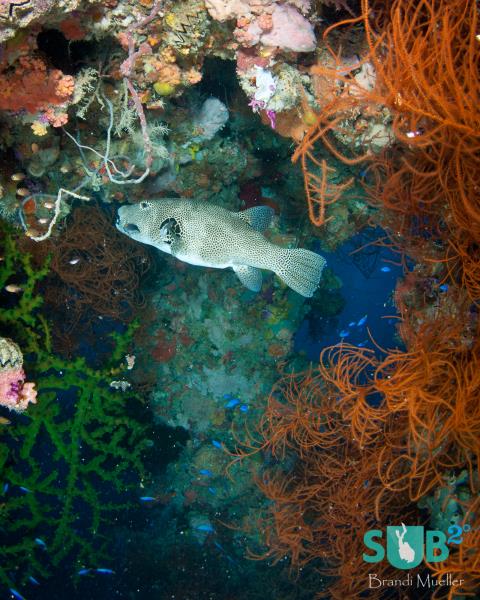 As our bottom time was getting close to deco, it was time to ascend and we came out of the wreck on the deck. Although part of the dive plan, it was hard to work out in my head how we had gotten from the hull of the ship to the top deck, good thing for my dive master who has hundreds of dives on the Shinkoku.
The sun was getting close to setting and yellow beams of light cut through the water and danced on the deck. Swimming back to the ascent line, a few sharks swam in view and a school of small transparent baitfish glittered in the fading light.
With training, experience, and a knowledgeable guide, penetrating wrecks can be an amazing experience. Diving inside the Shinkoku Maru was fascinating. See the inner workings of the ship gave me a really interesting perspective, reminding me that although now they are beautiful, artificial reefs, these were once floating warships that crossed the oceans.
*Disclaimer*
Always dive within your limits. Never go into a wreck or any overhead environment without proper training, equipment, and local knowledge; a good guide or dive master is highly recommended too! Certifying agencies such as PADI offer wreck specialties, and TDI offers Advanced Wreck Diver for those who want to advance their training.
In Chuuk, dive with a reputable shop or liveaboard. The M/V Odyssey liveaboard has knowledgeable dive masters, who guide the wreck dives and can recommend dive plans to suit all levels of divers, for those who want to go "deep and dark" and those who do not.
---
Further Reading
Christmas Eve in Yap Micronesia
Mandarinfish-The Courtship Dance
Directory of Dive Shops in Micronesia
Directory of Dive Sites in Micronesia
---
Featured Posts
Often overlooked, the island of Guam is surrounded by fantastic diving. White sand beaches and calm, clear waters invite divers to explore the ocean and see the healthy coral and plentiful fish populations below.

Papua New Guinea is one of the world's best dive destinations and Milne Bay offers fantastic reef diving and muck diving in the same location. Clear waters and phenomenal creatures make for an excellent dive trip that's enti...

Shark feeding dives are no longer just for the avid diver or thrill seekers. Bahama's crystal clear waters are the best environment to come nose to nose with a frenzied school of sharks after they smelled the chum.