Marine Life of Sangalaki Island

A graceful green sea turtle in the waters of Sangalaki Island

Diagonal Banded Sweetlips

Diagonal Banded Sweetlips (Plectorhinchus lineatus) is a tropical fish species that can be found throughout the warm waters of the western Pacific region.
0
Sangalaki Island
A romantic get-away is a once-in-a-lifetime experience, which may be transformed by an exotic locality. Little interesting islands tucked away from the major hustle and bustle of touristic cities, plus the white sandy beaches and good ambiance of the ocean breeze, could turn such an occasion into a remarkable magical moment you can never disregard.
If you and your loved one prefer adventure and excitement, then scuba diving at Borneo in the South Pacific is ideal. There are a variety of diving destinations in the area, including Sangalaki Island, which is one of the most beautiful Borneo diving destinations.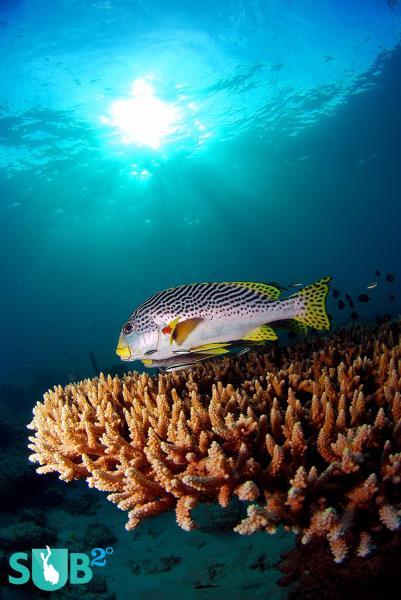 Sangalaki Island is reputed to be one of the best and richest diving grounds in Borneo, Indonesia. As part of the Marine Heritage Park, it is an uninhabited island surrounded by a large lagoon and low reefs with a large population of manta rays, giant turtles, and colorful fish.
Manta rays are strong amazing creatures with incredible features that attract parasites like Remora. The diversity of soft and hard coral reefs is just as prolific. All this makes the diving worthwhile, without fear of running out of things to see.

Coral Gardens
The coral garden is an undulating bed of brilliantly colored corals that shelve gradually before turning sandy. Here, you will also see other beauties like giant sea fans, sponges, feather stars, purple carpet anemones, and cuttlefish. From the gardens, you can decide to drift to Turtle Town.

Turtle Town
Turtle town is a locale that harbors all kinds of turtles. These turtles lurk below overhanging rock shelters in the coral gullies, breeding all year round. The Giant Green Turtle is considered the most popular. From here, you can then venture to the Sandy Ridge.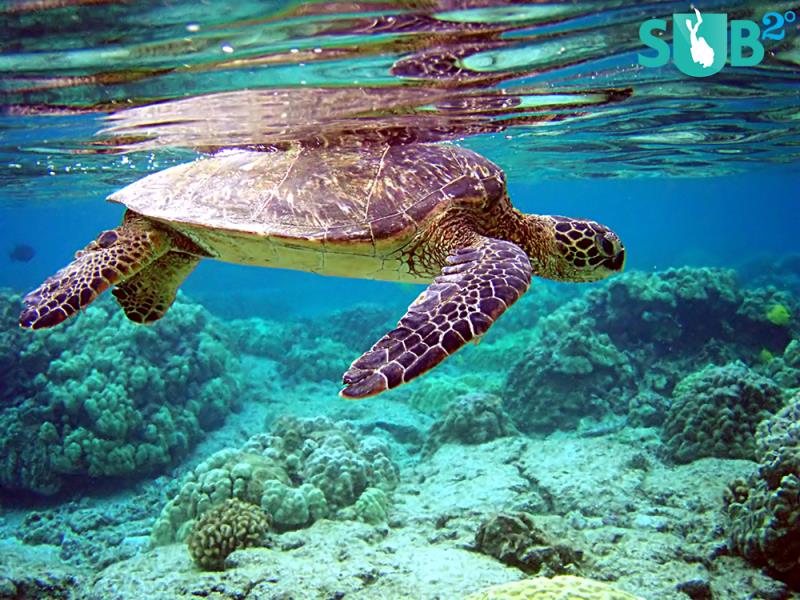 Sandy Ridge
This is the most striking dive site you can ever view in Borneo. It is popular for its blue-ribbon eels, beautiful little sharks, snappers, jacks, and catfish. It is also an area where you can clearly view the amazing giant clam, along with friendly crustaceans and lobsters. Here, you can also view different types of soft corals and sponges including tube corals and lettuce.

Manta Avenue and Cleaning Station
At Manta Avenue, you can stand from a distance and view all the manta rays. They are magnificent to see en masse, and especially while the cleaning is taking place. It is a fascinating site, as you get to see them queue in their amazing figures.

Although there could be no accommodation on Sangalaki, there are nearby resorts that have regular diving excursions to the isle. An added advantage to this is that you will get to experience other high quality dive sites that could be worth your visit too. Some of these dive sites include Maratua and Derawan Islands.
---
Further Reading
Overview of Scuba Diving in Indonesia
Where the Indian meets the Pacific Ocean
Featured Posts
Often overlooked, the island of Guam is surrounded by fantastic diving. White sand beaches and calm, clear waters invite divers to explore the ocean and see the healthy coral and plentiful fish populations below.

Papua New Guinea is one of the world's best dive destinations and Milne Bay offers fantastic reef diving and muck diving in the same location. Clear waters and phenomenal creatures make for an excellent dive trip that's enti...

Shark feeding dives are no longer just for the avid diver or thrill seekers. Bahama's crystal clear waters are the best environment to come nose to nose with a frenzied school of sharks after they smelled the chum.