Diver and the Fiji Reef

A diver swims over an anemone, part of the colorful Fiji reef.

Pink Fiji

Fiji is known as the soft coral capital of the world. Between the coral and the fish, the bright colors are endless!

Anthias

Orange, pink, purple, and yellow anthias flit about the reef like bees buzzing over a hive.

Gray Reef Shark Cautiously Approaching the Feeding Frenzy

Hovering above, the smaller sharks cautiously watch the action, in anticipation of the right moment to join in.

Tuna Head Disappearing in a Split Second

Larger pieces of fish are reserved for the guest of honor.
0
Fiji Diving, The Soft Coral Capital of the World
Often referred to as the soft coral capital of the world, Fiji has way more to offer than its nickname implies. Although an amazing abundance of soft corals are found around Fiji, the islands also have some impressive hard coral structures and are excellent for both macro and pelagic marine life, including some thrilling shark dives.
When diving in Fiji, the starting point for most travelers is Vitu Levu, Fiji's largest island. A lush green mountainous paradise, Vitu Levu also offers access to one of Fiji's most exhilarating dives. The shark dive that can be arranged from Pacific Harbour is -by some divers- regarded as the best shark dive in the world, attracting up to eight different species of sharks.
Somosomo Strait is another Fiji Diving Highlight. This channel between Taveuni and Vanua Levu is famous for its soft corals. Namena Marine Park is a protected barrier reef with a fantastic selection of both hard and soft corals. Just off Kadavu, the Great Astrolable reef attracts Fiji's greatest concentration of manta rays.
The beautiful selection of corals, and both small and large marine life makes Fiji diving excellent for underwater photography.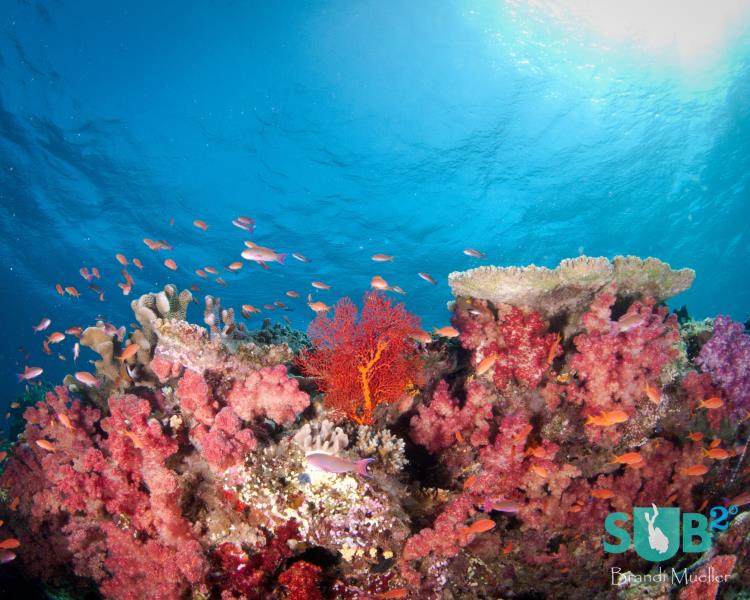 Getting to Fiji is easy from both the United States and Australia. International flights come in to Nadi airport, on Vitu Levu, from where visitors can easily catch domestic flights to their dive destination of choice. Most reputable resorts and liveaboards will offer pick-ups from the local airport.
The seasons on Fiji can be divided into wet and dry season, with a few transitional months in between. The dry season, between June and October, usually offers better visibility, but the water temperature is colder, between 24 and 27 degrees Celsius, and winds can be stronger.
The wet season runs from December to April, when the water temperature reaches anywhere up to 30 degrees Celsius, winds generally die down, and visibility is slightly less but still good.
The thrilling dives of Fiji
The Beqa Lagoon shark dive is by far the most famous and thrilling dive in Fiji. Some divers may even argue that it is the best shark dive in the world. Up to eight species of sharks can be encountered during the shark dives, including blacktip reef sharks, white tip reef sharks, silvertip sharks and bullsharks.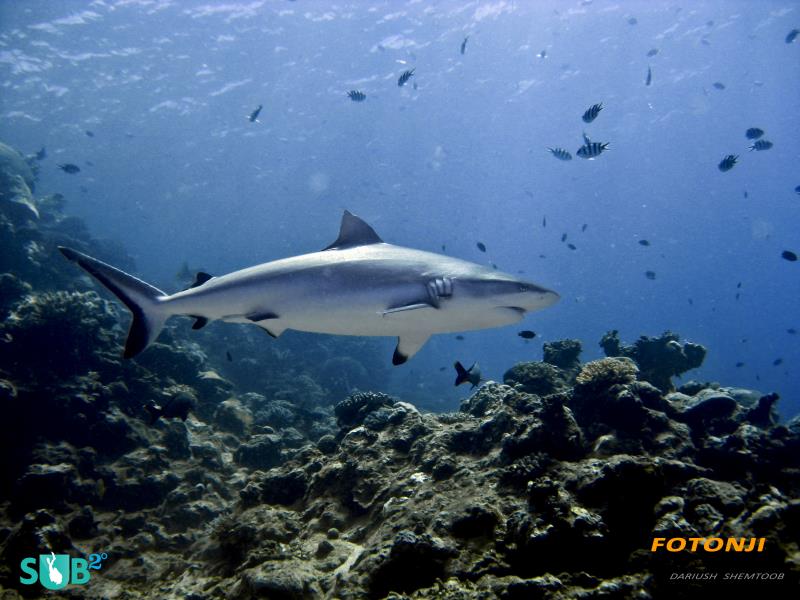 The tidal currents of the Somosomo Strait have created an ideal environment for corals and other marine creatures to flourish. One of the results of this is the magnificent Rainbow Reef, a vertical drop that attracts a wealth of pelagic marine life. The Great White Wall is one of the most popular dive sites and owes its name to the white soft coral that covers the entire wall.
For swim through enthusiasts, Crazy Maze at Namalata Reef, jus off Kadavu, is a real treat. Up to 11 swim throughs follow one after the other through spectacular coral formations. Groupers, barracuda and turtles are frequent visitors in this area.
Ceasar's Rocks, a popular dive site in Beqa Lagoon, consists of a collection of strikingly colorful coral bommies covered in soft coral. The topography offers an interesting variation of swim throughs, channels and tunnels. This site is heaven for underwater photographers, both wide angle and macro, since the site is home to a nice variety of nudibranchs and blennies.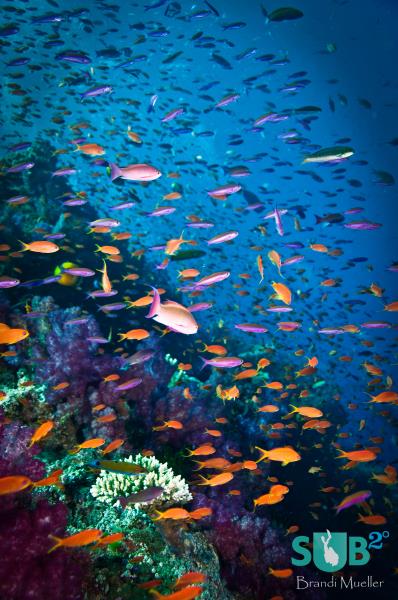 Dive site E-6, in the Bligh Water's Vatu-i-ra channel, is a pinnacle that is strategically located in a flow of nutrients that passes between the islands of Viti Levu and Vana Levu. Pelagic fish are attracted to the two sides of the pinnacle that are most subject to currents, whereas the protected sides of the sea mount are overgrown with beautiful soft coral and sea fans. A swim through called the Cathedral is a specific highlight of this dive.
Dive Shops & Logistics
Beqa Adventure divers offers the most thrilling dive in Fiji. Their shark dive offers a chance to see up to eight different species of sharks in two adrenaline-rushing dives. Their conservation efforts and environmentally friendly practices ensured them to win the Tourism Sustainability Award at the AON Fiji Excellence in Tourism Awards 2011.
When diving the Somosomo Strait, divers have different options according to their budget. The Taveuni Island Resort and Spa is a small luxury resort that offers the ultimate tropical island experience, which includes scuba diving in one of the world's best dive destinations.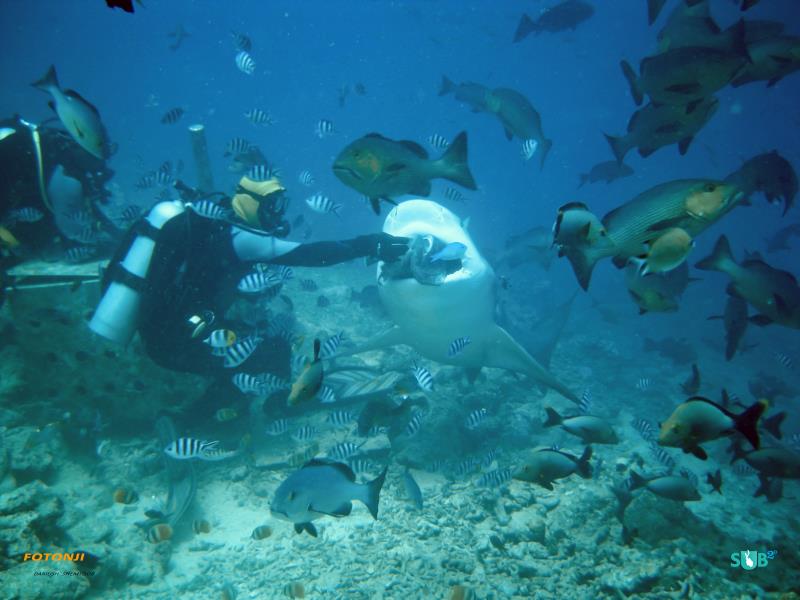 For those on a more limited budget and those wanting to stay in a more low-key Fijian getaway, Dolphin Bay Divers offers a chance to get away from it all and experience the real Fiji while still having the top dive sites of Rainbow reef at the doorstep.
The Matana Beach Resort in Kadavu houses the Dive Kadavu Padi center. With over 40 dive sites within a 15-minute boat ride, diving just doesn't get any easier. They offer a two-tank manta dive day trip to the other side of the island. The resort itself is small and offers only 10 traditional bungalows.
Beqa Lagoon Resort is a small and spacious island retreat. Built in traditional island decor, Beqa Lagoon is a perfect exclusive getaway that happens to be surrounded by 190 miles of pristine coral reef. Dives in the area include stunning reef dives, wreck dives and shark encounters.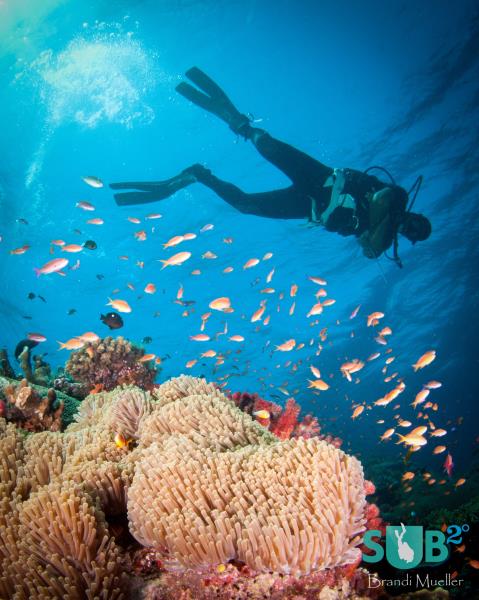 Nai'a liveaboard is another great option to dive Fiji. This comfortable, custom-built liveaboard vessel houses up to 18 divers and offers excellent facilities that include a spacious dive deck, dry camera space, and fresh, locally-grown food. Their itinerary takes divers through central Fiji in the areas of Lomaiviti, Bligh Water and Namena.
---
---
Further Reading:
Featured Posts
Often overlooked, the island of Guam is surrounded by fantastic diving. White sand beaches and calm, clear waters invite divers to explore the ocean and see the healthy coral and plentiful fish populations below.

Papua New Guinea is one of the world's best dive destinations and Milne Bay offers fantastic reef diving and muck diving in the same location. Clear waters and phenomenal creatures make for an excellent dive trip that's enti...

Shark feeding dives are no longer just for the avid diver or thrill seekers. Bahama's crystal clear waters are the best environment to come nose to nose with a frenzied school of sharks after they smelled the chum.