Giant Hard Corals Dominate at the Marine Park

A diver effortlessly glides with the current in Bonaire's healthy Marine Park. Massive boulder, brain, and star corals decorate the richly diverse coral reef.

Bonaire's Salt Pier Dazzles

The sun's rays dapple the turquoise water beneath Salt Pier. Grunts, snapper, and tarpon glitter as they shoal around the impressive structure. Photographers have plenty of opportunities to take creative images.

1000 Steps... To Heaven!

Divers carefully carry their equipment down the 72 steps to begin their dive. Shore entries and exits are clearly indicated, with bright yellow rocks used as markers.
1
Caribbean Diving: Caribbean Netherlands
The Caribbean Netherlands consists of Bonaire, St. Eustatius and Saba - they are often referred to as the BES-islands and enjoy the benefits of being special municipalities of the Kingdom of the Netherlands. Since October 2010, the Caribbean islands of Curacao and Sint Maarten became autonomous countries within the Kingdom of the Netherlands.
Bonaire and the uninhabited sister island Klein Bonaire are the furthest south in the Caribbean – just 50 miles north of Venezuela. Saba and St. Eustatius are in the northern Leeward Islands, with Saint Maarten lying further to the northeast.
Bonaire and Saba are considered to be scuba diving Meccas, although St. Eustatius and Sint Maarten have good diving too. All of the islands have a good infrastructure for tourism and travel and they are known for being well managed. Cruise ships regularly call at Bonaire and Sint Maarten.
Bonaire is regarded as the "Shore Diving Capital of the Caribbean" and has world-class reefs that are also accessible by boat. Divers who visit Saba will experience dramatic volcanic topography – stunning pinnacles and seamounts characterize this island. St. Eustatius is also a volcanically formed island, and the underwater scenery is reflective of this. Spur and groove reefs and coral-encrusted lava flow canyons are typical of the "Golden Rocks" diving. Sint Maarten sits on a shallower plateau than Saba and St. Eustatius, and the diving is centered on coral-encrusted boulder formations with some pleasant wreck dives.
All of the islands have a great reputation for varying species of marine life – this is probably due to the National Marine Parks that have been established around the islands. Each island has a different point of interest in terms of marine life - large pelagic fish in Saba, critters in Bonaire, sharks in Sint Maarten, and turtles and reef life in St. Eustatius.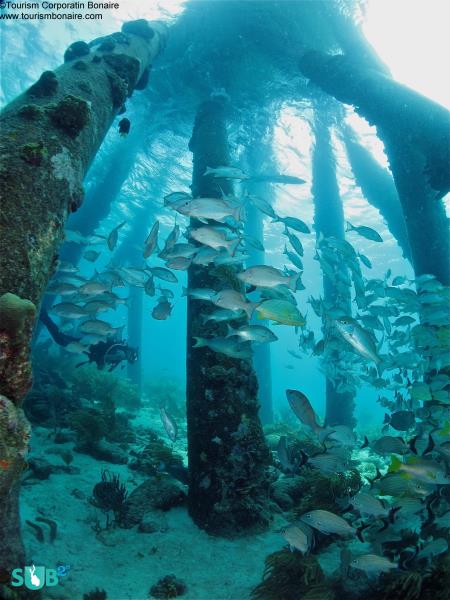 The climate throughout this region is tropical and generally stable; average air temperature throughout the islands is 80 °F. Average water temperatures range from 75-85 °F – short or long 3mm wetsuits are generally worn throughout the Caribbean region.
Dive Sites and Marine Life
There are over 60 officially listed dive sites on the leeward coast of Bonaire, and 20 sites around Klein Bonaire – all with amazing corals, sponges and marine life. Visibility averages 80-100ft, and surface conditions are generally calm. The fringing reef starts just 30ft (10m) from shore and generally slopes down to a sandy bottom.
The northern end of the leeward coastline has a dramatically sloping reef and the southern end has a double reef system. Top dive sites to visit are Karpata, La Machaca, the Hilma Hooker Wreck, Vista Blue, and Jerry's Reef. Marine life is healthy and abundant across all of the well-protected dive sites and turtles, eagle rays, eels, frogfish, and seahorses are common to see.
Saba has 30 dramatic dive sites around the island. The volcanic formations teem with diverse marine life and lucky divers will get the chance to see larger pelagic visitors too. The dive sites range from pretty patch reefs, that are suitable for novices, to advanced, deep dives with thrilling blue descents. The pinnacles and seamounts are not to be missed. The dive sites can be categorized into five main areas: The Pinnacles, The Windwardside, Tent Bay, Ladder Bay, and Well's Bay/Torrens Point.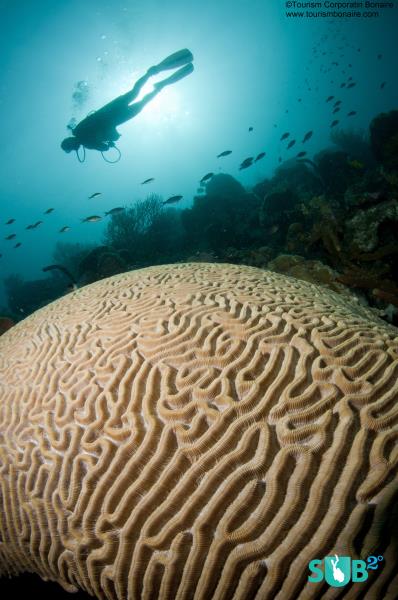 Sint Eustatius has around 36 marked dive sites. There are distinct topographical areas to be seen underwater: In the north, lava blocks, boulder slides, and shallow lava flows (called lava fingers) create interesting formations that are covered by colourful sponges and corals.
Spur and groove lava formations characterize the southern area. These coral reefs are home to a good selection of Caribbean reef fish and creatures. The most interesting being flying gurnards, eels, frogfish, seahorses, spotted drumfish, octopus, various rays, sharks, and turtles.
Sint Maarten has a nice range of dive sites where divers can experience shark diving, wreck diving, and see coral-encrusted boulder formations. Sitting on a shallow plateau, the dive sites average 18 meters (60 feet) and visibility depends on weather conditions – normally averaging 18-25 meters (60-80 feet).
A popular dive is Shark Hotel, named for the amount of sharks that divers encounter at this site. Reef sharks and nurse sharks are common species that divers will see. Turtles, stingrays, eagle rays, and barracuda are some of the other larger inhabitants.
Dive Shops and Travel Logistics
Bonaire's regional and international gateway is called The Flamingo International Airport (BON). Inter-island flights arrive via Aruba or Curacao. There are direct flights from North America and Europe, but not from South America.
The Princess Juliana International Airport (SXM) is the major airport on Sint Maarten. Direct flights come from North America. Inter-Caribbean flights operate to many of the other islands, with connections to Saba and Sint Eustatius.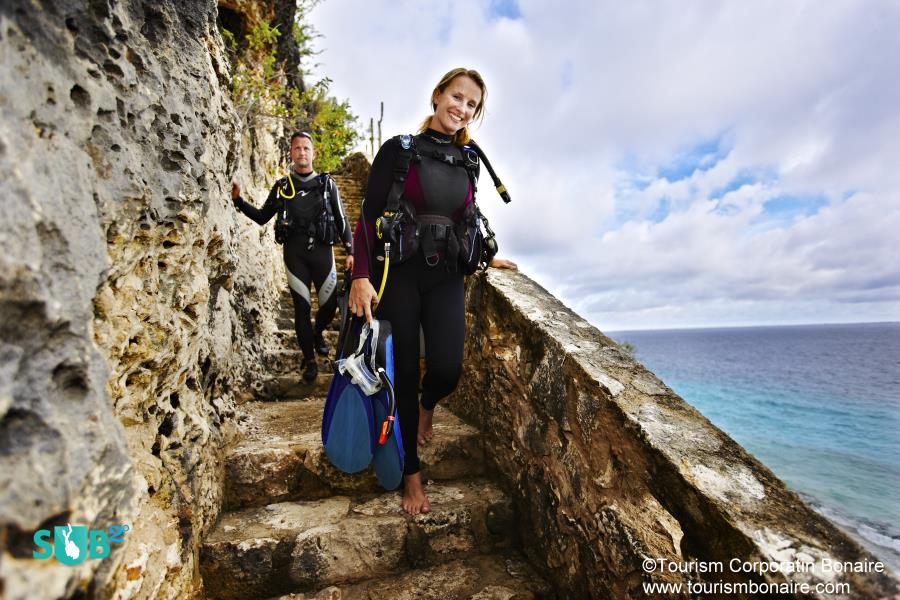 All flights to Saba's Juancho E. Yrausquin Airport (SAB) connect through Sint Maarten. Winair operates five flights a day from Sint Maarten to Saba. Winair also runs five flights from Sint Maarten to St. Eustatius on a daily basis. The airport code for Statia is EUX.
There are 20 dive operators on Bonaire, representing all the major recreational diving agencies. Nitrox and trimix are available and guided diving trips, from boat or shore, run daily from each center. Drive 'n' Dive vehicles are available to hire. Buddy Beach & Dive Resort and Divi Dive Bonaire are two good dive centers. Cruise ship guests can pre-book diving excursions with many of the dive centers.
Saba has three dive shops – Saba Deep Dive Center, Saba Divers, and Sea Saba Dive Center. Saba's dive centers have international diving teams, and very good safety records. The instructors are multilingual with the main languages being Dutch, English, German, and Spanish. Nitrox is available.
There are also only three dive operators on Sint Eustatius - Golden Rock Dive Center, Subaqua Dive Center and Dive Statia. Similarly to Saba, they are multi-lingual and offer the full range of certification courses from the major training agencies. Rental equipment and nitrox are offered.
Sint Maarten has seven registered PADI dive operators, including a liveaboard that departs from the island. All of the centers have equipment rental for diving and snorkeling and nitrox. The Caribbean Dive College and Ocean Explorers Dive Center are highly recommended operators in online reviews.
Explorer Ventures Liveaboard also has its base on Sint Maarten - a luxury dive boat, it accommodates 18 passengers and visits the surrounding islands. Many cruise ships visit Sint Maarten and diving can be pre-booked with the dive centers.
---
Further Reading
Here Be Dragons (or Rockmovers)
State of the Reef: An Introduction
My Best Dive Ever Was With A Snorkel
Featured Posts
Often overlooked, the island of Guam is surrounded by fantastic diving. White sand beaches and calm, clear waters invite divers to explore the ocean and see the healthy coral and plentiful fish populations below.

Papua New Guinea is one of the world's best dive destinations and Milne Bay offers fantastic reef diving and muck diving in the same location. Clear waters and phenomenal creatures make for an excellent dive trip that's enti...

Shark feeding dives are no longer just for the avid diver or thrill seekers. Bahama's crystal clear waters are the best environment to come nose to nose with a frenzied school of sharks after they smelled the chum.