Pregnant Denise

The "Gorgonian Wall" is home to many pygmy seahorses, like this pregnant Hippocampus denise.

Pygmy Squid Caught a Shrimp

A hungry little pygmy squid grabbed a snack while shooting!

Pegasus Seamoth

These funny little fish run over the sandy bottom like flying moth. Hence their name: Pegasus Seamoth.

Crinoid Squat Lobster

Beautiful colors on the night dive. A crinoid squat lobster was hiding under a feather star.

Bargibanti Seahorse

The new "heraldic animal" of Cabilao is the pygmy seahorse Hippocampus bargibanti. Cabilao is a paradise for pygmies.
4
Cabilao, A Tiny Island for Tiny Creatures
Today, we visit a small island: Cabilao.
Cabilao is located on the west side of Bohol (Visayas, Philippines). 3,500 inhabitants live there in 5 villages. The entire Island measures about 7.5 km2, and is surrounded by a beautiful reef, a paradise for the tiniest creatures.
The entire island is a nature reserve, and there are two fish protection areas around the island. Diving is most beautiful at the North side, but the other sides are also nice.
A special show at the house reef
Let's dive Cambaquiz! Located just in front of the Cabilao Beach Club, Cambaquiz is a split dive spot. Depending on the current, you can dive one side or the other. Cambaquiz 1 is in the south corner; Cambaquiz 2 is in the north.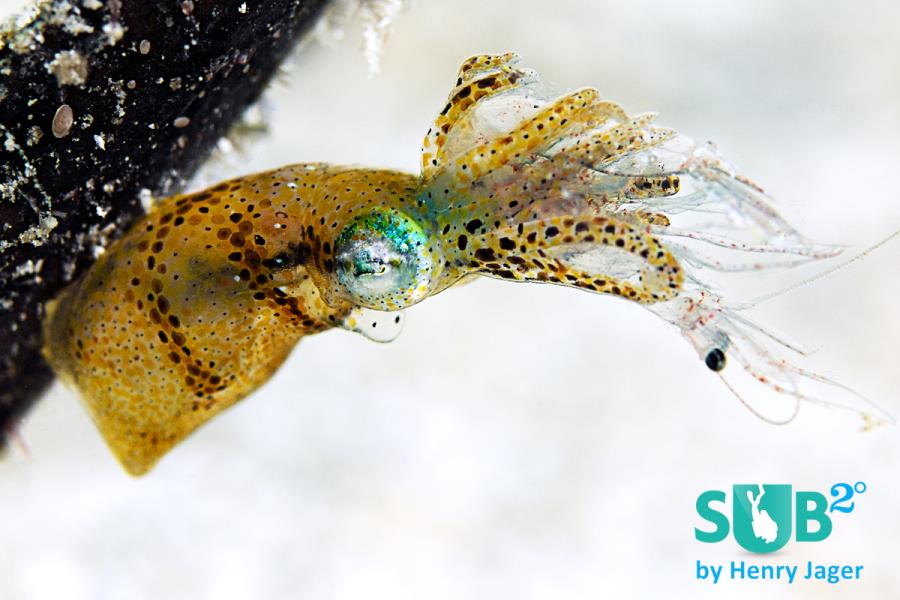 In Cabilao we had mounted the macro gear, and it wasn't a surprise that the first creature we saw was a turtle. But no worries, the small creatures were waiting. The first dive was an easy dive, but we saw a lot: porcelain crab, a tiny juvenile scorpion fish, shrimps, blennies, spider crabs and much more. It was such a nice dive that we decided to attach a night dive at the same spot.
We were diving only for a few minutes when we spotted a pygmy squid. We stayed, observed, and took a few pictures. All of a sudden it started to move in a zigzag motion. When it came to rest again on a piece of wood, we saw the reason: the pygmy squid had caught a tiny shrimp. It was eating it unhurriedly, regardless of the audience around. This was a great show in Cabilao!
Traveling
It's worth it to stay a bit longer in Cabilao or combine the trip with other destinations around the Visayas. First fly to Cebu from anywhere in the world, usually stopping at least once in between, take the speedferry to Tagbilaran, and then the bus to Sandingan, where a little boat will await you for the last part right to Cabilao.
The diving compensates for every travel. For example at Lighthouse, which is a spacy slope with a sandy bottom and seagrass, we met the devilfish, sea snakes, catfishes, harlequin and mantis shrimps, and the blue starfish with the little blue slug on the lower side. The place was also inhabited by many different nudibranches. Lighthouse is widely recognized as one of the best dive places around the Philippines.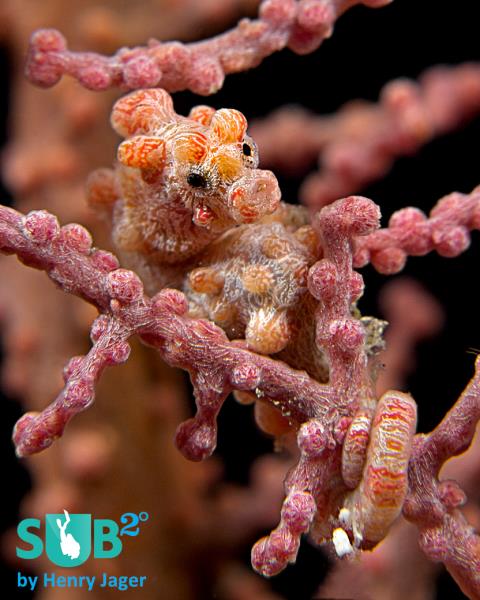 Diving more places
Cabilao's pristine reefs are profiting from two marine protected areas around the Island, and only traditional fishing by the inhabitants. A little bit south of Lighthouse is the Gorgonia Wall.
The gorgonias are beautiful and home to the pygmy seahorses, Hippocampus denise, and the yellow bargibanti. Leaf fishes, orang-utan crabs, and egg cowries made the dive a fantastic experience.
Sandingan Island is the place where the bus threw us out to take the boat to Cabilao. It's also a great dive spot and sometimes the dive boats go there, too. At Sandingan, we found the red bargibanti pygmy seahorse, spider crabs, porcelain crabs, lots of nudibranches, and beautiful corals.
Cabilao: A quiet place to relax and dive
Cabilao is a quiet island; there's no disco, no shopping mall. It's best for recreation and diving. Life is simple there; people live off agriculture and traditional fishing. One of the resorts is the Cabilao Beach Club, where I stayed.
And I can only recommend it. After 2012, you can find new, very comfortable rooms available. Power was supplied 24h even though the Island gets no power during the night.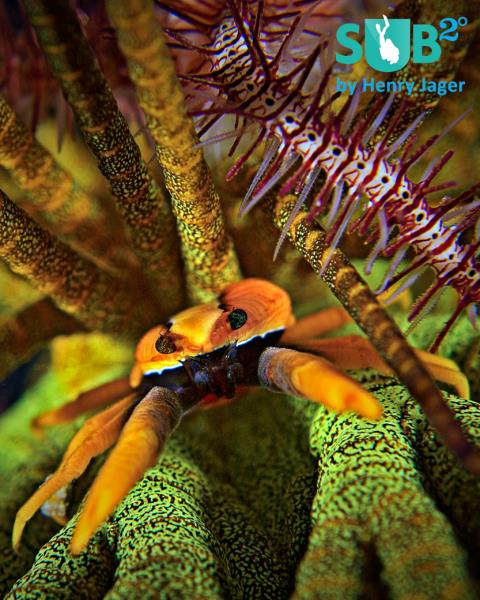 Though the currents change quite frequently, Cabilao is easy to dive. You always find a spot around the Island with convenient conditions. The Sea Explorers dive base is very professional.
Instructor Bobet, the local discoverer of Cabilaos new "heraldic animal", the Bargibanti seahorse, leads the base.
Diving around
Pangangan Wall is located a few minutes northeast from Cabilao and is absolutely worth a dive. Despite looking a bit empty (fishwise) you can find a lot of small creatures. One of the cutest is the pegasus seamoth, a really funny fish that runs over the sandy bottom like a flying moth.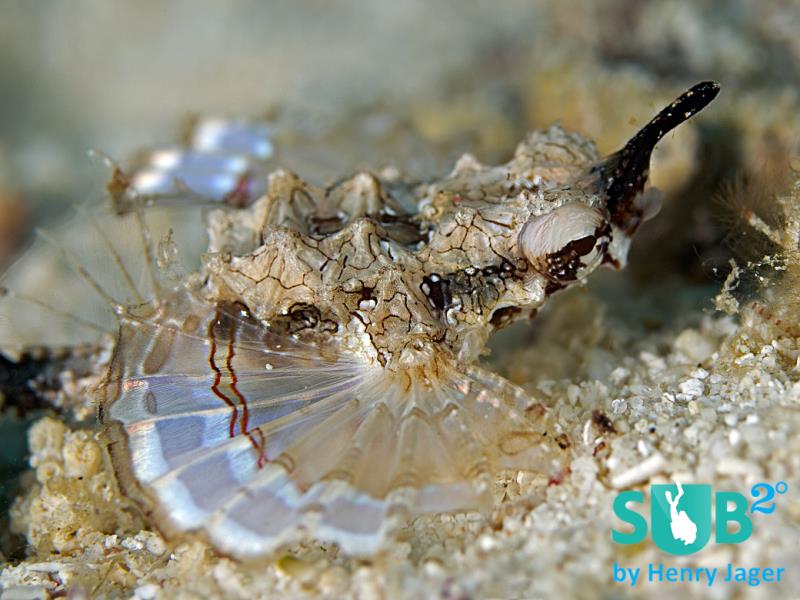 Back at the Resort we made a final dive at Cambaquiz 1, the other part of the house reef. Until 10m (33ft) deep, the bottom is sandy with sea grass, then coral formations starts to appear.
They are home to many nudibranches including head shield slugs and ornate ghost pipefishes. Porcelain crabs live in the anemones together with shrimps, and small cuttlefish swim around.
Cabilao is really a paradise for macro fans and photographers!
---
Further Reading
All Other Articles By Henry Jager
Overview of Scuba Diving in Philippines
Directory of Dive Sites in Philippines
Directory of Dive Shops in Philippines
Featured Posts
Thanks to Discovery Channel's popular «Deadliest Catch» TV series, the red king crab has become known across the globe. Native to the north Pacific, this armored behemoth has invaded Norwegian waters and is considered a dang...

An overview on diving in Dubai, Abu Dhabi, Musandam, and around the UAE.

It doesn't matter if it's in tropical SE Asia or a cold inland lake, many divers just aren't interested in exploring what lies below jetties. But by passing up on diving under a pier or jetty, these divers are missing out on...