Sam, the Giant Barracuda, and Underwater Model

The gentle giant, who recently disappeared.

Harlequin Shrimps

A pair of beautiful Harlequin shrimps, feeding on a seastar

Cleaner Shrimp in Moray

At the cleaner station, only -20m, in front of the beach

In the Middle of the Circle

Big school of "Jacks" circling above the wreck

Ornate Ghost Pipefish

Close up of the head of an Ornate Ghost pipefish
2
Bali, The Island of the Gods
It takes a very long flight, and a lot of patience to get from cold rainy Europe to the sunny island of Bali. But surely it's worth all the effort.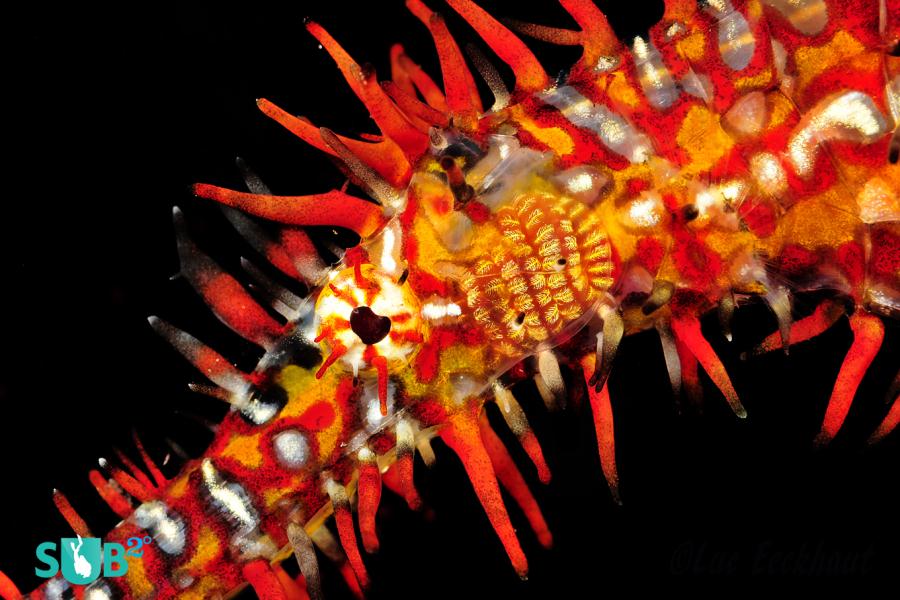 Before you start diving in Bali, it would be very wise to spend the first days visiting the cultural highlights of Bali, and meeting the really friendly Balinese people. Since the island is not that big, one week should satisfy every culture freak, and take away all the fatigue caused by the long journey.
After that relaxing first week, you could end up at Tulamben. This village, which is situated on the North East coast of Bali, has, in my opinion, the most beautiful dive sites around the island. "Muck diving", or diving among the strangest, most colorful or most camouflaged critters is the rule here.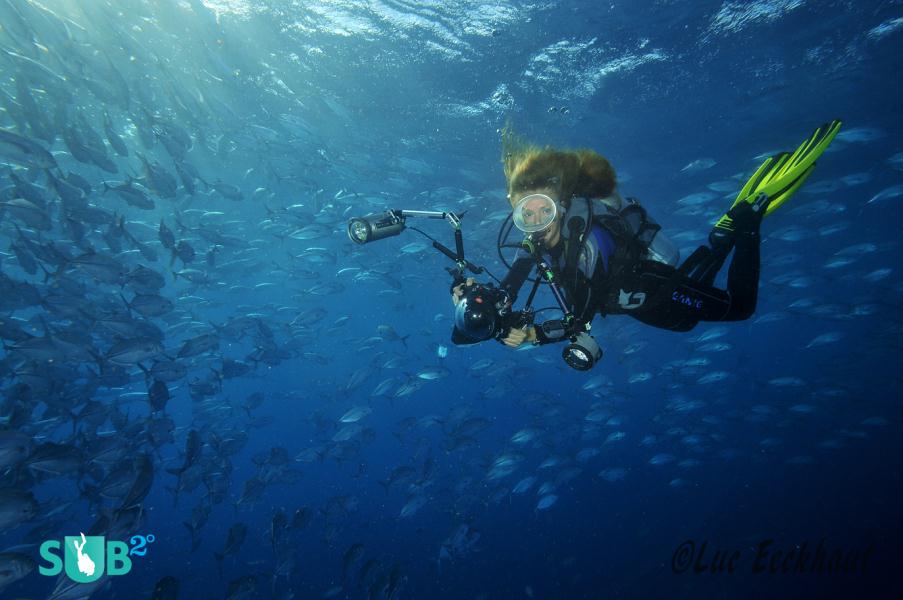 But some places like the wreck "Liberty", or "coral garden", also harbor many schools of fish, turtles, and some occasional sharks. The "Scuba Seraya Resort" has a beautiful house reef just a few steps from the well-stocked dive center, so even at the "check dive" here, don't forget the camera, because beauty is all around.
After a few minutes diving I already came across a couple of harlequin shrimp, feeding on a red starfish. Going a little bit deeper, you will find a cleaning station, where several moray eels with gaping jaws are being "cleansed" by hundreds of cleaner shrimp. Truly a unique experience.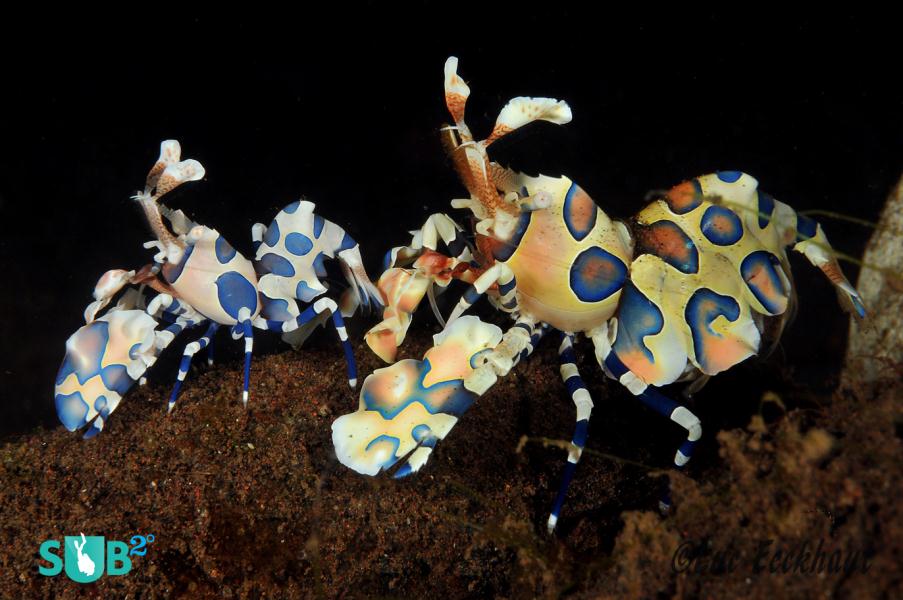 Finding these little gems is largely due to the skill of the dive guides. They are trained so that they know where to find the most special shrimps, crabs, ghost pipefish or breeding cardinal fish, there where every other diver would just swim by. The best shot I made here was that of a huge moray eel, being cleaned by two bright red "lysematha Debelius" shrimp.
Besides the beautiful "macro" opportunities here, one is also tempted to shoot some great "wide angles". Luckily I could count on the help of a very good and beautiful underwater model, which just brings that little "extra" for the picture. The "Liberty" wreck is the ideal place to work with an underwater model.
The exciting contours of this decaying and semi-buried ship form a beautiful background, and if the photographer knows how and where to place the model in this impressive structure, a winning image might result.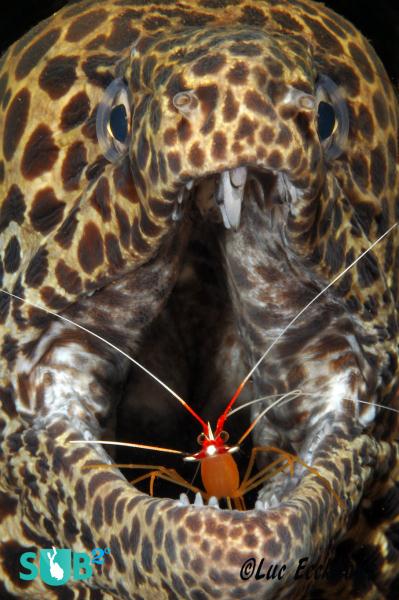 The "Liberty" is also home to a huge resident school of "Jacks", which usually in the morning moves as a large sphere above the wrack. Inside the wrack we used to find "Sam", the biggest barracuda I've ever seen. This silver torpedo was so tame, that at a certain moment I asked my model to give Sam a kiss - for the picture.
She daringly approached the shining fish really close, but unfortunately no more intimacy happened. Recently, Sam the friendly barracuda disappeared. Did he die of old age, or was he captured by a fisherman? We'll never know, but the "Liberty" wreck, and all the visiting divers will surely miss him.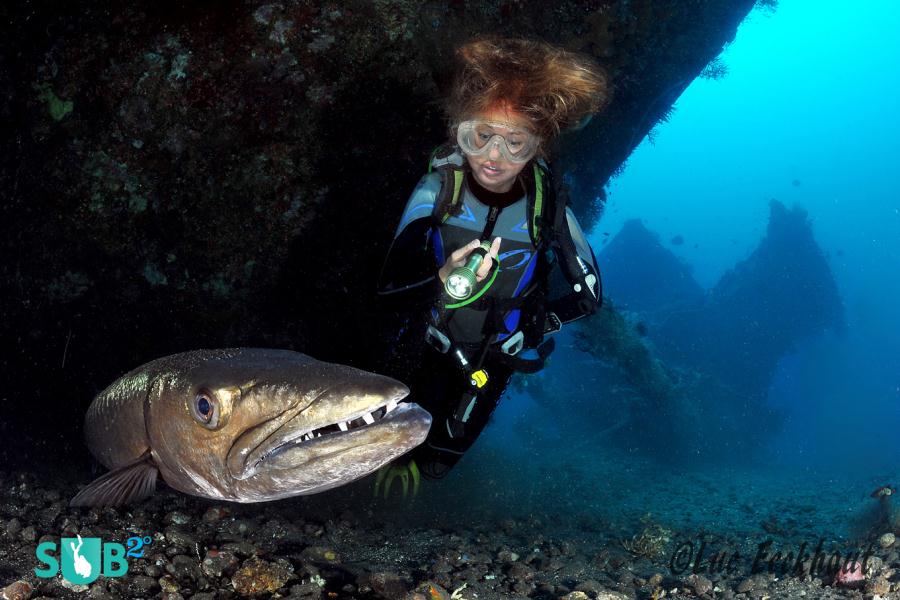 The "Scuba Seraya Resort" is a very cozy and romantic place to stay, and every evening, lots of guests come together to admire the calm sea and the beautiful sunset. Usually a few beers create the perfect atmosphere for telling wild stories about fantastic encounters a few meters away from shore, under the perfect blue surface of the ocean.
---
Further Reading:
Overview of Scuba Diving in Bali, (Indonesia)
Directory of Dive sites in Bali, Indonesia
Directory of Dive shops in Bali, Indonesia
Featured Posts
Thanks to Discovery Channel's popular «Deadliest Catch» TV series, the red king crab has become known across the globe. Native to the north Pacific, this armored behemoth has invaded Norwegian waters and is considered a dang...

An overview on diving in Dubai, Abu Dhabi, Musandam, and around the UAE.

It doesn't matter if it's in tropical SE Asia or a cold inland lake, many divers just aren't interested in exploring what lies below jetties. But by passing up on diving under a pier or jetty, these divers are missing out on...