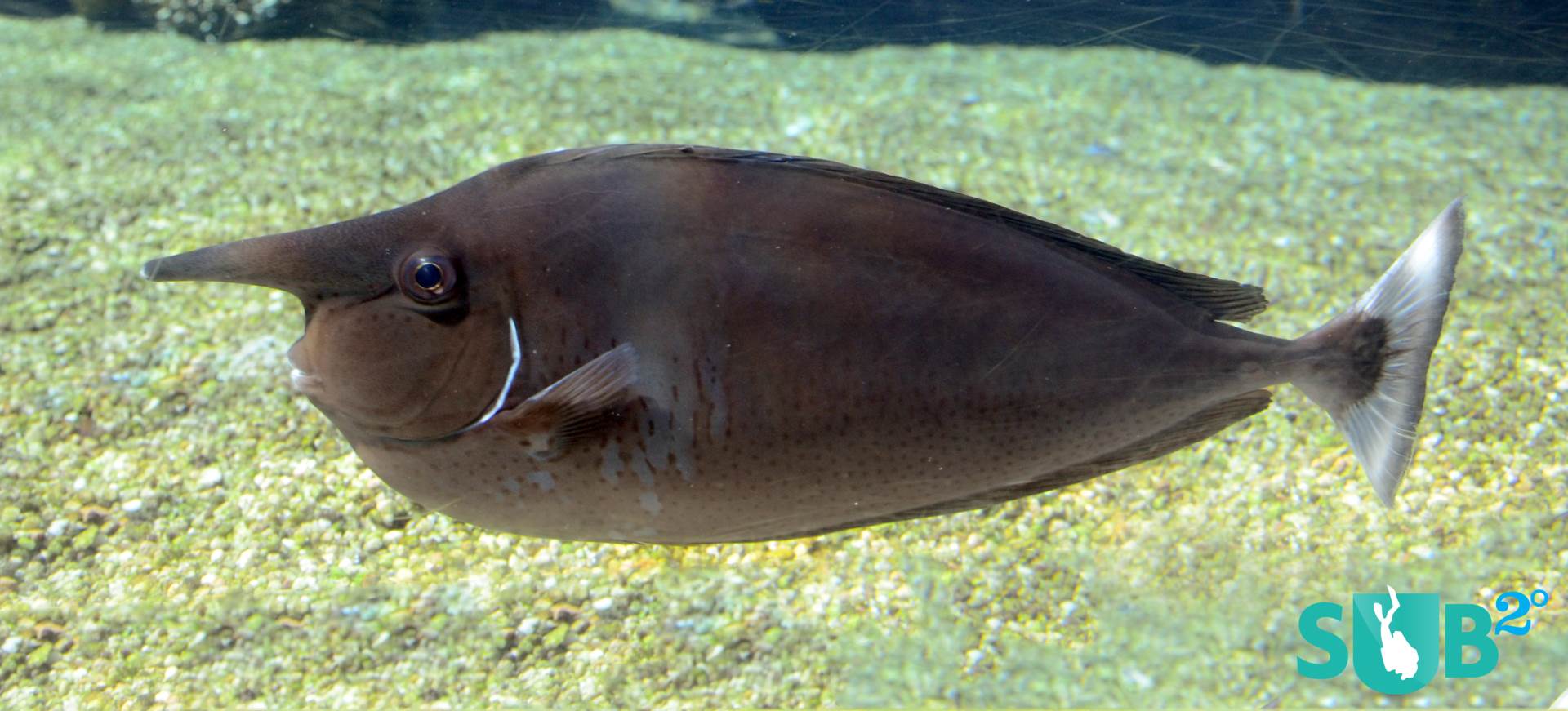 Published Aug. 4,
2014
0
Unicorns Do Exist
Most people will tell you that unicorns don't exist. But, as is so often the case, once you sink beneath the surface of the ocean, what you know on land no longer applies. The existing unicorn draws its name from the long protrusion on its forehead that it shares with the mythical horse-like beast. However, the similarities end at this "horn".
The genus Naso comprises the twenty species of unicornfish, cousins to the surgeonfish and tangs, in the Acanthuridae family. While the unicornfish gets its name from its distinctive nasal protrusion, not all species in the genus have such a horn. Some only have a small bump on their foreheads, while others have no protrusion at all. One trait they all share with the rest of the family is the pair of sharp spikes on the caudal peduncle (where the tail meets the body). These "scalpel-sharp" weapons are the source of the name surgeonfish. Unicornfish use their sharp spines to defend against potential predators, as well as to fight off other herbivores competing for tasty algae. Several species, such as the Bluespine and the Orangespine unicornfish, have brightly colored spines as a warning to any animal – humans included – not to mess with them.
Despite these formidable weapons, unicornfish are not generally aggressive and spend their time swimming across large regions of reef to find a meal. Depending on the species, the meal may come in the form of lush macroalgae like Sargassum, or it may consist of zooplankton floating in the water column. Some unicornfish have more creative methods, waiting below schools of larger fish in order to make use of the leftover nutrients raining down on them in the form of fecal matter.
However they find their food, unicornfish are a distinctive member of any coral reef community, and a fun fish to spot while diving. If you do spot one though, try not to disturb it, or you won't see it for long. With their laterally flattened bodies, unicornfish are designed for speed. While you will never see a horse with a horn on its forehead, keep an eye out on your next dive and you just may see a large group of Bluespine unicorns racing across the reef, on to the next patch of seaweed.
Featured Posts
Every year, between June and September, hundreds of whale sharks can be found in the deep waters northeast of Isla Mujeres, Mexico.

During winter, you can bet the Costa Brava waters won't be crystal clear and tropical warm. Usually, there's low visibility (less than 5 m) and really cold water, 11-13ºC (38-40F). But for those who dare to dive during winte...

Swimming with stingrays in the wild, up for a wing massage, Grand cayman is the place to visit!