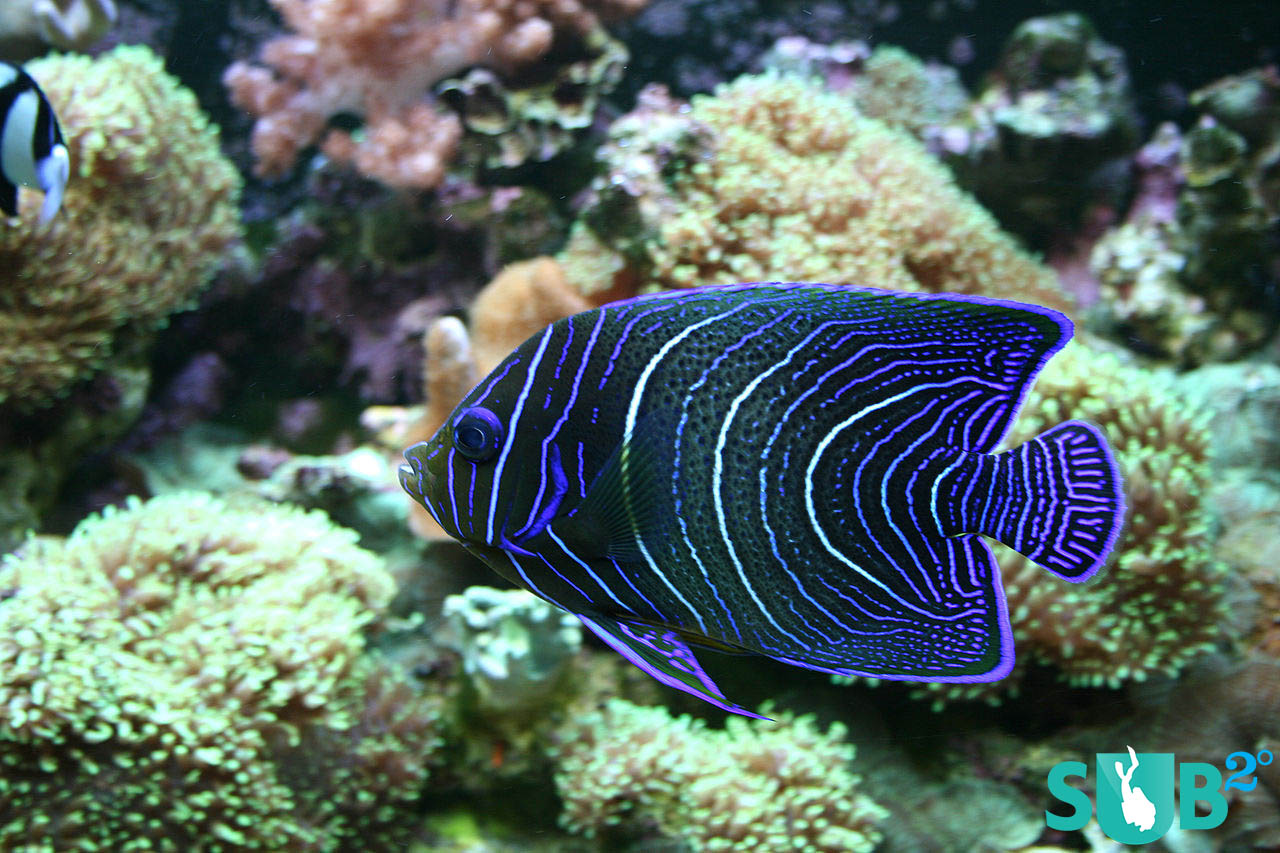 Published Sep. 15,
2014
0
Semicircle Angelfish
The first thing you notice when diving a coral reef is the incredible range of colors and patterns on fish, corals, algae, and countless other organisms. It is no surprise that different species of fish can have very different coloration, but some fish radically change in appearance from their juvenile to mature phases. One particularly striking example is the semicircle angelfish (Pomacanthus semicirculatus).
As an adult, the semicircle angel is a rather large and chubby fish, over a foot in length. Its body is mostly a pale green color with blue spots and highlights and yellow pectoral fins. The mature fish is pretty, but not especially eye-catching among all the colors of the reef. In comparison to its coloration in the juvenile phase, the adult can seem almost drab.
You would never guess that the juvenile is the same species. With a dark blue body crossed with arcs alternating electric blue and iridescent white, this fish is several inches of pure, conspicuous elegance. The semicircular stripes on the juvenile seem to glow with a light of their own, and it is difficult to take your eyes off the flitting beauty of this little fish.
The juvenile semicircle shares its striking pattern with the juvenile emperor angelfish (Pomacanthus imperator), however the two can be distinguished by the details of the striping. The emperor's stripes tend to be more circular and converge at the base of its tail. The semicircle's stripes reflect its name, and the ends do not tend to meet.
Like most angelfish, the semicircle partakes of a variety of the reef's offerings, from algae and sponges, to small crustaceans and zooplankton. As it matures, however, the semicircle's diet consists more and more of sponges. The semicircle angel is also quite territorial, defending its feeding grounds from other angelfish and small species.
This species has a fairly extensive Indo-Pacific range. From East Africa to Fiji, Japan, Australia, and recently even Hawaii, the semicircle angel prefers shallow, protected, coastal reefs. In other words, it lives where people dive, so while it is not extremely rare, it is always a treat to see.
Featured Posts
On the reefs of the Pacific, twilight marks the beginning of the mandarinfish courtship dance. A male begins dancing, and if he's desirable, an interested female will join. Just before the sun sets, the two fish will rise u...

Analyzing manta conservation in the context of marine conservation as a whole. (Part 1 of the series)

Sometimes "frogfishes" can be so ugly, but on other occasions they are the clowns of the sea .... I love it when they are "spawning" ....