Creatures of the Deep

Semi-translucent but glowing with its own iridescent light, the jelly-like creatures of the Pelagic Magic night dive don't fail to impress.

Ctenophore or Comb Jelly

A Ctenophore, also called comb jelly, on the Pelagic Magic night dive.

What You Find in the Dark

Luminescent creatures from the deep come closer to the surface at night during the Pelagic Magic night dive.

Pelagic Magic Night Dive

Many little known or unknown species can be seen on the Pelagic Magic night dive.

Pelagic Magic Night Dive

A larval shrimp on the Pelagic Magic night dive.
0
Pelagic Magic - Hawaii's Black Water Night Dive
Picture yourself going to the Hawaiian Islands, the most isolated island chain on Earth.
You land in Kona, a small touristic town on the west coast of the Big Island, and board a boat. The boat drives at least three miles offshore, where the water is more than 3,000 feet deep.
The sun has set long ago and it is completely pitch black.
Now jump in and go diving.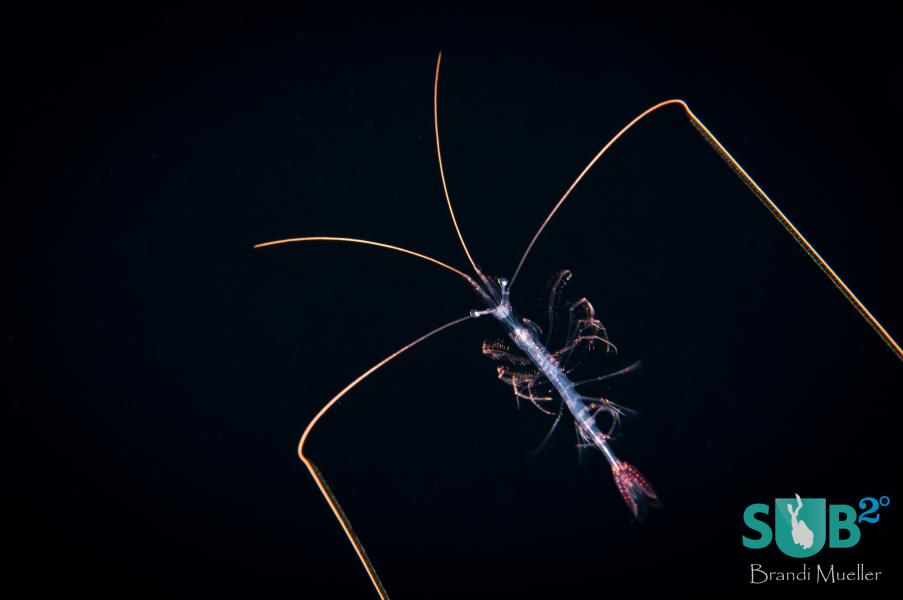 Why would anyone in their right mind want to do this? To see the mysteries of the deep, of course!
Every night, oceanic zooplankton make their daily vertical migration from deep water to the shallows. It is thought to be the largest migration on Earth in terms of biomass.
For divers it means a nightly show of translucent and bioluminescent creatures, many unknown to science.
Big and small jellyfish, ctenophores, salps, many larval species, and sometimes even oceanic white tip sharks can be seen while drifting in the open ocean at night.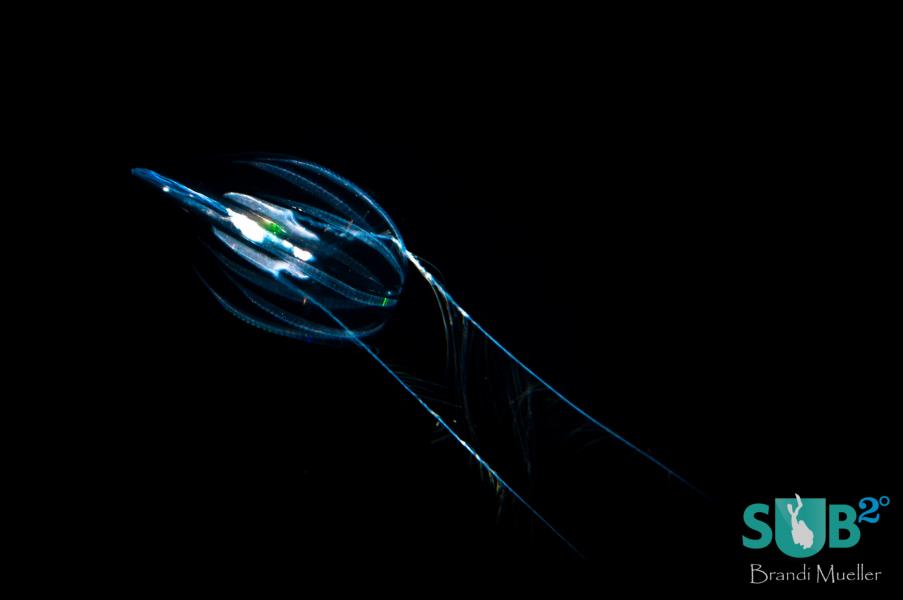 The Dive
The Big Island of Hawaii rises steeply out of the Pacific Ocean, and very deep waters are located close to shore.
This makes Hawaii an ideal place to experience an open ocean night dive.
Several dive shops in Kona offer Pelagic Magic night dives (also called Black Water dives) and it's only a 20-30 minute boat ride three miles offshore to where the water is deep enough.
A line, attached to the boat, is put in the water to hang around 40ft. Divers either hold this line or clip themselves to it to keep them at a steady depth throughout the dive.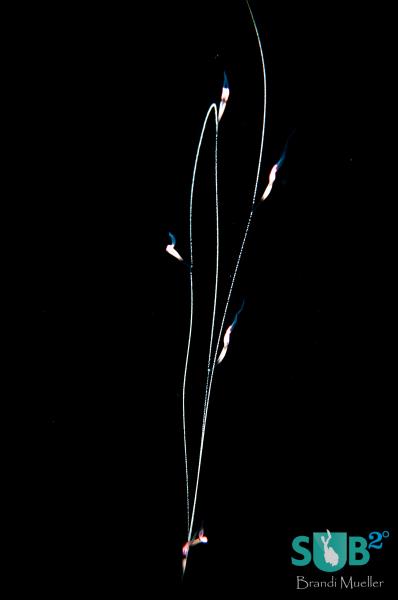 Because you cannot see the bottom, the only reference point is the boat on the surface (don't drop anything!) The boat then drifts wherever the current takes it, taking the divers along with it.
Then it's only a matter of time before the weird and wonderful creatures of the night drift by. Some glow with their own light, other species are reflected in the beams from dive lights.
The Creatures
Looking out into the seemingly empty black, it takes a few seconds for your eyes to adjust and pick up on the thousands of tiny creatures. Some of the translucent jelly-like animals produce their own iridescent light.
Often the brightness of the light changes and makes patterns as they move.Many are tiny, but some are huge with tentacle-like extensions that can stretch out for sevceral feet and then suddenly retract to a small ball.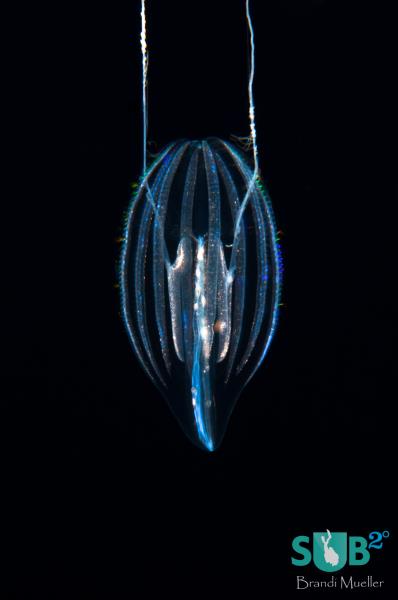 Many larval stages of reef critters can be seen. Eel larva has the same shape as a tiny normal eel; the head is the only opaque part of the body. The tail appears to be transparent with just a thread outline.
Many larval shrimps and crabs can be seen scurrying about in the open water. Sometimes they are seen hitchhiking on jellyfish or ctenophores, and tiny baby fish are riding inside the bells of jellyfish. Silvery glowing cephalopod hatchlings such as squids and octopus are fairly common.
Hawaii has an endemic pelagic seahorse, only seen floating in the open ocean. Occasionally divers are lucky enough to see one or more of these small seahorses during this dive.
On occasion bigger animals show up too. There have been reports of oceanic white tips approaching divers to inspect them, and even a few whale shark sightings have been documented.
Schools of reddish pink deep-water squid are fairly common, and in winter humpback whales migrate to the Hawaiian Islands. Even if you cannot see them at night, their song is often heard.
By switching off your light for a moment, you might first feel consumed by the black water, but any movement will activate the bioluminescent qualities of the huge amount of plankton around you.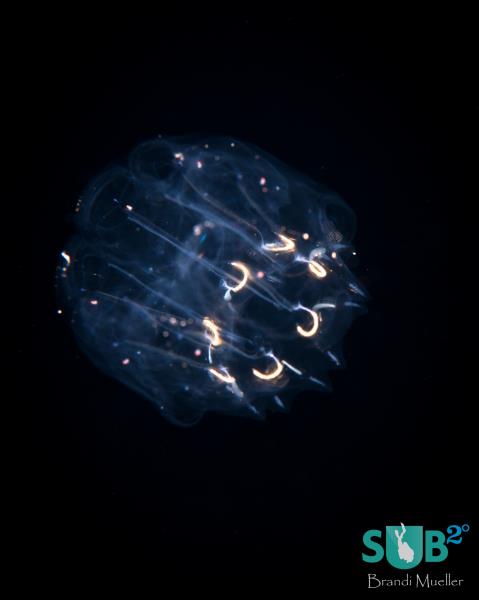 A wave of your arm will light up so many tiny glittery particles in the water and it won't seem so dark anymore.
This extreme dive is not for the faint of heart and most dive shops require divers to have experience in night diving and an advanced open water certification to participate.
One gains an interesting perspective after this dive.
It's easy to think when you get offshore and away from the reef that there isn't much out there, but it's the exact opposite. The ocean is filled with creatures- both big and small in all areas- even at night.
---
Further Reading
Featured Posts
Often overlooked, the island of Guam is surrounded by fantastic diving. White sand beaches and calm, clear waters invite divers to explore the ocean and see the healthy coral and plentiful fish populations below.

Papua New Guinea is one of the world's best dive destinations and Milne Bay offers fantastic reef diving and muck diving in the same location. Clear waters and phenomenal creatures make for an excellent dive trip that's enti...

Shark feeding dives are no longer just for the avid diver or thrill seekers. Bahama's crystal clear waters are the best environment to come nose to nose with a frenzied school of sharks after they smelled the chum.