Make Way for the Tiger Sharks

In a swarm of black tip reef sharks, a 14ft female tiger sharks swims through the group.

Tiger Shark

Swimming very close to the divers, this 14ft tiger shark doesn't seem bothered by us taking photos of her.

Black Tip Reef Sharks

Two black tip reef sharks hang out right below the dive boat.

Black Tip Reef Sharks

Although they don't get as much attention from divers as the tiger sharks, black tip reef sharks show up for the dives too, often more than 40 or 50 of them.

Black Tip Reef Sharks

While the tiger shark would move slowly, the black tips would move quicker and often change speeds while circling the bait and the divers.
6
No Cage - Diving with Tiger Sharks off South Africa
The Tiger Shark
Named for the dark stripes covering the top of its body, the tiger shark (Galeocerdo cuvier) is considered the world's second most dangerous shark after great whites. They are found in tropical and temperate waters, often close to shore, which puts them in close contact with humans.
Shark attacks, from any shark species, are few and far; humans are far more of a threat to sharks than they are to us. Like so many other shark species, Galeocerdo cuvier is considered nearly threatened due to shark finning. They grow over 16ft long and weigh 850-1,400 pounds.
Tiger sharks eat almost anything including seals, dolphins, fish, turtles, birds, other sharks, whales, and unfortunately, garbage.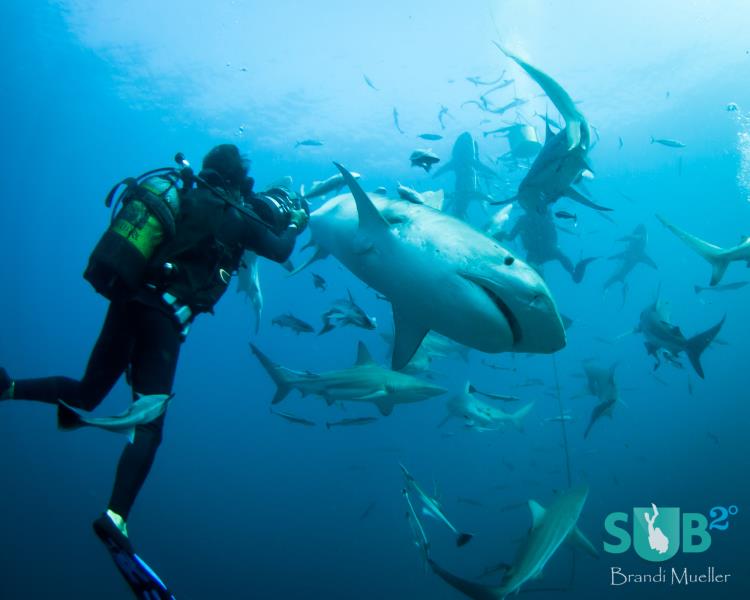 The Briefing
Once at the dive site, the crew put floating bait out and explained that the smell of the bait continues down the current, attracting the sharks in the area. This bait is left for an hour before the dive would start, unless a tiger showed up first. During the hour, our dive guide gave us an extensive and thorough briefing on staying safe during the dive.
Tiger shark dives have been occurring at the Aliwal Shoal for over twelve years, and March-June is peak season. Other sharks know the drill too and lots of black tips show up, sometimes as well as dusky and bull sharks, all often getting very close to divers.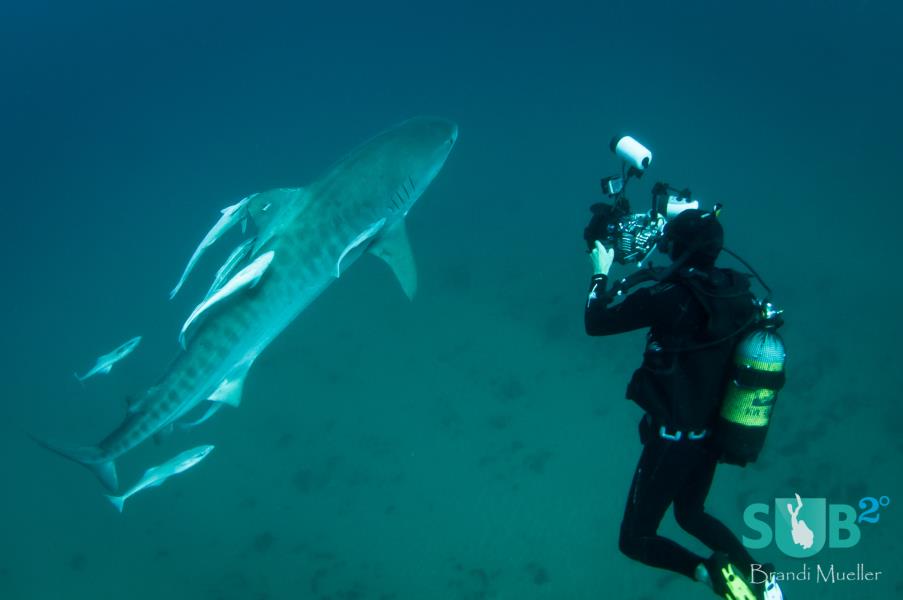 As one of only a few places in the world where you can have an almost guaranteed tiger shark experience, there are some rules (good advice) as what to do and what not to do. Tiger sharks are wild, unpredictable animals, so our guide told us worst-case scenarios and what to do if we just aren't feeling comfortable.
Divers stay in a line at all times (same depth) – This makes us look like one big animal.
Do not circle the bait – We don't want to look like we're protecting the food.
Stay upright in the water – So the sharks see what we are, leaving no room for mistaking us as other (tastier) marine animals such as seals.
No dangling gear such as octopus or pressure gauge – Could look like small, swimming fish in the current.
Nothing Reflective – Could attract a curious shark.
Photographers: no using hands for buoyancy. Often we have one hand on the camera and use the other to help us move in the water- even though we've been told through all our diving training not to use our hands. This may look like a distressed- and easy to eat- fish. Don't do it.
If a shark is too close – Purging octopus or yelling into your regulator will usually scare the shark away.
Never turn and swim away – prey swim away and we do not want to look like prey. Stand your ground.
Don't touch the sharks.
With some anxiety reduced, and a whole new list of anxieties created, like clockwork, a 14ft tiger shark swam right next to our (seemingly very small) boat. It was time for the dive.
The Dive
Where most of my dive training has included "if you see a tiger shark, quickly, but calmly, get out of the water" – this time we back-rolled off the boat next to a tiger shark. There wasn't just one big tiger either; about 40 black tip sharks circled the bait as well.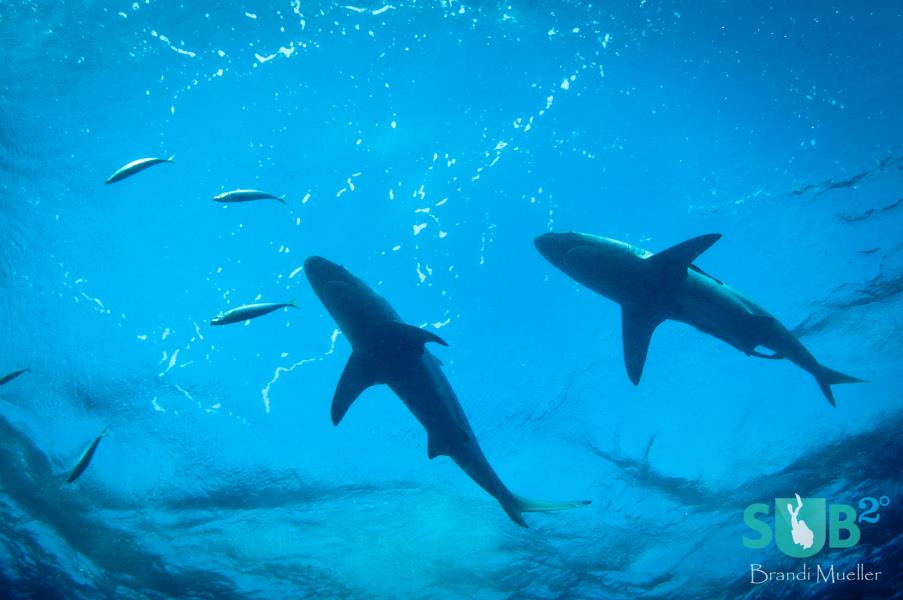 The dive crew had set up two bait buckets on a line, one around 15ft, the other around 40. We were to stay around the higher bucket, as tiger sharks are shy and sometimes they will deepen before getting comfortable enough for us to get close.
We were in the middle of chaotic black tips circling the bait, and every few minutes the tiger would make a slow and graceful circle around the bottom bait.
The blacktips would speed up and slow down, trying desperately to get into the fish, but below us the tiger just continued the same pattern - the black tips got out of her way.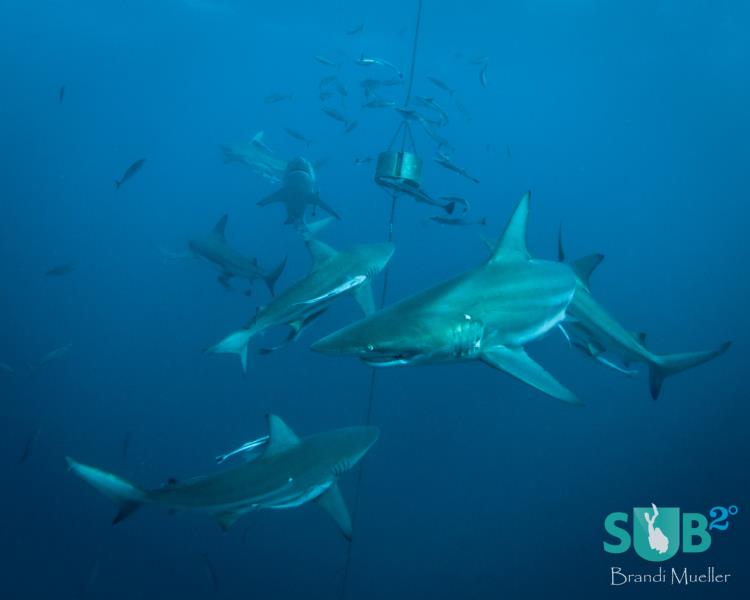 This was her territory and no one was going to mess with her. We could tell by her lack of claspers she was a female, and she would slowly, almost gently, go up to the bait canister and try to taste it.
As the tiger started to stay with us, the dive master took us in pairs of two, down to the lower bucket to see if the tiger would stay. Down at her level she came towards us and her immense size was apparent.
Her head was like a giant square box, and headed straight for me. But she moved so slowly, gracefully. Never moving fast and never changing speed, she circled the bait- and us as well.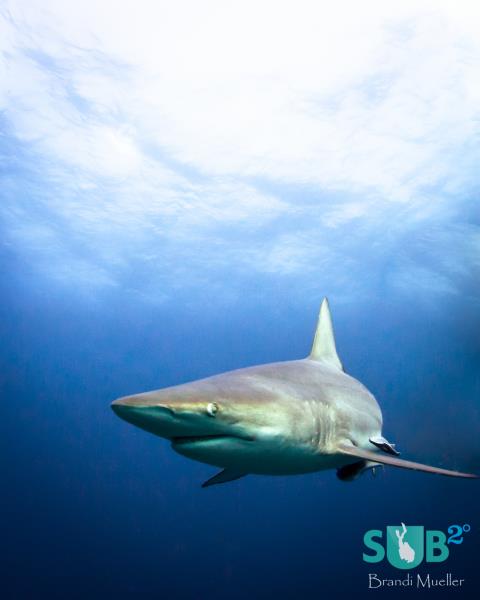 There was nothing but beauty in this massive animal. The dark, black stripes and the sleek control of her movements through the water made it hard to take your eyes off her - well that, and maybe because I wanted to know exactly where she was at all times. As my comfort level increased with the tiger, our air was almost gone and it was time to head back to the surface.
It was incredible to be so close to such a huge and graceful animal. Most definitely a high-adrenaline adventure, but an eye-opening one as well. Sharks are not the human-killing machines we've made them out to be in the media. They are an incredible and important part of the ocean's ecosystem.
---
Further Reading
Overview of Scuba Diving in South Africa
Directory of Dive sites in South Africa
Directory of Dive shops in South Africa
Featured Posts
Often overlooked, the island of Guam is surrounded by fantastic diving. White sand beaches and calm, clear waters invite divers to explore the ocean and see the healthy coral and plentiful fish populations below.

Papua New Guinea is one of the world's best dive destinations and Milne Bay offers fantastic reef diving and muck diving in the same location. Clear waters and phenomenal creatures make for an excellent dive trip that's enti...

Shark feeding dives are no longer just for the avid diver or thrill seekers. Bahama's crystal clear waters are the best environment to come nose to nose with a frenzied school of sharks after they smelled the chum.