Diving Silfra

A diver diving in-between the North American and European continental plates at Silfra Crack, Iceland.

Pushing Apart the Continental Plates

The North American and European tectonic plates move apart on an average of two centimeters per year, at Silfra Crack you can dive in between them and touch both sides in some sections.

Silfra Crack, Iceland

The ladder that takes you into the crack. Glacier water filtered through miles and miles of volcanic rock feed Lake Þingvallavatn making it extraordinarilty clear.
0
My First Dry Suit Dive - Silfra, Iceland
Silfra, Iceland
I like warm water, diving off boats, good weather, calm seas, and sunshine.  Who doesn't?  But when I heard about diving in between the North American and European continental plates, all bets were off.  Bring on the dry suit, the 39 degree water, and the wind and rain.  I could toughen up for a dive or two if needed, and learn how to dive in a dry suit.
I had done my homework in my PADI dry suit book and watched the DVD when our tour van picked us up, early one chilly summer morning from our hotel in Reykjavik, and headed northeast out of town towards Þhingvellir National Park.  It was July, the warmest month of the year, and still only a high of around 55 degrees.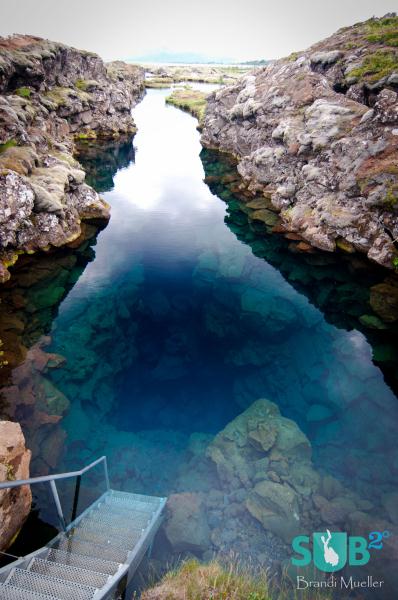 Getting any sleep the night before was almost impossible with 24-hour day light; not to mention, a little bit of nerves about my first dry suit dive played a role.  But during the 45-minute journey, my instructor went over my coursework and discussed what to expect during the dives, and that calmed my nerves. 
Iceland is spectacularly beautiful. 
The Dive Site
Around every corner, the majestic landscape made of volcanos and glaciers opens up.  Geologically active, Iceland has numerous volcanoes, including the well-known Eyjafjallajokull that erupted in 2010 to wreak havoc on Europe's air travel.  The island itself was formed from eruptions on the Mid-Atlantic ridge, which is the diverging point of the North American and European tectonic plates. 
These plates are moving apart on an average of two centimeters per year.  And I wanted to dive in the crack that has formed between them.
The Dive
It was sunny, but still a bit chilly, when we arrived at the parking lot for Silfra Crack. Our group included both divers and snorkelers.  We suited up in our fleece undergarment and several layers of wool socks.  My instructor helped me put on my dry suit and showed me how it worked.  With our gear on, we headed across the street to the platform where our dive would begin. 
A wooden platform and some steps led down into the water, and you could see the rocks at the bottom through the crystal clear water. 
My first step down the ladder into the water felt funny.  It was as if my body knew it was supposed to be cold.
Through all the layers and the crushed neoprene, I could feel the water was cold on the outside, but I wasn't cold. 
In went my other foot, and soon I was waist deep.  It wasn't until my face felt the 39 degree water that I felt a little uncomfortable, but the icy water only stung for a few seconds and then I was fine.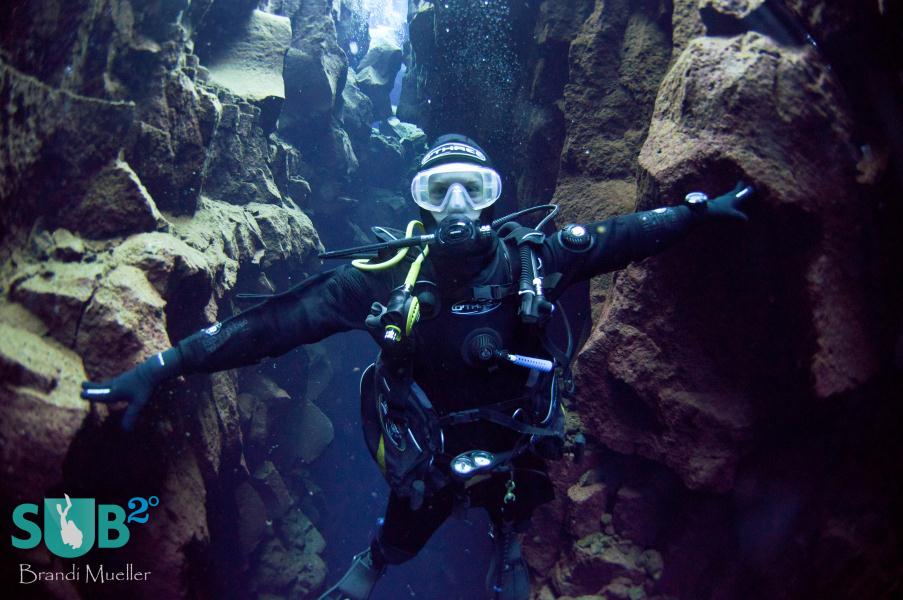 After doing a few surface skills, we headed down to about 10 feet where my dive buddy, our instructor, and I signalled okay signs all around.  After a few more skills to make sure I was using the suit properly, we continued our tour. 
Part of the water, feeding Lake Þingvallavatn, comes from Iceland's second largest glacier, Lángjökull, many miles away.  Different estimates suggest it may take 20-100 years for the glacier melt water to pass underground through lava rock to finally arrive at Silfra.  The extensive filtration through the lava rock makes this water extremely clean, pure, and safe to drink. 
The Underwater Journey
The underground journey also led to incredibly clear glacier melt water. This is apparent even from the surface, where you can see straight down to the boulders on the bottom.  Once in the water, my mind started to play tricks on me.  The water was so clear it appeared transparent, as if we weren't even in the water; just floating in air through a canyon. 
Its estimated visibility was consistently more than 200 feet. 
The first part of the dive was referred to as Silfra Hall or the Chess Room because below you have massive boulders that look like they were left over from an ogre's chess game - and being that many superstitious Icelanders strongly believe in trolls and elves, this could very well have been how they got there. 
As we continued toward the lake, the boulders were stacked up so you had to go quite shallow to pass into the next section, Silfra Cathedral.  This was the largest room, and one could descend down to 65 feet and continue for several hundred feet.
This was where your arms could reach and touch both the North American and Eurasian tectonic plates.  We stopped for a few minutes for some photos and then continued to descend to around 60ft. The huge rock walls rose up and it felt as if we were floating through a massive canyon.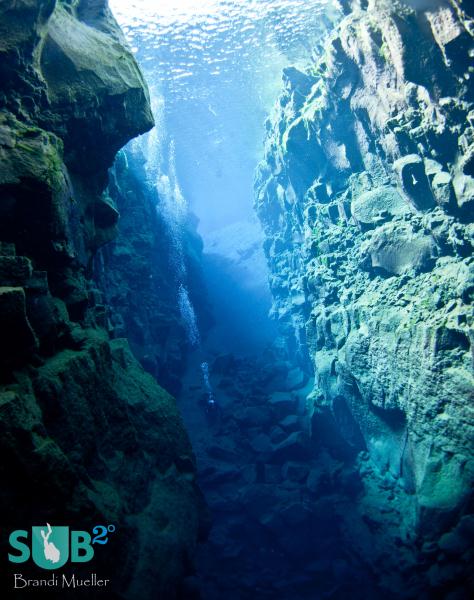 Sand started to appear and it brought us slightly shallower, marking the spot where we turned left to enter Silfra Lagoon.  This section was shallow, less than 10 feet deep, and the sun's light rays made their way through the glassy water, dancing on the sand and rocks. 
I didn't want to stick my head out of the water yet and end the dive, but I realized my fingers had numbed a bit, and so maybe it was time to put on some dry mittens back on shore. 
Silfra is accessible all year, as it never freezes. 
Other than the water temperature, diving Silfra is technically very easy. 
Several companies lead guided dives daily that include transportation, rental gear, and Dry Suit courses if required.  There are no real dangers and no boats, only a mild current coming from where the water enters the spring, pushing you in the direction you want to go, and it can be a very shallow dive if desired. 
Diving Silfra is a fantastic opportunity to dive a geological phenomenon and try out dry suit diving!
Further Reading
Featured Posts
Often overlooked, the island of Guam is surrounded by fantastic diving. White sand beaches and calm, clear waters invite divers to explore the ocean and see the healthy coral and plentiful fish populations below.

Papua New Guinea is one of the world's best dive destinations and Milne Bay offers fantastic reef diving and muck diving in the same location. Clear waters and phenomenal creatures make for an excellent dive trip that's enti...

Shark feeding dives are no longer just for the avid diver or thrill seekers. Bahama's crystal clear waters are the best environment to come nose to nose with a frenzied school of sharks after they smelled the chum.