Helmut Gurnard

Helmut Gurnard from Lembeh Straits

Mandarinfish

Taken in Lembeh Strait
1
Lembeh Strait: Diving with the "Aliens"
The Trip
We took Lion Air from Denpasar Airport, Bali, to Sam Ratulangi, the International Aiport in Manado, the capital city of North Sulawesi Province, Indonesia. Despite of the province's location on the far north-east portion of Sulawesi island, Manado, its main city, has became an efficient entry to visit the province.
Sam Ratulangi airport provides a direct connection from and to Singapore, Bali, Cebu, and connecting several flights to the Eastern part of Indonesia such as West Papua and Ternate. Strategic location, easy access internationally, combined with beautiful nature of its terrestrial and marine, without no doubt, North Sulawesi has tourism potential for foreign visitors from all over the world.
The province has at least three famous areas for scuba divers to visit: Lembeh Strait (Bitung), Bunaken Island, and Bangka Island.
It took us of one and half hours driving to reach our hotel, Lembeh Hills Resort, which is now re-named to Dabirahe. The resort is located in the hills area where each guest cottage has sea-view to the beauty of Lembeh Strait and Island. Its seclusion made the resort perfect for luxurious retreat for honeymooners and couple who wish a peaceful holiday surrounded by nature.
The Muck Diving
Lembeh Strait is well-known for its muck diving, a critters paradise for scuba divers. In this area the scuba divers will dive in shallow water 10 to 15 meter of flat black sandy bottom. One should expect no coral reefs during the muck diving.
However, the interesting part of muck diving is, the sea critters live in the muck salt waters are rarely seen in other part of the ocean with coral reefs. Sea critters such as hairy frogfish, octopus wonderpus, mimic octopus, or box crabs could easily spotted on.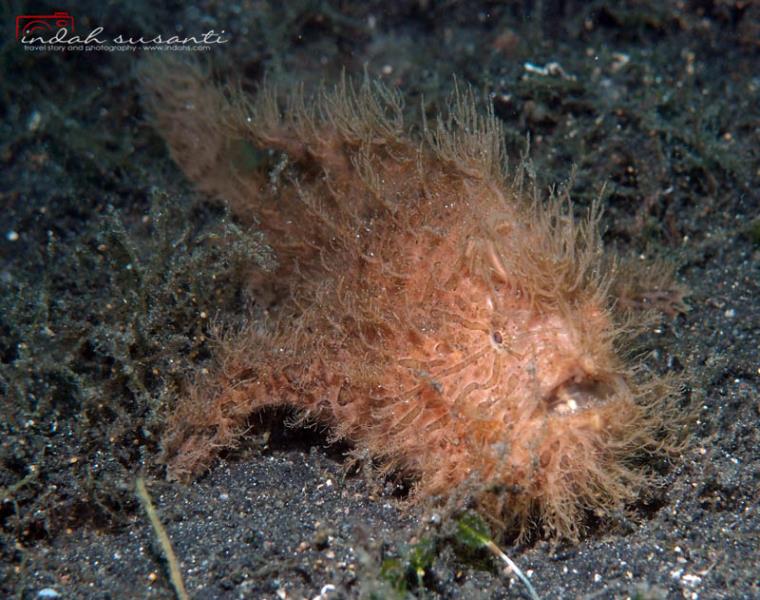 First time I saw hairy frogfish and helmut gunard was in the dive site called Hair Ball. It was so addictive after seeing such unique creatures, on the following dives I kept looking on the sandy bottom, searching for the next weird looking critters. I feel like I did an underwater hunting to find them. In dive site Nudi Retreat 2, and perhaps my most favourite dive site in Lembeh Strait during our stay, where for the first time I saw pygmy seahorses, and electric clamp.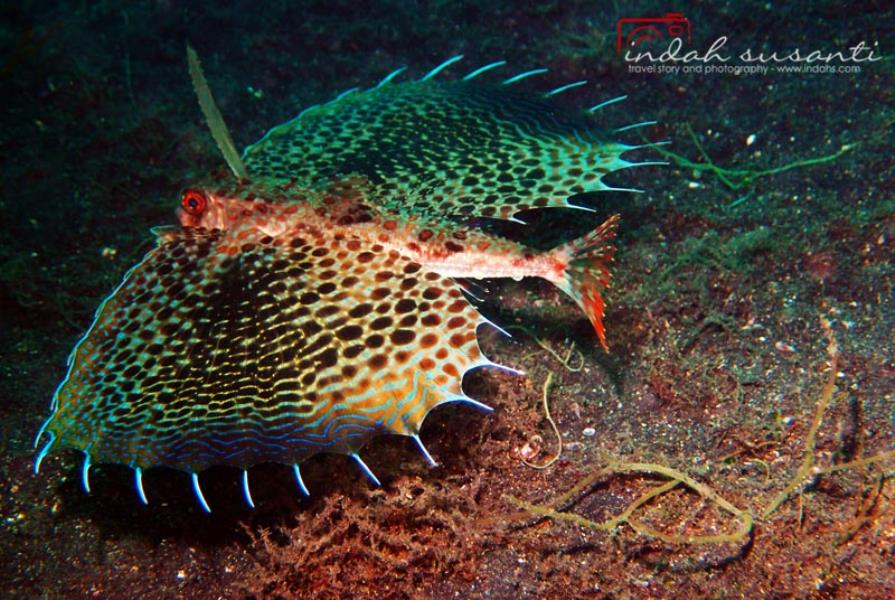 We also did a Mandarin dive, a sunset to dawn dive, at Tanjung Kusu-Kusu dive site. It was my first sunset, semi night dive, and we had to wait for quite sometime in front of Mandarin fish' nest. Mandarin fish usually live and hide in broken coral area, until the sunset they will come out for mating.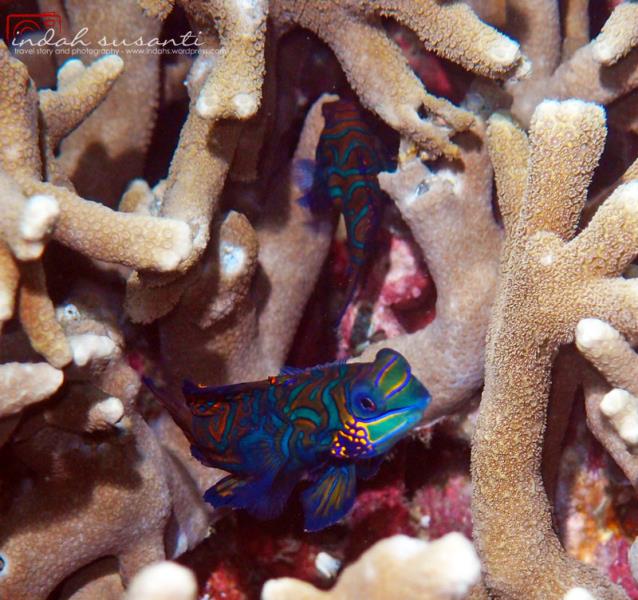 If Muck Diving gets Tiring…
In addition to muck diving, Lembeh Strait also offers ship-wreck diving in the dive site called Mawali Wreck, a Japanese cargo ship from the Second World War sank at the depth of around 25 to 30 meters.
In addition to that, a dive site Batu Kapal in the northern part of Lembeh island offers beautiful corals reefs with clear visibility, however, it could be expected to experience strong current. If you were lucky, you could see some dolphins swimming around your boat in the area. I was lucky to see a group of dolphins following our boat until we reach the dive site. A good start before back-rolling to the ocean!
Further Reading
If you enjoyed this post, please let us know either in the comments or by sharing it!
Featured Posts
Often overlooked, the island of Guam is surrounded by fantastic diving. White sand beaches and calm, clear waters invite divers to explore the ocean and see the healthy coral and plentiful fish populations below.

Papua New Guinea is one of the world's best dive destinations and Milne Bay offers fantastic reef diving and muck diving in the same location. Clear waters and phenomenal creatures make for an excellent dive trip that's enti...

Shark feeding dives are no longer just for the avid diver or thrill seekers. Bahama's crystal clear waters are the best environment to come nose to nose with a frenzied school of sharks after they smelled the chum.