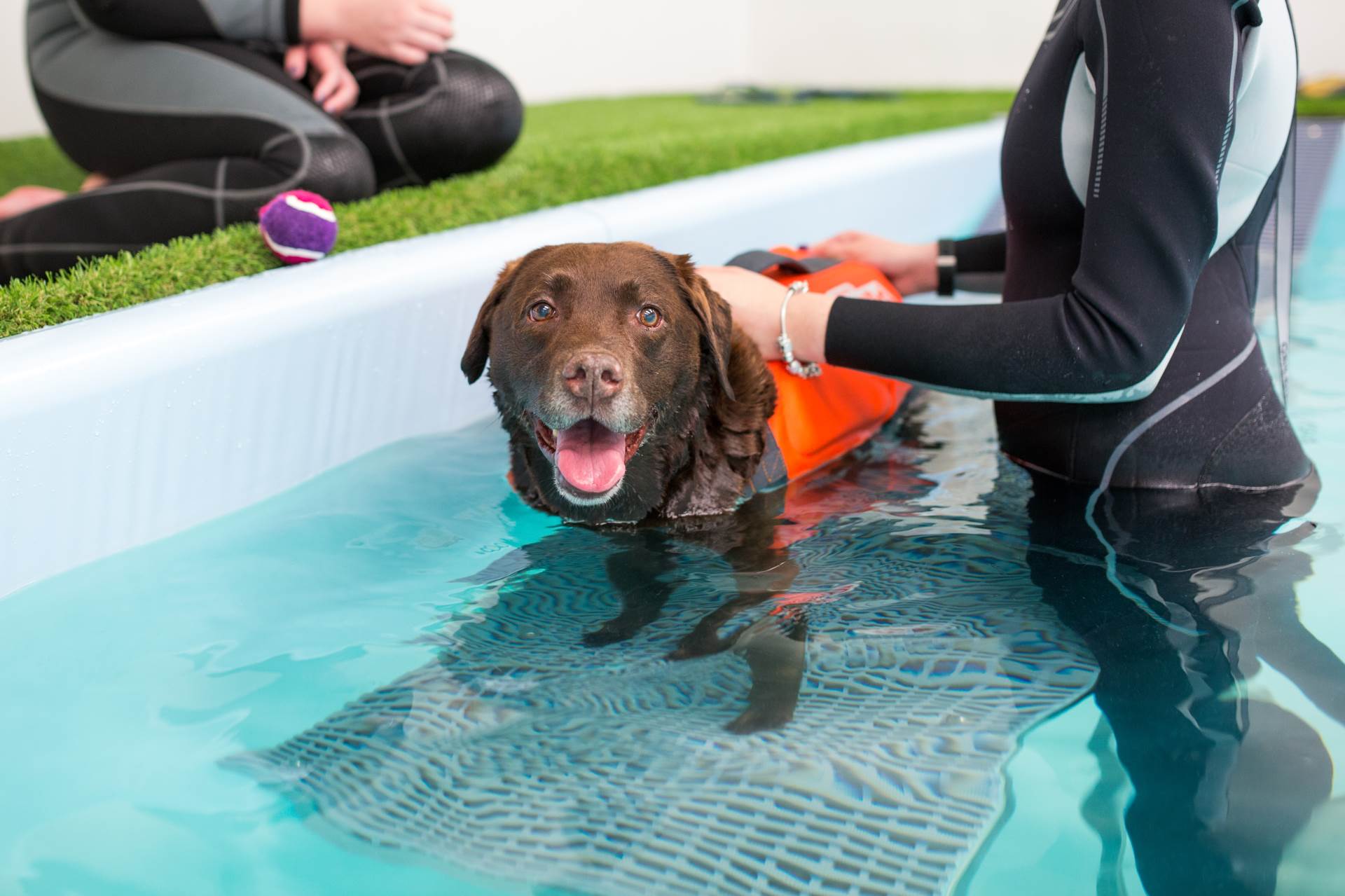 Published Jan. 18,
2021
0
Hydrotherapy For Dogs - How It Works And Why You Should Try It
You might have known someone who had hydrotherapy treatment within a hospital's physiotherapy department. Usually, a physiotherapist or his assistant with expert training will demonstrate how to do the exercises. You'll be surprised to know that even the people in ancient times and other cultures around the world have been doing this type of therapy for centuries to treat a variety of health conditions. They knew from the start that water counteracts gravity and allows an individual to exercise his muscles in an effective environment as well as having a beneficial effect on his well-being as he relaxes. In fact, the term hydrotherapy originated from the ancient Greek roots, which simply translates as "water healing."
Because of its effectiveness, doctors from veterinary clinics and canine rehabilitation centers recently view the benefits of hydrotherapy treatments for animals. The first hydrotherapy equipment began when horse trainers first thought of using it to figure out if their horses could recover in water after a tiresome race or leg injury. Afterwards, the same procedure was adapted to racing Greyhounds to enhance their strength and speed including healing injuries from the rigors of racing. Nowadays, hydrotherapy treatment is available to dogs and cats in the United States, Japan, Canada, United Kingdom, and Western Europe. This is because numerous vets claim that hydrotherapy has plenty of beneficial effects on a pet's physical, emotional, and mental health. But before you consider this treatment option for Fido, we suggest reading this guide to make sure you know everything about its benefits, the process, and cost first. Let's dive in!
What Is Hydrotherapy For Dogs?
Hydrotherapy doesn't mean your dog will take a bath. As defined by experts, hydrotherapy is a form of exercise–such as swimming or walking in water– in an aquatic environment that is used as a structured program to optimize conditioning of animal athletes, easing arthritis, discomforts in pets, and even improving function after injury or surgical procedures. This aquatic exercise uses the therapeutic quality of water in about 85 degrees to give and support gentle resistance, allowing a dog to move their joints freely through the water.
If you're unsure whether canine hydrotherapy is the right option for your pooch, talk with your veterinarian first. Once he has assessed your pet's condition and decides on when your pooch may begin hydrotherapy, then he can also point you to a reputable hydrotherapy facility for dogs.
Benefits Of Hydrotherapy For Dogs
Besides the benefits of rehabilitating joints and relieving pain as mentioned previously, canine hydrotherapy can provide more benefits for your dog physically, mentally and emotionally, such as:
Lessens dog's weight burden
Makes exercising more comfortable
Keeps dogs mobile
Suitable in dog patients of all ages especially old-aged dogs
Muscle strengthening and endurance
Relief swelling and stiffness
Reduce muscle spasms
Promote blood flow circulation which leads to healthy skin and coat
Increase a dog's range of motion
Cardiovascular fitness
Increase energy and agility
Tissue healing
Faster recovery from injuries
Promote balance and coordination
Gait modification
Increase joint flexibility
Better digestion
Eliminates coat and skin conditions
Decrease inflammation
Decrease stress
Stimulate metabolic functions and hormones
Drain lymphatic fluid, rid the body of toxins, and improve the immune system
Alleviate dogs from sadness and fear
Promote a sense of safety and wellbeing
Load off a dog's mind
Provides a feeling of completion and harmony
Support dogs that are suffering from fractures, hip dysplasia and amputation of a limb
Helps treat geriatric patients with arthritis, muscle atrophy or wasting, neurological problems, ACL injuries, post-surgical healing and recovery, as well as metabolic conditions like Cushing's and diabetes.
Furthermore, as your dog relaxes in the water, you can also use this moment to play fetch with a tennis ball with your pooch or do some creative activities to amuse and tire out your over-exuberant doggie. In this case, hydrotherapy can also serve as a good way to spend quality time with dogs.
How Does Hydrotherapy For Dogs Work?
Hydrotherapy for dogs basically uses the main properties of water –buoyancy, resistance, viscosity, and hydrostatic pressure– to allow a dog to move his joints. Buoyancy, for example, is the ability of a body to rise to the top or stay afloat of a liquid or gas. This means water can make a dog's body buoyant by supporting the weight of his body–without the need to fight gravity–when submerged. The buoyancy of the water acts as a pain reliever for dogs by minimizing stress on the joints and thus, creates a safer environment for recovery from joint injuries or after surgery.
There are three common types of canine hydrotherapy. These types all use different sets of equipment and serve specific purposes. To know which best suits your pup's rehabilitation needs, it's recommended to consult with your dog's vet first.
Dog water treadmills are probably the best-known type of hydrotherapy. It consists of a treadmill belt enclosed in an empty small tank. It also allows adjustments depending on the dog's needs. Hence, the small tank will be filled to the desired level of warm water. The dog will be assisted and supported by a hydrotherapist while he walks along the underwater treadmill. Since this type of hydrotherapy can be customized, the hydrotherapist can program the pace or speed of the belt, add or remove water, and otherwise optimize therapy for each animal.
This method acts like a Jacuzzi for dogs as it relieves pain and is used for pets who are recovering from major surgeries. To get started, the dog will be secured on a harness and lowered slowly into the pool. The level of the water will depend on where the injury is located on your pooch. Once the dog enters the water, the whirlpool's warm jet stream will effectively massage your pet's injured muscles by creating a deep effect that is needed to relieve your dog.
Pool-Based Hydrotherapy for Dogs
Hydrotherapy pools, on the other hand, are specially designed if you want a larger space for your pooch to move about freely as he interacts with a hydrotherapist. The pools usually have built-in ramps for easy entries and exits. The water may be cooled for athletic canines who are exercising or training or may be heated to help loosen and soothe aching muscles and joints for pets who are recovering from surgeries.
If you noticed that your dog doesn't feel comfortable being in the water and has trust issues to be with a hydrotherapist, ask if you can join in too.
How Much Does Hydrotherapy for Dogs Cost?
Hydrotherapy clinics can be found all over the United States and around the world, and even veterinarians are adding aquatic therapy equipment to their facilities. If you're wondering about its cost, you should know that hydrotherapy fees vary according to influencing factors such as the type of hydrotherapy, the condition being treated, the length of each therapy session, location of practice, level of experience, the degree of services needed as well as the specific center you choose to attend.
In this case, you can expect an average fee of around $35 to $45 for an initial consultation, $35 to $50 for an underwater treadmill session, and between $20 to $30 for a swim therapy session. If you want a less expensive one, it's wise to go with the most reputed centers and treatment procedures or visit the facilities to talk to the providers to have a look at their equipment and check for insurance before booking a session for your pooch.
Is Hydrotherapy Suitable For Your Dog?
Canine hydrotherapy can benefit pets of any age, breed or size. Unfortunately, it does not apply to every dog. There are some considerations that you should be aware of before deciding for your pet to undergo hydrotherapy such as if your dog has an ear infection, serious skin conditions, with open wounds or sores, has breathing difficulties (like Pugs) and suffering from heart disease. To be sure, it's best to have your dog diagnosed by a veterinarian before taking some action.
Final Thoughts
While many health professionals agree that therapy should start as soon as possible, you should also keep in mind to never force your dog to swim or even try hydrotherapy without a professional. A professional hydrotherapist is trained for a reason and doing it on your own may worsen your dog's condition without proper supervision from an expert. However, if you sign up your dog for a hydrotherapy session at a reputable center, not only will he feel better, you are also ensuring that your dog will live a long and healthy life. Now, does your dog need hydrotherapy?
Featured Posts
Nothing compares to being in the water with a 40 foot humpback whale. These beautiful and graceful animals are nothing short of amazing. The Silver Bank is a winter gathering place for humpbacks and more recently, snorkele...

When boy meets girl in the world of seahorses a beautiful and often extensive courtship occurs. They change colors and entwine their tails. Then they rise off the seafloor and the female deposits her eggs into the male's p...

On the reefs of the Pacific, twilight marks the beginning of the mandarinfish courtship dance. A male begins dancing, and if he's desirable, an interested female will join. Just before the sun sets, the two fish will rise u...