Whale shark

The biggest of all fish, the 20 ton whale shark.

Sunfish everywhere!

Very cold water, but lots of fish life! The famous big Mola Mola.

Fish School

Huge schools of fish everywhere.
1
Diving Galapagos, Ecuador
Straddling the equator on the north-west haunch of South America, Ecuador is a compact country approximately the same size as the US state of Nevada, or a little larger than the UK. It has over 2,300km of Pacific coastline and also incorporates the Galapagos Islands.
Ecuador has four distinct climatic regions – the Andes, the Pacific coast, the Oriente, and the Galápagos.
Although in general there are just two seasons – dry and wet – the ideal time to visit each region differs slightly due to temperature variations and clemency of weather.
For divers, the regions of most interest are the Galapagos Islands and the mainland dive region of the Machalilla Marine Park, 200km north-east of the main port of Guayaquil. Currents can be strong, so it's not a destination for novice divers.
For both the Galapagos and Machalilla, the dry season lasts from June to December, where water temperatures can be relatively cool – around 16-23C. On land the days are cooler and more overcast.
However the months of July to October bring rougher seas, which mean difficult crossings to the Galapagos, and some challenges for diving. June to November is also whale shark season, a highlight for many divers.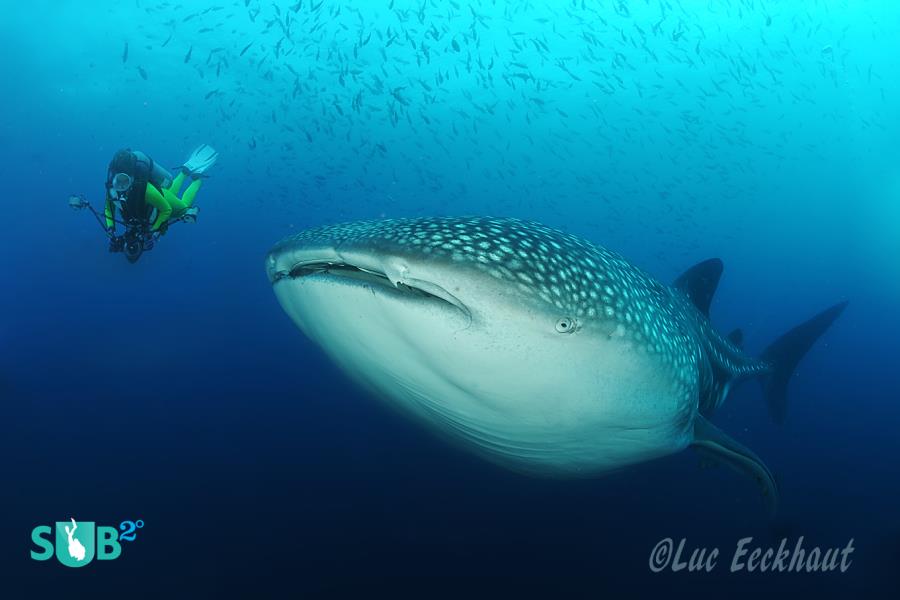 The wet season from January to June will give you warmer sea temperatures of 20-28C, and on land the rain is usually limited to short-lived afternoon rainstorms with warmer temperatures than the dry season. Whilst the chances of seeing whale sharks are reduced, many would say that the range of marine life is much wider this time of year, with higher chances of an encounter with giant manta rays and even hammerhead sharks.
Given the ecological significance of the Galapagos Islands, the surrounding waters have been designated a protected marine reserve, virtually free of commercial fishing and carefully managed in terms of visitors. Added to this, its deep-sea location and volcanic provenance provide nutrient-rich waters, which add to the abundance of the marine life on display. Dives have recently been limited to three per day on liveaboards, and vessels are not permitted to land except at the end of the journey.
Machalilla National Park comprises of beaches and forest on the mainland coastal area, plus a number of small islands and two larger islands, Salango and Isla de la Plata. Isla de la Plata has a reputation as the "poor man's Galapagos Islands", boasting a number of land and sea creatures only seen here and on the Galapagos themselves.
Sadly, Machalilla National Park has not enjoyed a similar level of protection to the Galapagos over the years. Over-fishing, poaching, deforestation and the ecological impact of the tourist industry have taken its toll. Some steps have been taken to reverse the impacts of these activities, but consequently, it is not as awe-inspiring a dive experience as that of the Galapagos Islands.
Ecuador is relatively easy to navigate independently, however most dive travellers will head directly for the main port of Guayaquil in the south of the country, a major air hub and the main port from which to travel to the Galapagos Island. International connections to Ecuador are from Miami, Houston or New York in the US, London, Frankfurt, Madrid or Amsterdam in Europe, and most other South American major cities.
Travel to the Galapagos Islands is best arranged via a tour operator who can provide a package deal for you including transfers.
Dive Locations
Most divers head straight for the Galapagos Islands, almost 1,000 km west of the Ecuador Pacific coast, and book a liveaboard for a week or two. Many of the best dives ties are accessible only by sea.
The two best-known dive sites on the Galapagos Islands are Darwin Island and Wolf Island. Darwin Island is in the far north of the archipelago, and is famous for its shark population: huge shoals of whale shark, hammerheads and Galapagos shark.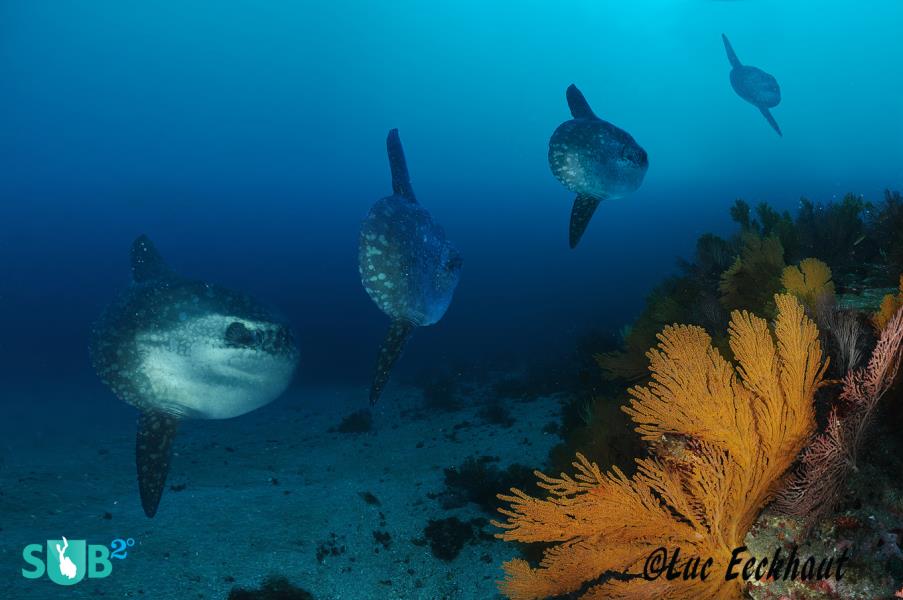 Wolf Island is also another divers' favourite, with plenty of shark action again, plus eagle rays and dolphins.
Punta Vincente Roca is a cold-water site accessible from the northern-most tip of Isla Isabella. Its sensational marine life includes penguins, sea lions, and iguana on land. Underwater treats include horn sharks, mola mola, seahorses and batfish.
A side trip to Isla de la Plata, part of the mainland's Machalilla National Park, is recommended for those on a more relaxed schedule.
Marine Life
In reality, most divers come to Ecuador to dive the Galapagos Islands. Diving here is not for the novice: the strong currents are not to be taken lightly, the water temperature fluctuates significantly and visibility can be low.
Some dive masters will take all divers out on an orientation dive first in safer waters, to assess their capabilities. With that said, this is one of the most unique dive locations in the world, with species here that you will see literally nowhere else on earth.
A number of different ocean currents converge around the Galapagos Islands, so you will find a mixture of tropical and temperate marine life. Black corals and green sea turtles, the biggest seahorse in the Pacific and fish with four eyes, plus more dolphins, sharks, rays, and whales than you can imagine. Look out for marine iguanas feeding on the rich algae, fur seals and sea lions, penguins and a number of different turtle species.
Darwin Island will reward you with perhaps hundreds of hammerhead, whale and Galapagos sharks. On a trip to Wolf Island you will see smaller species like butterfly fish and trumpet fish as well as plenty of shark action. Even Punta Vincente Roca, a colder land-based dive, offers horn sharks, red-lipped batfish and mola mola as well as lots of coastal marine life like marine iguanas and penguins.
Getting Around
Getting to the Galapagos Islands will be cheaper to organize in country than anything you can book from home. Full package deals can generally be booked at short notice, but shop around and use online forums to weed out the dodgier operators. You can fly or travel by boat to the Galapagos- if travelling by sea, try to book an overnight passage.
Galapagos Islands have two main airports: Isla Baltra and Isla San Cristobal. Although be warned that if one airport is closed for maintenance – a relative frequent occurrence – all flights diver to the other airport. The two main carriers are Aerogal and TAME, both of which operate from Quito via Guayaquil. Flights cost around $300-350 return and take around 1½ hour.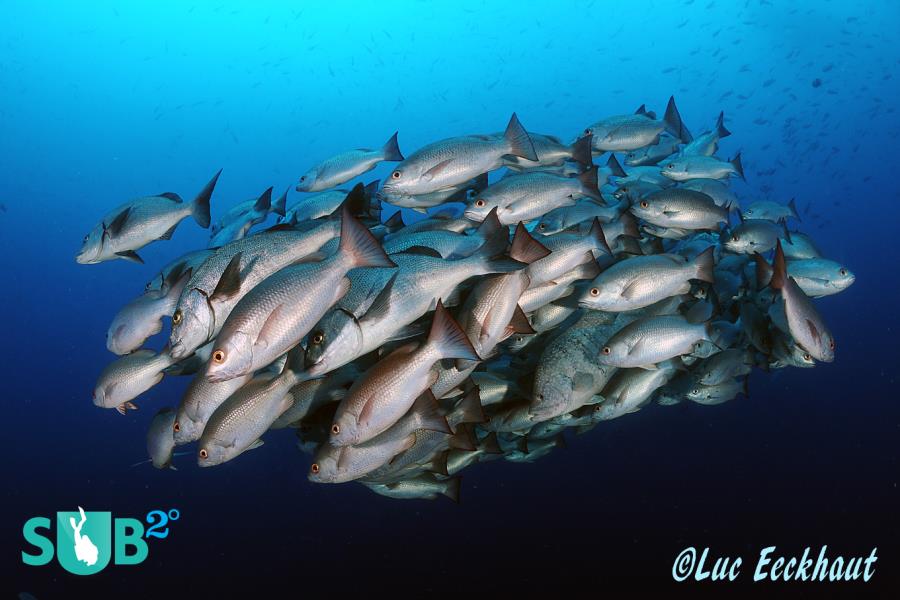 Mainland travel is relatively easy, with regular cheap bus travel. Car hire is not usually recommended unless you have pretty good Spanish to help with reading road signs and asking for directions; charges for vehicle damage are also likely, which can get expensive.
However, you are probably better off organizing a tour if you want to visit the Machalilla National Park and/or Isla de la Plata. If travelling independently, from Puerto Lopez, you can take a 1½-hour boat ride to Isla de la Plata, approximately US$35-50 for a day trip organized by local tour operators. You will need longer if you want to dive there, and again an organized trip is probably your best bet.
Safety
There is one hyperbaric chamber on the Galapagos Islands, supported financially by a US$35 fee per diver (paid locally). The Ecuadorian Navy also has a hyperbaric facility in Guayaquil. Due to the remoteness of the Galapagos Islands and the associated costs of any medical treatment or transfers, travellers are cautioned to ensure they have sufficient travel insurance.
A yellow fever vaccination is recommended before travel, and bring malaria tablets with you. Dengue fever is on the rise in Ecuador, and there is no vaccination for it, so physical precautions like long-sleeved and long-legged clothing, strong insect repellent, and avoiding or removing still water sources are strongly recommended.
---
Further Reading
Galapagos, the Enchanted Islands
Directory of Dive Sites in Ecuador
Directory of Dive Shops in Ecuador
Featured Posts
Often overlooked, the island of Guam is surrounded by fantastic diving. White sand beaches and calm, clear waters invite divers to explore the ocean and see the healthy coral and plentiful fish populations below.

Papua New Guinea is one of the world's best dive destinations and Milne Bay offers fantastic reef diving and muck diving in the same location. Clear waters and phenomenal creatures make for an excellent dive trip that's enti...

Shark feeding dives are no longer just for the avid diver or thrill seekers. Bahama's crystal clear waters are the best environment to come nose to nose with a frenzied school of sharks after they smelled the chum.