Whale shark

The biggest of all fish, the 20 ton whale shark.

Cormorant Hunting

It is strange... to meet a bird when you are 16m deep.

Beautiful turtle.

Just look into my eyes.

Sunfish everywhere!

Very cold water, but lots of fish life! The famous big Mola Mola.

Whale shark

The biggest of all fish, the 20 ton whale shark.

Fish School

Huge schools of fish everywhere.
4
Galapagos, the Enchanted Islands
Visiting the Galapagos and diving some of the most exciting and famous dive sites of this planet, is probably the best birthday present a passionate diver and underwater photographer can dream of. I was so lucky, and I must say, I enjoyed every minute of this fantastic trip.
Before exploring the underwater treasures, I spent the first week on land excursions, and yes, it was so strange to see how totally indifferent the animals reacted to the presence of humans.

But the days passed very quickly, and as the first part of the journey- photographing life above water- gradually came to an end, I was really looking forward to boarding the "Aggressor" and meeting my dive buddies.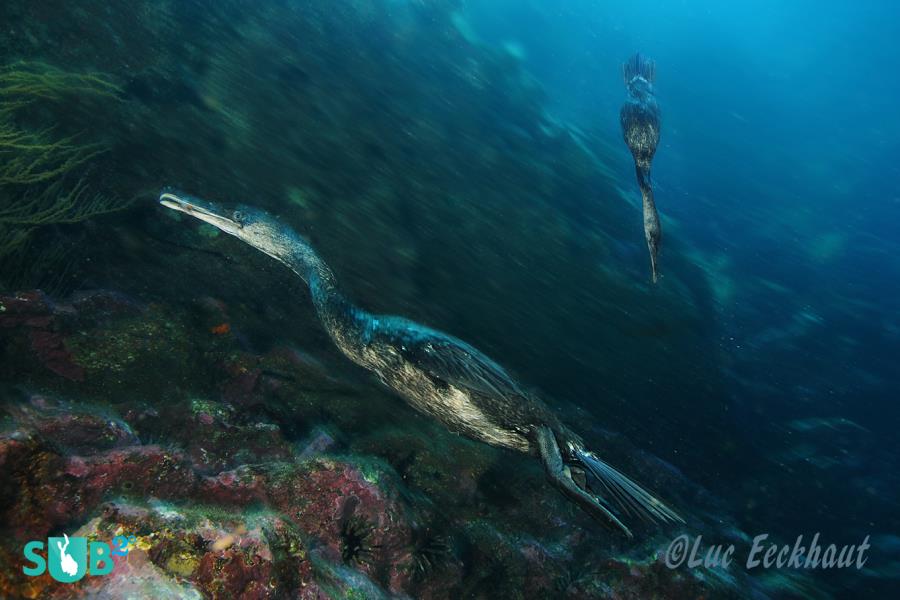 This beautiful ship allowed us to dive the best dive sites around the Galapagos Islands for seven days. The first two days we dived around the central islands, and despite the huge fish resources, the professional crew, and the brilliant atmosphere on board, not everyone was a hundred percent satisfied because the underwater visibility wasn't so great. This was reflected in photos with backscatter and rather gray water.
We preferred to see the beautiful, clear, blue water…
Immediately, however, the itinerary changed, and we were heading to the most northern islands of "Darwin" and "Wolf". According to the dive guides, diving conditions are totally different there, and they promised us clear water and fireworks! The only tricky part was that the current is usually strong, and sometimes can even reach to more than 5 knots.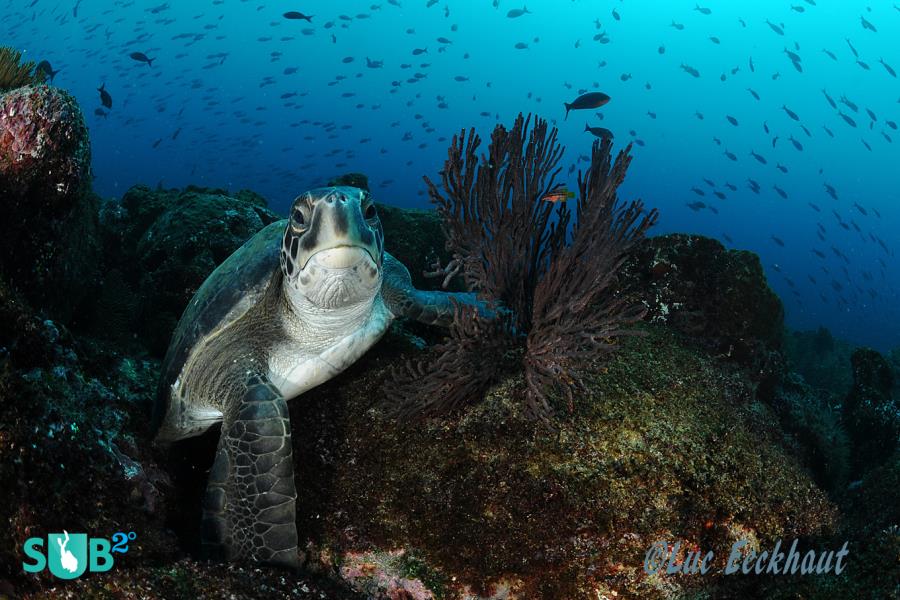 Already the first dive at Wolf Island, in calm sea and almost no current, hammerheads and Galapagos sharks were all around. At the end of this beautiful dive we had an encounter with a very large whale shark. Everyone was delighted, but the guides predicted that this was only the beginning, and that Darwin would bring even more excitement.
Normally in September, many large female whale sharks come out to these warm waters. Most are also pregnant. Biologists are not 100% sure, but they think that the pregnant females come there to give birth, and by that, taking care of a next generation of giants.
The whale shark, the largest fish in the world, keeps her eggs in her body, until they are hatched, and then, gives birth to her baby alive.
The diving around Darwin Island is limited to only one dive site, namely at the foot of the "Darwin Arch". There you'll find a plateau at 18m deep, which one could compare to an amphitheater.
Just go down there, lie down, and enjoy the spectacle that takes place in front of you. In total, we did six dives at this place, and I certainly spotted more than 20 whale sharks - sometimes up to 7 whale sharks on one single dive!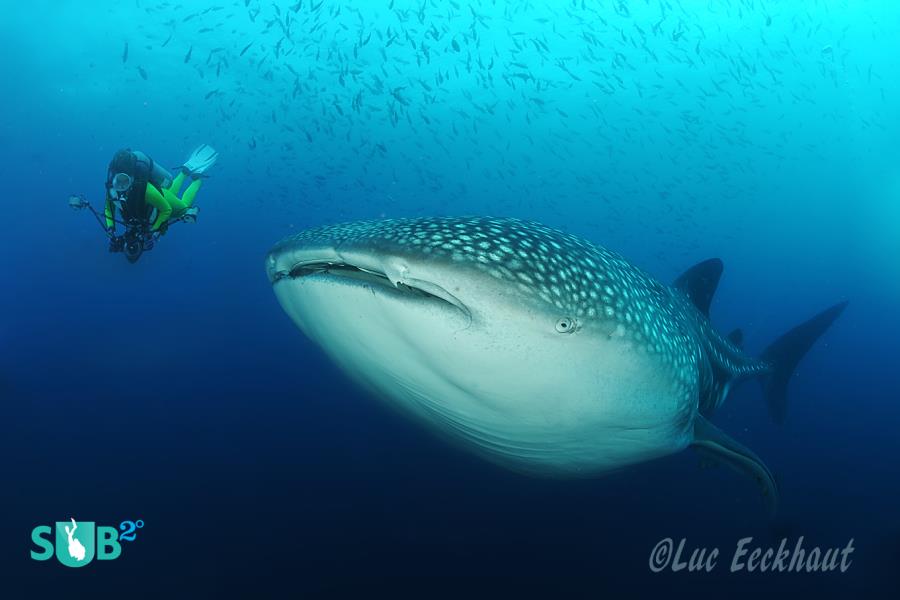 The cameras flashed incessantly, and the grandeur of this beautiful fish almost made us forget to look at all the other beautiful things happening above and below us.
Many hammerhead sharks, Galapagos sharks, huge schools of silver jacks, eagle rays and many, many turtles were constantly drifting over the plateau. Darwin was and is unforgettable, and I think one of the best dive sites in the world.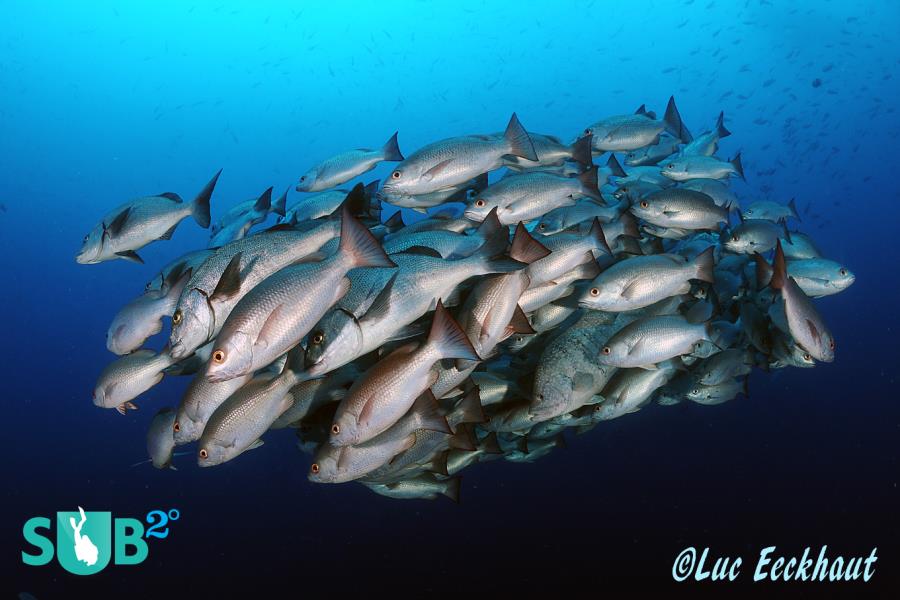 The last day of diving was reserved for the north side of Isabella Island, in particular diving at "Punta Vicente Roca". Here we could expect many sunfish, or "Mola Mola".
However, the first thing we noticed was the icy cold water. At Darwin, we dived in 25 °C; here, the dive computer showed only 16 °C - a few extra millimeters of neoprene were therefore more than welcome.
However, just like the predicted cold water, the many "Mola Mola" were on time, especially early in the morning.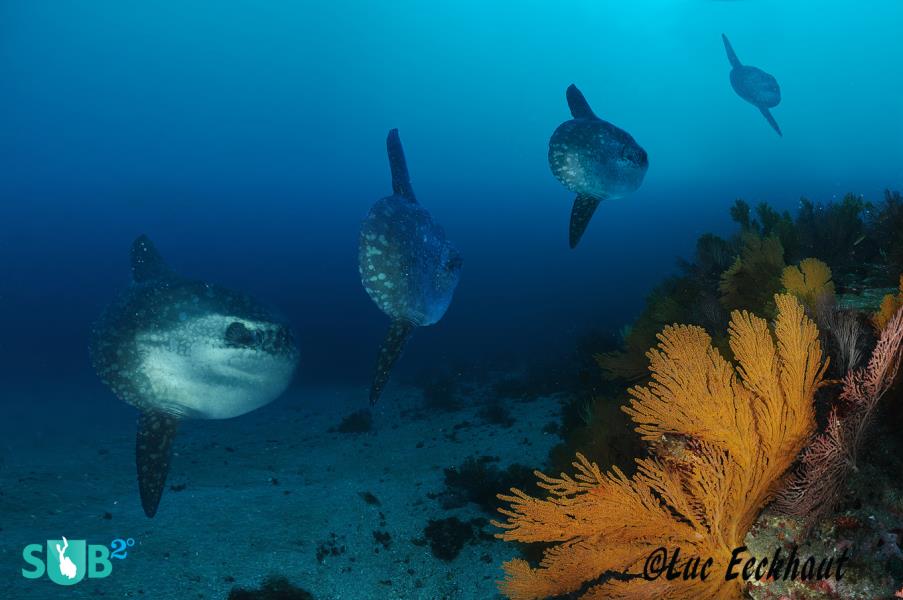 During the next dive, the visibility deteriorated, and the sunfish were also shyer. In addition to those bizarre fish, we also saw many turtles, penguins and hunting cormorants. It was very strange to suddenly meet, at a depth of 16 meters, a bird swimming next to us!
All good things come to an end, and this three-week dream trip was no exception. It was a wonderful trip, and therefore I always like to thank the dive crew for their professionalism, and the dive buddies whom without, it wouldn't have been as fun.
---
Further Reading
Overview of Scuba Diving in Ecuador
Directory of Dive Shops in Ecuador
Featured Posts
An overview on diving in Dubai, Abu Dhabi, Musandam, and around the UAE.

It doesn't matter if it's in tropical SE Asia or a cold inland lake, many divers just aren't interested in exploring what lies below jetties. But by passing up on diving under a pier or jetty, these divers are missing out on...

The best diving in India is the hardest to get to, in Andaman and Lakshadweep. However, for those a bit tight on time, Goa and Pondy are perfectly good fun, and both are really affordable places to do your open water certifi...