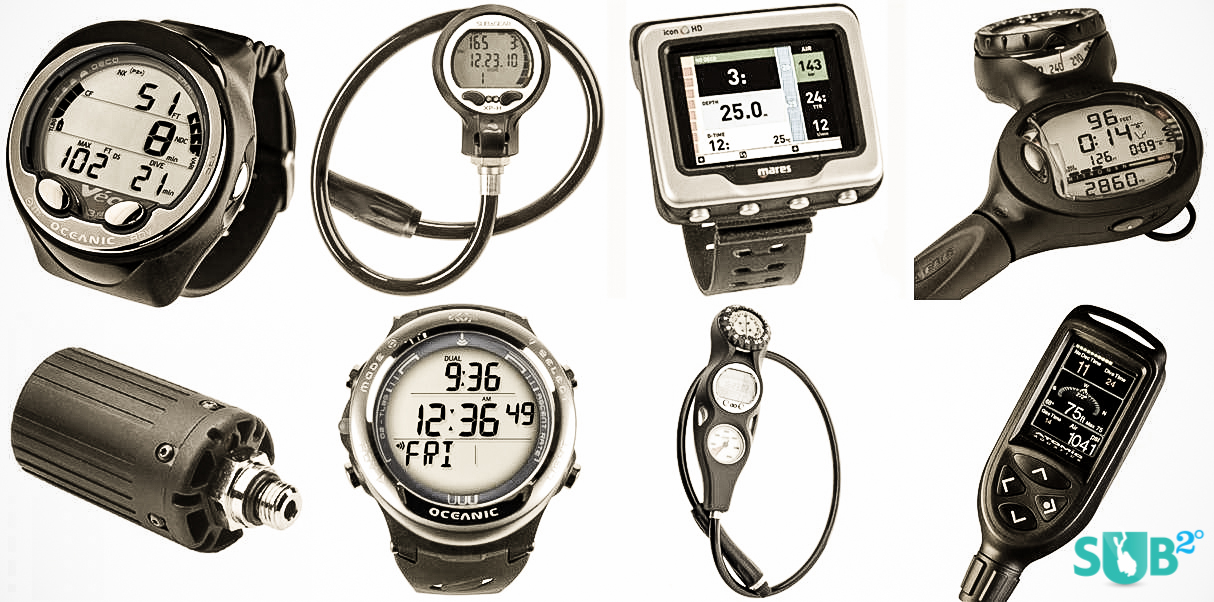 Published Mar. 31,
2014
0
Demystifying Dive Computers Part 1
Early in our dive training we learn that we can only stay at certain depths for certain lengths of time before we accumulate too much nitrogen, which can lead to decompression sickness. Using dive tables is a rough way to find out how long and how deep we can go, and they have several disadvantages. Dive tables calculate a dive based on the max depth, but they don't take into consideration that the entire dive does not take place at that maximum depth, and many calculations are based on rounding to deeper depths to be more conservative in dive planning.
So how do you get the most bottom time out of a dive? Use a dive computer. Dive computers factor in how long a diver is at each depth and continuously recalculate how much longer can be spent at each shallower depth. Dive computers also track accumulated nitrogen from previous dives giving the most accurate bottom times allowed on repetitive dives.
Dive computers also reduce diver error from reading the tables incorrectly and computers can alert divers with audible warnings if there are problems such as an ascent that is too fast or when the diver is getting close to no-deco limits. The convenience of dive computers is also an advantage, as many are small, easy to carry, and deliver a lot of other information depending on the model.
Why Use a Dive Computer
Dive computers conveniently provide divers with their current depth, duration of the dive, maximum depth attained, how much no-deco bottom time is remaining, water temperature, ascent rate and sometimes air pressure, all in one instrument. After a dive, computers will display the dive profile and often a history of many previous dives, the time until the diver can fly, and desaturation time. There is also a scroll mode to show how long the diver can stay at each depth on the next dive.
Computers collect depth and time information to calculate decompression status from pre-programmed algorithmic models. Their accuracy allows for longer bottom times because they calculate multilevel profiles, which means your maximum bottom time is not based on the deepest depth you go. For instance, computers will calculate that you only spent five minutes at 90ft, then ascended to 60ft for 10 minutes, and finished the dive at 20ft for 40 minutes. Computers take all this into account to provide the most accurate information for safety and convenience.
Audible warnings increase safety by beeping if a diver is ascending too fast or is nearing no-decompression limits. Many computers will automatically count down a three-minute safety stop at 15ft, and if a diver accidently goes into decompression, the computer will calculate the deco stops necessary before returning to the surface.
Computers are great for planning multiple dives. They keep track of residual nitrogen from previous dives, nitrogen elimination from surface intervals, and base future dive bottom times on that information. This gives the most accurate information on maximum bottom times on future dives. Computers are essential for dive trips such as on liveaboards where three or more dives occur each day because the estimation and conservation built into tables usually won't even allow for that many dives.
Types and brands of dive computers are as numerous as the different features they provide. Different companies have their own algorithms, which makes certain brands or models more or less conservative than others. Many computers have the capability of being set to dive nitrox (enriched air) and allowing the diver to change the percentage of oxygen. Some computers can even support multi-gas mixes such as trimix, and then allow the user to change gases throughout the dive if they switch to another blend.
Other fun features include the ability to store many dives in the computer like a logbook or a computer cable to download dive profile information onto a computer. Some have digital compasses; others have transmitters, which wirelessly transmit remaining air pressure to the computer. Several computers will calculate how much longer your dive will last, based on how much air you're breathing. Scubapro/UWATEC even has a computer with an integrated heart rate monitor that senses the effort incorporated into a workload calculation and adapts the deco algorithm.
Bottom Line
Computers help divers get the most dives and the longest bottom times, all while being as safe as possible. They make it easy and convenient to plan and record dives, all while getting the most accurate information. However, it is imperative that a diver knows how to use and set up their computer. Read the instruction manual; know how it works and its limitations. Always make conservative decisions when diving, even when following a computer. By trusting your instincts and the information the computer gives you, you will have safe and enjoyable dives.
Stay tuned for Part 2 on what to look for in dive computers and disadvantages of dive computers.
Featured Posts
Have you ever wished for a little extra boost underwater? Perhaps you are exhausted and your legs need a break or maybe you would like to further propel your fin kicks to keep pace with some elusive marine life. There are ma...

Snorkel with millions of non-stinging jellyfish in Palau's Jellyfish Lake.

Florida is one of the world's premier destinations for cave diving and Devil's Eye cave system should be on any cave divers list of places to dive when visiting the region.