DPV_03-2

Diver using a Propulsion Vehicle

Zipping around the reef with a diver propulsion vehicle in Little Cayman, Cayman Islands
2
Zip Diving in little cayman
Have you ever wished for a little extra boost underwater?
Perhaps you are exhausted and your legs need a break or maybe you would like to further propel your fin kicks to keep pace with some elusive marine life. There are many reasons we find ourselves yearning for a little more oomph underwater, wishing we could hit an accelerator button. Well, that button exists, and one day last year I had a blast pressing it.
Gear Galore
It all began over a weeklong dive trip to Little Cayman for the Digital Shootout. The Shootout is an underwater imaging event held in different countries annually. Over the course of the week, underwater photographers and videographers get together to learn new techniques, test drive new gear, and engage in friendly competition. With so much going on it's difficult to know where to focus one's attention.
Experimenting with different cameras, ports, and strobes is definitely a highlight and the chaos of options can easily spin out of control. Before you know it, the weeklong event has vanished -- at least that's how it was in my case. After an overdose of equipment tests, I chose to revert to my own camera gear, promising myself not to get sidetracked by any more toys. However, just as quickly as I had made that sober decision, my childish curiosity was tempted by something altogether new for me.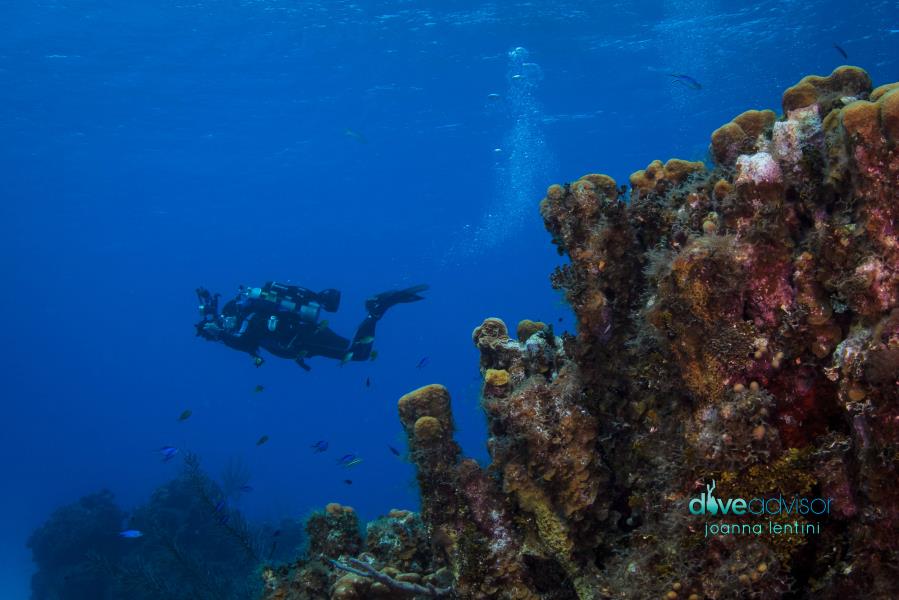 The Opportunity
Heading out for the next dive I couldn't help but be intrigued by a provocative machine lying on the deck of the boat. With only some slight idea of what it was, I needed to know more. After a few questions to its caretaker, a kind offer followed and my decision was made. I would shed 5 lbs of lead on my next dive to be replaced with this "jet pack" contraption attached to my tank in true 007-style. My new toy for the day was a Diver Propulsion Vehicle (or DPV), and I was ecstatic in anticipation of zipping around the reef at full speed.
However, remembering my previous commitment to my camera, I felt a pang of guilt and determined it would make good loyal sense to take it along. From what I recalled, the propulsion vehicles I had seen in the past were always handheld. Yet, this exotic device was different in that it strapped directly onto the tank. The only part of the vehicle that has to be held is the ignition. That's right, ignition! From the battery-powered motor a small cord extends with a round knob at its end, which when depressed starts the engine.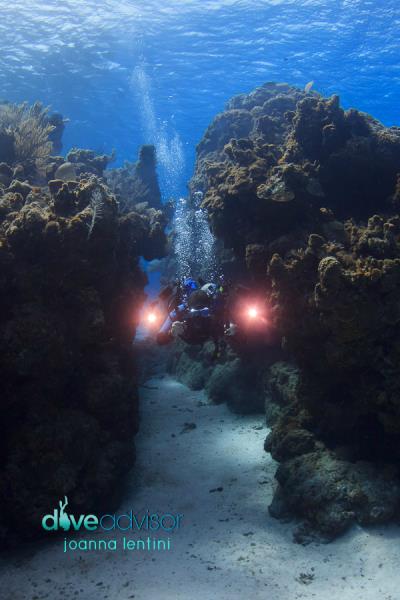 The Dive
Once in the water, I quickly descended to about 15 meters, shot an "are you ready" look over to my buddy (who was similarly equipped with DPV) and almost simultaneously we hit the ignition. Prior to this dive, I was told there would be a slight learning curve, but once that passed the pure ease and excitement of the device would be evident. And so, as anticipated, I struggled for the first 10 to 15 minutes. The extra weight behind me felt a little awkward, but actually the appendage of my bulky camera in the front seemed to be the real problem. It quickly became evident the camera should have been left topside for my first attempt at this.
Despite my initial learning curve, as the minutes passed, not only did I manage to maneuver, my jet propulsion motion actually became second nature and made me feel streamlined with instincts like an ocean native. The terrain was uniquely appropriate for the propulsion vehicle. Huge clusters of coral rocks were scattered across the sandy bottom, creating a network of narrow channels to zip in and out of. And I admit I have never laughed so explosively underwater. I laughed at the frustrations; I laughed at my stubborn insistence on bringing my camera; and I laughed at the pure glee I felt as I flew through the water as free and fast as a fish!
The Final Word
It's rather amazing how the simple press of a button could transform scuba diving as I knew it. The weightlessness and the speed at which we cruised felt incredible and even a bit addictive. During my underwater reef flight, I considered how invaluable the DPV could be in countless situations. Surely being able to reach speeds up to 52m (170 ft) per minute would really come in handy when looking to keep pace with fast moving fish or even in the case of a strong current. Unfortunately, on this occasion, my photo results were less than stellar due to the combined distractions of learning and excitement. With the exception of one lonely and lethargic barracuda, I didn't encounter much marine life either (which contrasted to my other dives in Little Cayman). Nonetheless, I could see the obvious imaging benefits of such propulsion, particularly for video, and was not sure how I would ever go back to plain old frog kicks.
Further Reading
Featured Posts
Snorkel with millions of non-stinging jellyfish in Palau's Jellyfish Lake.

Florida is one of the world's premier destinations for cave diving and Devil's Eye cave system should be on any cave divers list of places to dive when visiting the region.

Have you ever just been tired of kicking on a dive? Want to see more of a reef or your favorite wreck in one dive? Or do you just want to be cool like James Bond zooming underwater on a scooter? Dive propulsion vehicles m...