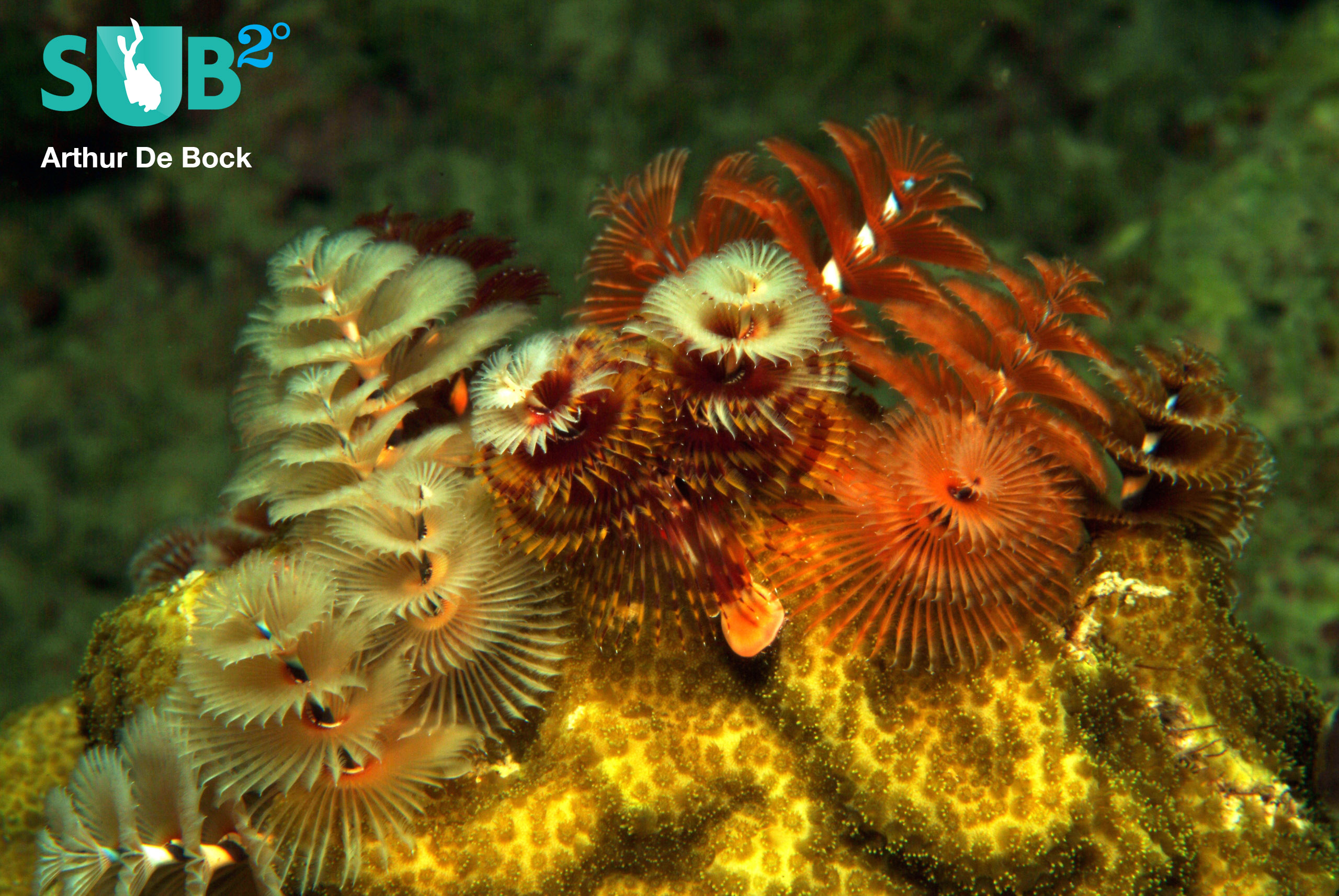 Published July 26,
2014
0
Christmas Tree Worms
Polychaete worms may not top anyone's list of favorite sea creatures, but diving a coral reef just wouldn't be the same without Christmas tree worms. Christmas tree worms (Spirobranchus giganteus ) are an abundant denizen of tropical reefs around the globe, and the extravagant spiraling gills that are its namesake provide bursts of vibrant color to the reef landscape.
These twin Christmas trees that appear to grow out of coral heads are actually appendages of the worm's mouth and are used for feeding and respiration. The intricate feather-like structures filter planktonic food out of the water as it flows by. They even catch bits of sand, which the worm then uses to build the tube that lines its burrow. In fact, the plumes that emerge from the coral are only the tip of the iceberg. The rest of the worm lives in a hole that it has burrowed into the coral skeleton.
Their wide range of colors and beautifully delicate gills make Christmas tree worms charismatic photo subjects. Not only are they popular among recreational underwater photographers, Christmas tree worms have even made it onto the silver screen. In James Cameron's blockbuster, Avatar, Christmas tree worms provided the inspiration for the large spiraling plants that retract into the ground when touched. Luckily, you don't need to go to another planet to experience this amazing behavior.
Christmas tree worms do not have many predators, but since they use their plumes for sustenance as well as respiration, they can't afford to take any risks. Next time you see S. giganteus on a dive, waft some water towards it and you'll have the pleasure of seeing it instantly zip its gills back inside, leaving only the opening to its burrow. Leave it alone for a minute, and the worm will tentatively push its Christmas trees back out. Watching a group of Christmas tree worms emerge from their burrows is like watching a tiny firework display in slow motion, as the brilliant red, orange, blue, and white plumes expand into the current. Though they may not be very big, at only three to four centimeters long, Christmas tree worms are one of the most conspicuous and otherworldly animals on the reef.
Featured Posts
Nothing compares to being in the water with a 40 foot humpback whale. These beautiful and graceful animals are nothing short of amazing. The Silver Bank is a winter gathering place for humpbacks and more recently, snorkele...

When boy meets girl in the world of seahorses a beautiful and often extensive courtship occurs. They change colors and entwine their tails. Then they rise off the seafloor and the female deposits her eggs into the male's p...

On the reefs of the Pacific, twilight marks the beginning of the mandarinfish courtship dance. A male begins dancing, and if he's desirable, an interested female will join. Just before the sun sets, the two fish will rise u...