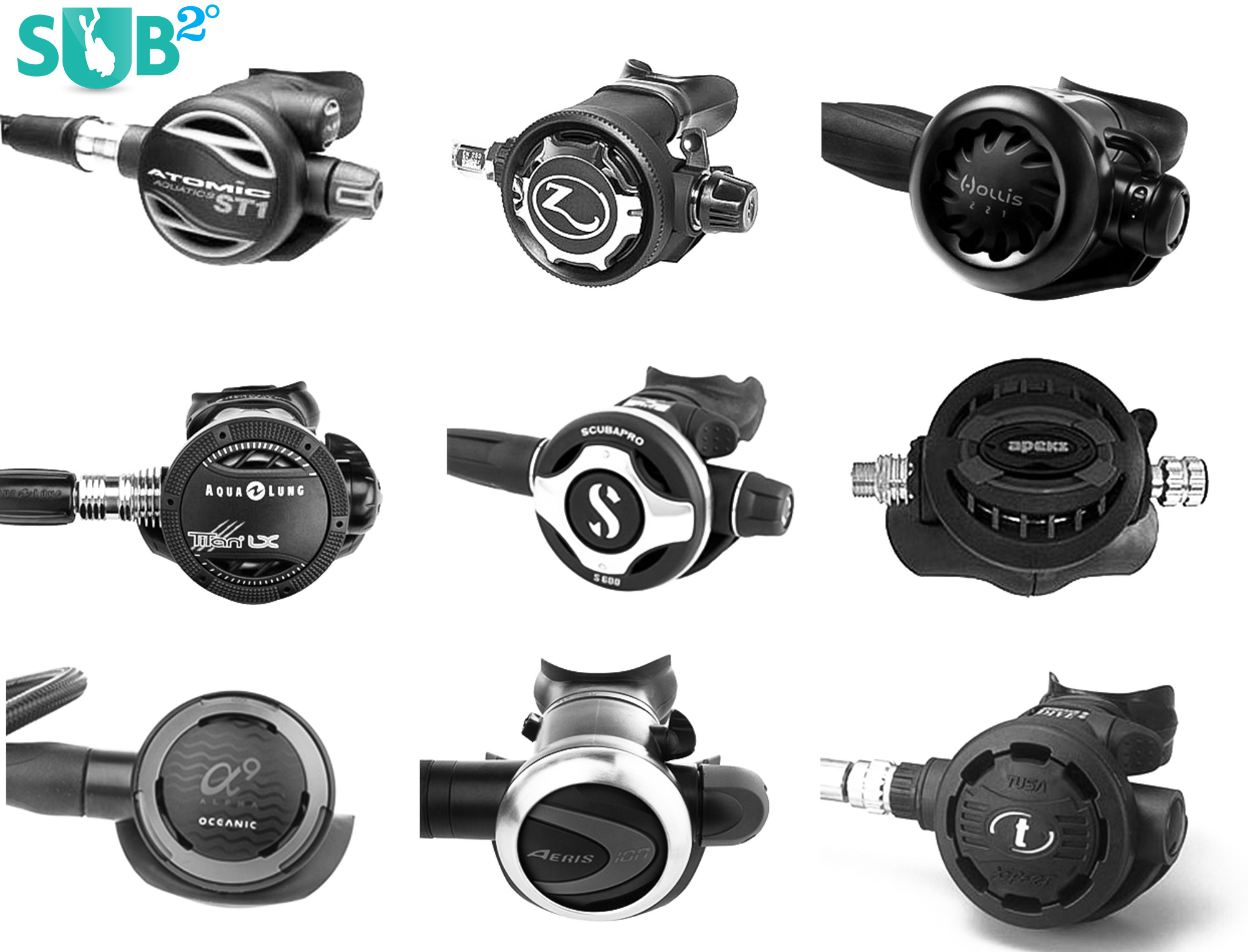 Published Sep. 1,
2013
0
Understanding Regulators Part 2
Picking up where we left off in part 1, here is information on second stages, special features of regulators, and how to care for your regulator.
Second Stages
The second stage converts intermediate pressure to ambient pressure, which a diver can breathe. Second stages are also balanced or unbalanced. Most regulator systems have two second stages, a primary that the divers uses and a secondary (also called an octopus) that a buddy can use if needed or in the case of a malfunctioning primary. The octopus is usually on a longer hose, is yellow or brightly colored, and is visible and easily accessed by a buddy.
There are also redundant regulators built into BCD buoyancy controls sometimes called Air 2 Systems or Air Link that take the place of an octopus on a long hose. In this case, the diver gives their primary to the buddy and uses the regulator built in to the BCD buoyancy control. These are nice because there is one less hose that could make a diver less streamlined and/or dangle and cause coral damage. On the downside, during emergency use, the buddy is very close to the diver, making movement more difficult.
Other Features
First stages have several ports for both high and low pressure attachments. Most first stages have three low pressure ports for a low pressure inflator hose, second stages, and one high pressure port for gauges or a computer transmitter. High and low pressure ports are different sizes, so they cannot be mixed up. Divers should consider how many ports they need before purchasing, as cold water divers may need an extra low pressure port for a dry suit inflator hose, or an extra high pressure port for a wireless computer transmitter and a back-up gauge system.
To prevent water, dust, or debris from getting into the regulator system when not attached to the tank, some brands such as Ocean and Aeris have "Dry Valve Technology" which is a system that blocks the entrance to the first stage.
Flexible hoses are a popular trend where instead of normal rubber hoses, a braided material is used, allowing the hoses to be lighter and more flexible. This makes the regulator system more travel friendly and packable. Some divers find them more comfortable when the second stage is in the mouth because the flex can prevent the pulling feeling from a less flexible hose.
Some second stages have regulation knobs such as venture control, which controls the flow of air inside the second stage. This reduces the effort a diver has to put into inhalation to get air. There are also inhalation adjustments that alter the effort required to open the valve to get air. This is useful to prevent free flowing at the surface, and also can adjust to make breathing easier at deeper depths.
Swivel attachments are ball joints that connect the hose to the second stage, making them less ridged. These are available for some regulators and help reduce jaw fatigue, making the regulator more comfortable.
Regulators are made out of many different materials. Some of the most expensive regulators are made partially or entirely with titanium, which makes them light, and so they never rust or corrode, and the parts never have to be replaced. (All regulators should still be serviced yearly). Newer travel friendly regulators are made of lightweight composite materials, although some of these are limited to warm water diving.
Most regulators can be used with Enriched Air Nitrox (EAN), but it is best to check the owner's manual before using. Some regulators have a limit as to what percentage of oxygen they can be used with.
Taking Care of your Regulator
It is key to prevent water from getting inside the regulator system, which can cause corrosion. When a regulator is removed from a tank, the dust cap needs to be replaced on the first stage to prevent water or debris from getting inside the system. Make sure the dust cap is dry by either using a towel or opening the tank slightly to blow water off the dust cap. Do not open the tank fully to do this and do not blow high-pressure tank air into the regulator opening, as this can force water into the system.
With the dust cap on, the regulator should be rinsed with fresh water after each dive. Do not push the purge buttons while submerged, as that introduces water into the system. Regulators should be serviced yearly and when they haven't been used for a long period of time to make sure there is no rust or corrosion and that they are in good working order.
Go back to reading Part 1
Featured Posts
Have you ever wished for a little extra boost underwater? Perhaps you are exhausted and your legs need a break or maybe you would like to further propel your fin kicks to keep pace with some elusive marine life. There are ma...

Snorkel with millions of non-stinging jellyfish in Palau's Jellyfish Lake.

Florida is one of the world's premier destinations for cave diving and Devil's Eye cave system should be on any cave divers list of places to dive when visiting the region.