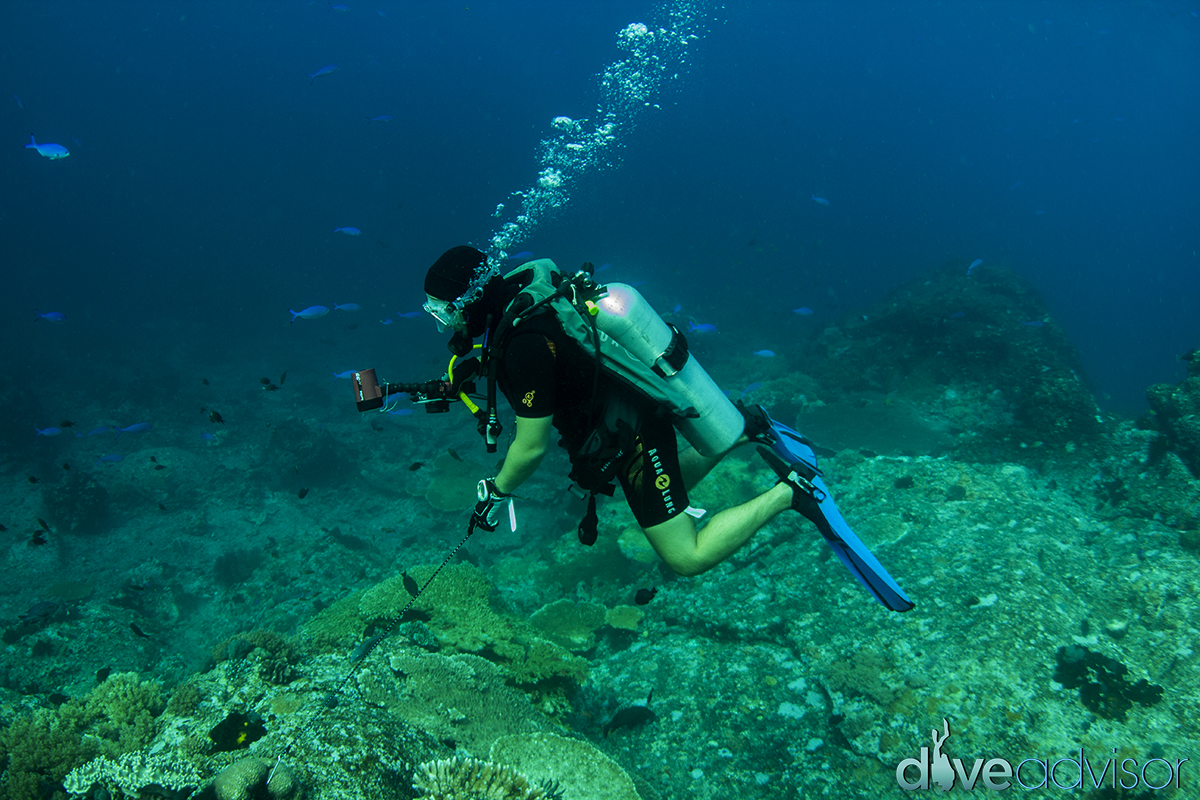 Published Dec. 1,
2013
0
The Luxury Diving Experience
I'm a bit of a good-time diver: not for me are the chilly waters of a local dive in Melbourne, Australia, or the hard work of joining a club and having to carry my own kit everywhere. No, I'm a high-maintenance diver, and proud of it.
And so it is that we arrive in Nha Trang, Vietnam, and seek out the only five-star diving resort in town. Seeking refuge from an early evening downpour, we are greeted by Simon who welcomes us on the occasion of the dive club's fourteenth birthday. It appears we have missed the birthday cake.
Simon is honest about local dive sites. "This isn't Thailand or the Caribbean", he warns. "If you are looking for a spectacular dive experience to rival the Great Barrier Reef you will be disappointed. But we keep our groups small, we seek out the quietest dive sites for you, and there's plenty to see even on a bad day."
Early next morning, we report to the dive shop for the short bus ride down to the local port. The group is indeed small, and each pair of divers has their own dive master or instructor. We join a couple of young guys nearing the end of their Open Water certification, a cheerful Chinese couple on their first try dive, and two other couples like ourselves, fairly experienced but preferring to dive with a local guide.
A few minutes later, we are on board for the forty-minute trip out to the Hon Mun Marine Protected Area. The launch looks like a standard dive boat but we soon see a few little extras that make the dive trip special: free tea, coffee, and hot chocolate on tap, plenty of drinking water, a fresh water shower, a clean toilet and even evidence of a cooked meal to look forward to instead of the usual packed lunch.
Each dive pair is greeted and briefed by their own dive master or instructor. Binh, our guide for the day, is a knowledgeable local lad with excellent English and a good line in bad jokes. He points out where our equipment is set at the rear of the boat, and calls us to kit up.
With plenty of cheerful, professional staff on hand to help, virtually the only thing we have to do ourselves is the giant leap into the water. Wetsuits are zipped up for us, weights secured, BCDs clipped on, oxygen tanks opened, regulators checked. I am even helped into my fins. After our own buddy check, we are on our way, down the anchor line to our first site, Octopus Rock.
I have hired a digital camera on board for VND550,000 (about US$25) and it's great to be able to record the dive. There are countless corals, sea cucumbers, and nudibranchs, and scores of Black Diadem sea urchins sparkling out from every quiet corner. Tiny blue Christmas tree worms disappear at the faintest hint of danger. Black and vibrant yellow damselfish play tag with their colourful cousin the sergeant major fish.
We meander through a narrow swim-through, encircled by a swarm of golden fish, and start to head back. As we ascend slowly through the haze, hundreds of small translucent jellyfish surround us, a surreal sci-fi moment from real underwater life.
Back at the boat, the personal service kicks off again. Binh ducks down and takes off my fins for me. I look at the ladder and brace myself for that horrible moment when gravity turns the heavy scuba gear into a dead weight: only it doesn't happen. As soon as I emerge, all hands on deck reach down to take the weight of my tanks and I climb unhampered out of the water.
Suddenly I am back on board, my BCD and tank have been spirited away, my weights removed, my wetsuit zipped open for me, and everything is being stowed away for the next dive. I feel like Tony Stark in the Ironman movie, invisible spinning wheels effortlessly removing his armor, as he strolls to the door of his penthouse apartment. This really is luxury diving.
We relax between dives with a delicious chicken curry, rice and fresh French bread. Freshly sliced pineapples make a wonderful dessert, the perfect antidote to all that salt water.
It is time for the second dive. I mention to Binh, our guide, that although I loved having the camera with me, it seemed to distract me from the simple act of the dive itself. No problem, Binh says. I was a professional photographer in a past life. Let me take your photos for you on this dive.
As soon as we descend, more jellyfish arrive, this time a few larger ones with long tails and red spots on their translucent bodies. More damselfish and butterflyfish rummage in the coral. A long black-and-white knobbly sea cucumber lies on a rock like a discarded rope. A lone lobster peeks from its hiding place, tentacles swaying. The warmer, shallower waters swarm with marine life and an infinite array of hard and soft corals. We spot a beautiful red trumpetfish, a solitary lionfish and a small colony of black and white coral shrimpfish, floating vertically like discarded anchovy fillets. We startle a giant pufferfish who kindly stops for a photo opportunity.
Forty minutes later we ascend again, and the invisible hands above us magically relieve us of our heavy equipment. A hot cup of coffee and a spot of sunbathing is the perfect way to end this thoroughly enjoyable dive trip.
Some might say this is not the real diving experience. Some might say you have to pull your weight on board and know how to look after your kit to call yourself a real diver. But there is a time and place for the luxury diving experience, and now and again I just love the sheer indulgence of it all.
Featured Posts
Often overlooked, the island of Guam is surrounded by fantastic diving. White sand beaches and calm, clear waters invite divers to explore the ocean and see the healthy coral and plentiful fish populations below.

Papua New Guinea is one of the world's best dive destinations and Milne Bay offers fantastic reef diving and muck diving in the same location. Clear waters and phenomenal creatures make for an excellent dive trip that's enti...

Shark feeding dives are no longer just for the avid diver or thrill seekers. Bahama's crystal clear waters are the best environment to come nose to nose with a frenzied school of sharks after they smelled the chum.