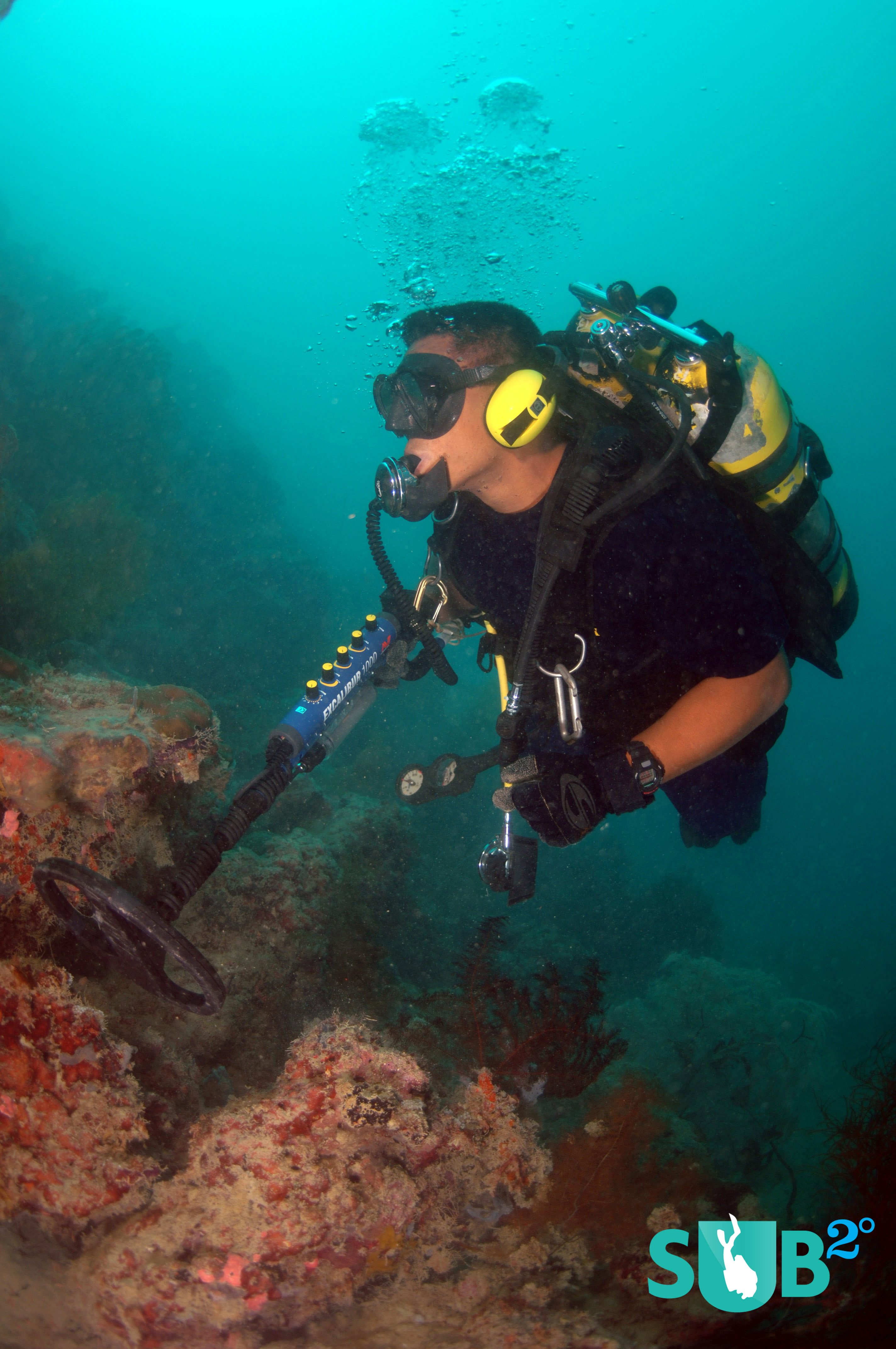 Published Apr. 18,
2014
0
Scuba Diving With a Metal Detector
As they say, there's a whole new world in the ocean. Rock formations, coral, fish, and other underwater dwellers await scuba divers when they take the plunge into the sea. However, bringing a metal detector along on your dive lets you explore these unique places even further.
Scuba diving with a metal detector can help you find a variety of treasures, including coins, jewelry, relics, and even sunken ships. The ocean is rarely chosen over land when you're out with your metal detector. If you're interested in taking your diving to a new level, let's look at a few tips on what you'll need in a submersible detector…
The best metal detector to take scuba diving is one that can search deeply. Both VLF (Very Low Frequency) and PI (Pulse Induction) metal detectors do the job well, and are the two types generally recommended for scuba diving. Whether you choose a VLF or PI machine, it should come equipped with a medium search coil. Investing in a larger search coil enables the most thorough and deepest search possible. However, a large search coil may miss some smaller, valuable targets, so having both is ideal.
You'll also want to look for a good set of waterproof headphones to dive with. Headphones are the only way you'll hear a target when you're scuba diving with a metal detector. Without a high-quality set of headphones though, you'll miss some of the targets your machine is hitting on, which is definitely not a good thing. There are some headphone sets that function amphibiously, performing equally well on land and underwater.
Once your underwater metal detector picks up on a target, you'll need some special equipment to recover the potential treasure. A pinpointing probe is an excellent investment and will help you zero in on your target more accurately, saving digging time and energy. A sand scoop is important to help you sift through the sediment on the ocean's floor and recover your treasure. You'll also possibly want a protective case for carrying your found treasures back to the surface.
When you have the right equipment, locating lost treasure becomes so much easier. And so much more fun! After all, who knows what you might find? Detectorists have been known to unearth some pretty amazing, not to mention valuable, finds while scuba diving. So, if you're looking to take your 'scuba hobby' to the next level, think about taking a metal detector along with you on your next dive.
Michael Bernzweig manages MetalDetector.com in Southborough, MA. He has written extensively on the subject of metal detecting since the mid 1980's. He has traveled worldwide in his pursuit of educating, exploring, and advising others in the proper use of metal detectors. Outside of the business, he enjoys mentoring students, being involved in the community, and spending time with his family.
Featured Posts
Often overlooked, the island of Guam is surrounded by fantastic diving. White sand beaches and calm, clear waters invite divers to explore the ocean and see the healthy coral and plentiful fish populations below.

Papua New Guinea is one of the world's best dive destinations and Milne Bay offers fantastic reef diving and muck diving in the same location. Clear waters and phenomenal creatures make for an excellent dive trip that's enti...

Shark feeding dives are no longer just for the avid diver or thrill seekers. Bahama's crystal clear waters are the best environment to come nose to nose with a frenzied school of sharks after they smelled the chum.