Laysan Island

Marine debris on a beach on Laysan Island in the Hawaiian Islands National Wildlife Refuge.

Garbage Island: An Ocean Full of Plastic (Part 1/3)

Vice sails to the North Pacific Gyre, collecting point for all of the ocean's flotsam and home of the Great Pacific Garbage Patch: a mythical, Texas-sized island made entirely of our trash. ** Come aboard as we take a cruise to the Northern Gyre in the Pacific Ocean, a spot where currents spin and cycle, churning up tons of plastic into a giant pool of chemical soup, flecked with bits and whole chunks of refuse that cannot biodegrade. Hosted by Thomas Morton | Originally aired in 2008 on http://VICE.com Follow Thomas on Twitter - http://twitter.com/Babyballs69 Check out more great documentaries here! http://bit.ly/VICE-Documentaries Watch the rest here! Part 1/3: http://bit.ly/Garbage-Island-1 Part 2/3: http://bit.ly/Garbage-Island-2 Part 3/3: http://bit.ly/Garbage-Island-3 Subscribe for new videos everyday: http://bit.ly/Subscribe-to-VICE Check out our full video catalog: http://www.youtube.com/user/vice/videos Videos, daily editorial and more: http://vice.com Like VICE on Facebook: http://fb.com/vice Follow VICE on Twitter: http://twitter.com/vice Read our tumblr: http://vicemag.tumblr.com

10 Things You Can Do To Prevent Marine Debris

10 Things That We Can Do to Reduce Marine Debris

Some Hard Reality About Marine Debris

Midway Atoll

Laysan albatross chick in the middle of marine debris, Midway Atoll, Spit Island
1
Marine Debris & Plastic Pollution: A Harsh Reality Check
Note from Editor (Timur): from past experience, we have sadly found that articles concerning serious environmental concerns get the least traction which is very discouraging for us. Please (only time we have ever asked) - share this post, link to it, take the time to read and understand it before closing this page.
Humans are the only animals that generate trash that nature can't digest.
In our throw-away society, where disposable lifestyle is the new rule, marine debris composes a major source of pollution.
Marine debris can be classified as man-made, solid material that enters our waterways either directly or indirectly, and has become a major problem throughout the world.
They can come in many materials and different sources.
These generally include disposal of domestic or industrial wastes on land, rivers, streams and beaches; storm water that result from rain and can carry street litter like cigarette butts, plastic bags and food and beverage packages into waterways; and extreme natural events: hurricanes, tornadoes, tsunamis, floods and mudslides.
Keep reading to discover more facts you should know about marine debris.
Garbage Island: An Ocean Full of Plastic (Great Documentary)
#1: Where Can We Find Marine Debris?
According to the newest research cited below, marine debris is found in every ocean and every coast line throughout the world.
Researchers from the 5 Gyres Institute estimate more than 5 trillion plastic pieces weighing over 250,000 tons are afloat at sea.
And that is only the tip of the iceberg: oceanographers recently estimate that around 70% of all plastic actually sink to the bottom of the ocean, making it even more difficult to quantify it.
In some ocean regions, known as gyres, currents enclose tons of decomposing trash and plastic into many, swirling garbage patches.
The first one reported is now known as the Pacific garbage patch. Similar ones are believed to exist in all ocean gyres, due to its oceanographic properties.
Opposed to some myths that run on the internet, these patches are not massive islands of plastic bottles in the middle of the ocean, but tiny pieces of micro-plastics, forming a sort of plastic soup.
#2: How Long Does Marine Debris Stay in the Environment?
Objects like abandoned fishing gear, cans, bags and bottles can persist in the environment for a long time.
According to the National Oceanic and Atmospheric Administration (NOAA), a plastic bottle has a decomposition time of 450 years!!!
Plastic bags take between 10-20 years, while aluminium cans may take up to 200 years.
Abandoned fishing lines may take 600 years to decompose, and styrofoam cups 50 years.
For glass bottles, the amount of time is undetermined.
When we say decompose, that doesn't necessarily means that the material in question is now harmless to the environment.
Plastics, for example, don't biodegrade, meaning bacteria don't break this material down into simple harmless components, like they do with paper or wood.
Instead, plastics photo-degrade.
This means that light has the property of breaking it down into very small fragments known as micro-plastics that generally do not biodegrade entirely.
They might not persist in the environment in full size, but do as microscopic pieces, invisible to our eyes.
#3: How Does it Affect Marine Life?
You can differentiate a plastic bag from a jellyfish. A marine turtle can't.
Aquatic life is threatened by plastics and solid waste through entanglement, suffocation, and ingestion.
According to NOAA, plastic debris kills an estimated 100,000 marine mammals annually, as well as millions of birds and fishes.
When ingested, plastic debris may become stuck in the digestive systems of the animals, blocking the food way and leading to death by starvation or infection.
Forgotten fishing devices known as ghost nets can also cause marine life deaths.
They may entangle fish, dolphins, sea turtles, sharks, dugongs, seabirds and other animals, limiting movement, leading to starvation and suffocation.
The Midway Atoll, in Hawaii, is a sad example of plastic pollution affecting marine life.
Despite its remote location, it receives considerable amounts of plastics from the North Pacific.
The beaches covered with colourful plastics are a temptation to innocent birds, such as the laysan albatross, that mistake those pieces for food.
Scientists found out plastic in the digestive system of nearly all of them.
One-third of their chicks die due to starvation caused by their parents inadvertedly feeding them bottle caps and other indigestible objects.

Small plastic pieces on the ocean's surface can also block the sun rays from reaching plants and algae that depend on the sun to create nutrients.
Microalgae are the base of the aquatic food web, and when these organisms are threatened, the whole marine food web may be distressed.
Plastic debris can also absorb persistent organic pollutants from seawater, such as PCBs, DDT and PAHs. These hydrophobic pollutants stick to plastic and enter the food web by ingestion by zooplankton and small fish.
Although all the effects are not known yet, it is recognized that they cause endocrine disrupting effects: an impact on the hormone production that can lead to reproduction problems.
Some other effects on marine animals might include cancer, lesions, genetic and developmental deformities, behaviour abnormalities, sex changes and death.
Once in the food chain, the pollutants accumulate in the tissue of the animals that consume them, in a process called biomagnification.
In this process, animals higher in the food chain have higher concentrations of pollutants in their bodies, because they feed from contaminated fish that fed from many other contaminated fish beforehand.
This means top-predators such as tuna, sharks, swordfish and marine mammals can have particularly contaminated meat, with concentration hundreds of times higher than in the surrounding water.
#4: How Does It Affect Us?
If you eat seafood, what goes in the ocean goes in you.
Our oceans, the way we treat it and the food we eat are all connected.
As we have seen above, top predators accumulate higher levels of pollutants in their bodies. If we eat those top predators, such as tuna and swordfish, there is a chance we are ingesting high levels of toxins as well.
A study by Algalita Marine Research Foundation of the North Pacific Central Gyre in 2008 found that approximately 35% of the fish studied had ingested plastic, averaging 2.1 pieces per fish.
In 2011, the University of California found that 10% of fish in the North Pacific had ingested plastic. So, if you eat fish, there is a chance you are degusting pieces of plastic as a bonus.
It is yet unknown the effect of this in our organisms, but it has been found that BPA (a common chemical additive to plastic packaging) influence the reproductive development and is also linked to cardiovascular disease, diabetes, and obesity.
#5: What Can We Do?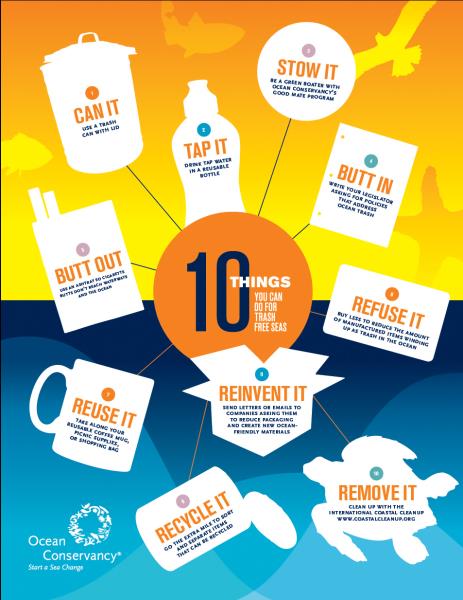 How you dispose of your trash is essential to this cause.
The most important note is: Reduce, reuse and recycle.
Therefore, the smartest thing to do is try to reduce the best you can your trash, to decrease your environmental footprints. Instead of using plastic bags on the supermarket, you can use a reusable one.
The less trash we produce, the less that will end up in the ecosystem.
The first step to action is information.
Plastic oceans, Plastic Shores, Trashed, Bag it, The synthetic sea story, Addicted to plastic, Plasticize…these are just some examples of documentaries on this topic.
Check out some of those, and join the cause for a cleaner ocean!
Featured Posts
Every year, between June and September, hundreds of whale sharks can be found in the deep waters northeast of Isla Mujeres, Mexico.

Thanks to Discovery Channel's popular «Deadliest Catch» TV series, the red king crab has become known across the globe. Native to the north Pacific, this armored behemoth has invaded Norwegian waters and is considered a dang...

Analyzing manta conservation in the context of marine conservation as a whole. (Part 1 of the series)