P7313551 diveadvisor

P7313551 diveadvisor

Jardines de la Reina

Jardines de la Reina

American Crocodile

American crocodile

Franco, saltwater American Crocodile in Jardines de la Reina
0
Cuba Diving: Jardines de la Reina
Located in the southern part of Cuba, Jardines de la Reina (Queen's Garden), without doubt, is the most adventurous archipelago in Cuba for scuba diving. The area is profoundly protected by the Cuban government where the commercial fishing and industries are prohibited, and only certain number of tourists allowed.
Fidel Castro, who used to be a scuba diver, decided to preserve the area in 1990-ish and pointed out an Italian company, Avalon, to manage the tourism industry in the archipelago. The company allowed to bringing of maximum 750 scuba divers and 500 fly fishermen annually.
These fully protection measures deliver impressive marine condition to date. Since then the fish population increased between 30 to 50 percent and the coral reefs recovered easily against the bleaching (CBS 60 Minutes, December 2011).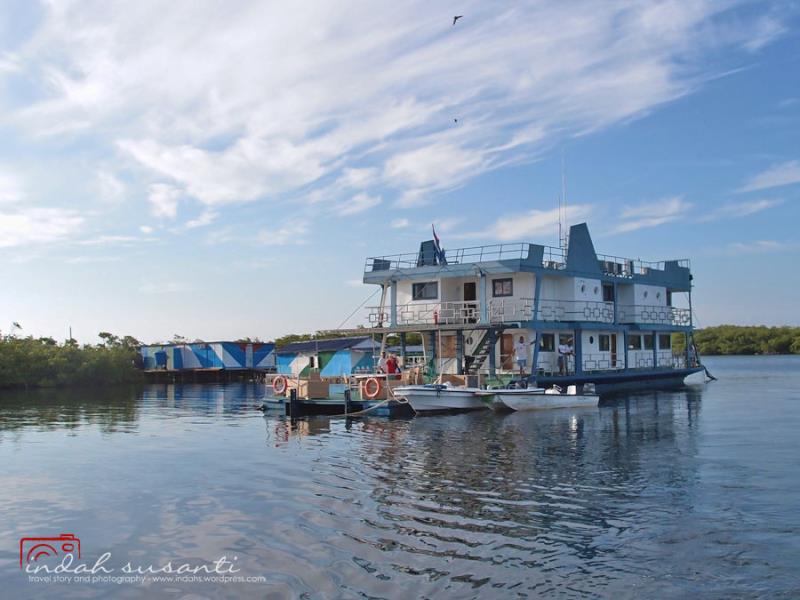 The mangrove area in Jardines de la Reina is home to birds, fishes and American saltwater crocodile. This endangered crocodile has average life span of 70 years with size of around two meter. And one of them was frequently visiting us in Tortuga, floating cabin where the scuba divers stay. Franco, as the staff in Tortuga named him, would waited under the deck of Tortuga until one of the staff or guests fed him with chicken meat pinned by fishing twine. He played around a bit before finally swallowing the meat. It looked as if he enjoyed our company on the deck who were amused by this close encounter.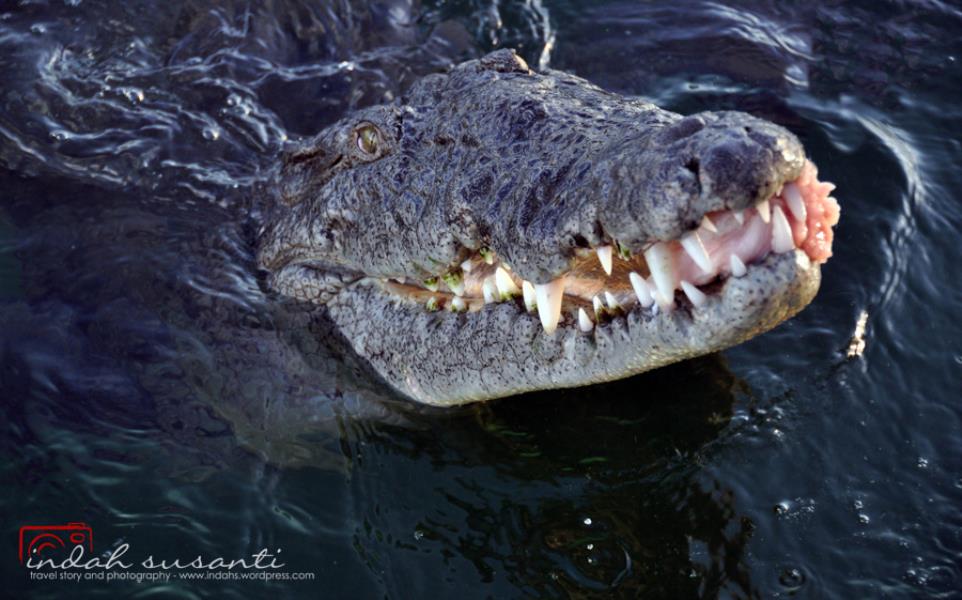 One thing to guarantee while diving in Jardines de la Reina is, almost in every dive site you will come across groups of Silky sharks and Caribbean reef sharks. Occasionally you can also expect to bump into Lemon and Nurse Sharks. Most of the sharks are about two to three meters long, and yes, they are huge! Before diving, our dive masters who have long experience diving with sharks briefed us that sharks in the Caribbean waters are not aggressive unless when they feel threatened.
We were advised to keep our hands close to our bodies otherwise the sharks could assume the hands as small fish to catch.
Our first encounter of around 20 sharks was in a dive site called Black Coral Two. Similar sights could also be found in dive sites Boca de Piedra, Caves o de la Qera, Cabeso de la Ralla, and Los Moqotes.
They were cruising around the scuba divers; it felt like they were investigating us as new weird species that produced bubbles. And they kept following us until we were ascending to our boat, when finally they were swimming circling our boat. The scene reminded me of Jaws movies, only then my experience showed me otherwise: no one was attacked by the sharks.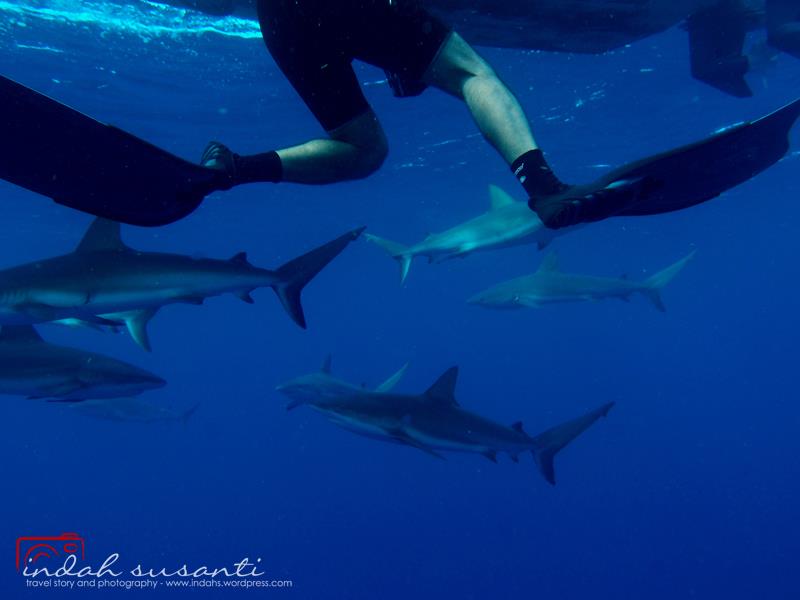 In addition to sharks, we also encountered Nassau, and Goliath groupers. These species were considered endangered due to severe over-fishing. The groupers were relatively huge; we predicted their weights were about 80 to 90 kilograms. After several days diving with the sharks and groupers, I concluded that I should be more on guard towards the groupers rather than the sharks.
Groupers are solitary fish and they defend their territory against other fish or other groupers, therefore their curiosity could mean that they feel their territory was threatened.
Other dive sites such as Frallon, Anclitas and Montana Russa have beautiful landscape featuring underwater canyon with tunnels and caves along with gorgonian fans and sponges. In these dive sites, scuba divers can easily spot the morays, barracudas, sting-rays and tarpons.
Unfortunately, numbers of common lionfish, which is not the native of Caribbean waters, could also be spotted. War against the common lionfish has been on going in the Caribbean countries for years already, as there was no lionfish predators while lionfish eats the juveniles and potentially threatening the Caribbean marine ecosystem. Our dive guides tried to feed dead lionfish to the sharks, hoping in the future the shark will hunt the lionfish themselves.
After all, Jardines de la Reina is a living proof that profound marine protection could result amazingly. It is a place worth to visit for scuba divers to enjoy a pristine area and to feel that there is small part in this planet where our ocean, sharks and other endangered species get fully protected.
Further Reading
Featured Posts
Often overlooked, the island of Guam is surrounded by fantastic diving. White sand beaches and calm, clear waters invite divers to explore the ocean and see the healthy coral and plentiful fish populations below.

Papua New Guinea is one of the world's best dive destinations and Milne Bay offers fantastic reef diving and muck diving in the same location. Clear waters and phenomenal creatures make for an excellent dive trip that's enti...

Shark feeding dives are no longer just for the avid diver or thrill seekers. Bahama's crystal clear waters are the best environment to come nose to nose with a frenzied school of sharks after they smelled the chum.