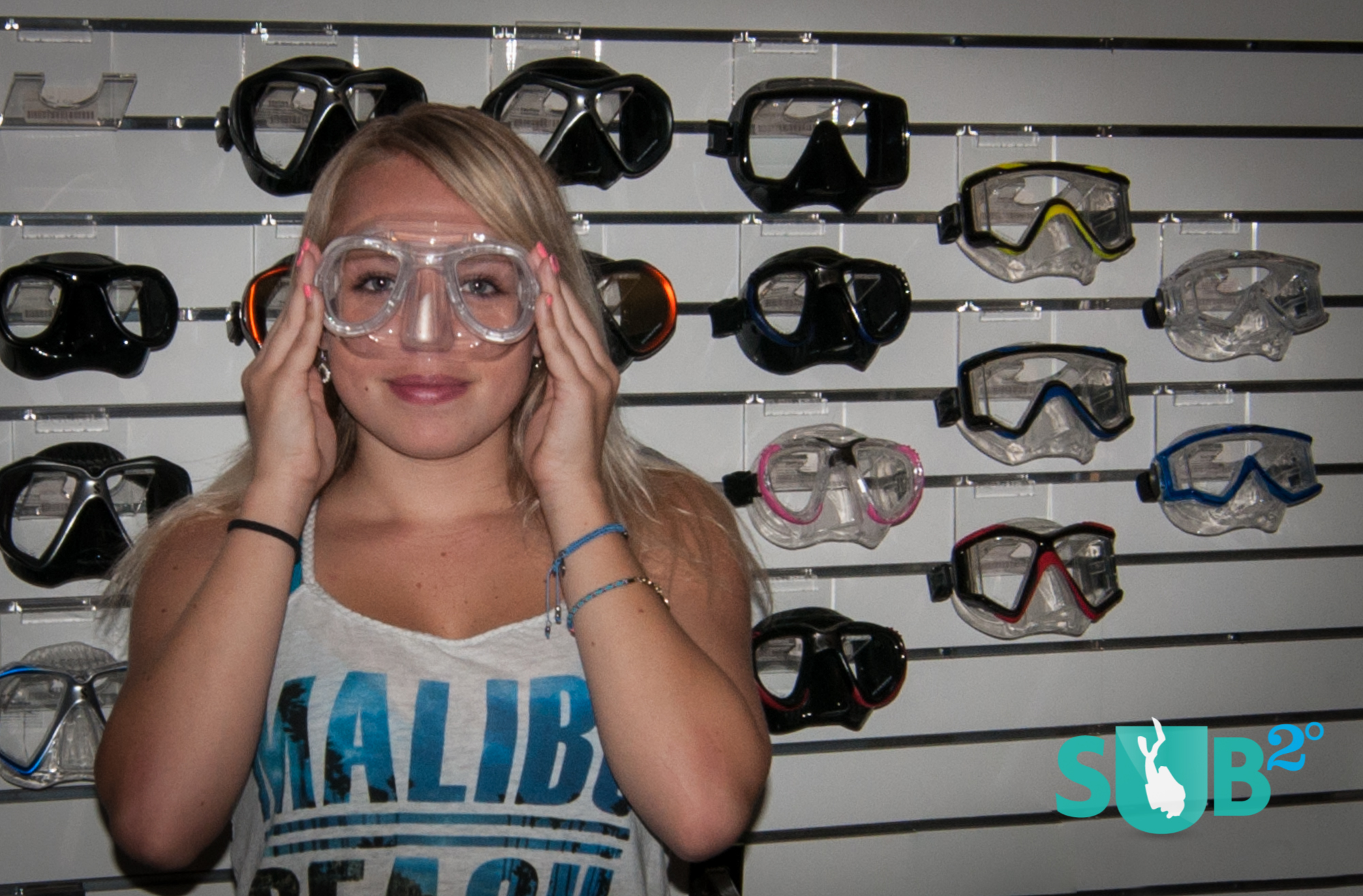 Published Aug. 14,
2013
0
How To Choose A Mask
A Mask is a Mask is a….
Not true. Masks are probably one of the most diverse pieces of scuba gear out there. Divers have faces of different shapes and sizes and manufacturers have set out to make masks to fit everyone.
Masks are made up of four parts: frame, lens, skirt, and strap. Every face is different, so these components can be different for each style of mask. The features and comfort factors of masks also vary because what one a diver likes, another might not. This is why there are so many different masks available.
The frame holds all the parts together (and is usually the colorful part). Often made of hard plastic, it surrounds one lens or two if the frame splits down the middle of the mask. Some divers prefer a single lens mask because they feel it gives a better range of view and sometimes the frame of a two-lens mask may rub at the bridge of the nose, causing discomfort. There are also frameless masks, which eliminate the frame, and the skirt attaches directly to the lens. This makes them lighter and the lens sits closer to the face, giving a wider range of view.
Some masks with two lenses can have prescription lenses substituted and some companies make prescription masks. There are also bifocal stick-on inserts that fit into any mask.
Mask skirts are usually made of flexible silicon or rubber allowing them to mold to the curves of each face. These come in many sizes and can be clear, black, or opaque white. Some divers prefer black because there is less glare from light penetrating the clear skirt, but fans of clear say that black seems to reduce the amount of light that gets in, making things seem darker.
Side view panels are a popular feature where the frame incorporates two side lenses that increase peripheral view. These masks have larger frames and sometimes won't fit smaller faces.
Purge valves are also available. This allows a diver to exhale and push the water through a one-way valve to remove water. These can be great if a diver has critical problems clearing his/her mask (although it's still best to know how to clear a mask). One problem with these masks is a small piece of sand could cause the small disk of silicone in the one-way valve to stay open, flooding the mask continuously until it's removed.
Trying On a Mask
Put a mask up to your face without the strap. Gently inhale through your nose and feel if the mask suctions to your face. If air comes in, it's not sealing and will likely leak. A good seal is when the mask stays on your face while inhaling.
Trying out a mask underwater is ideal, so find out if your dive shop has events that allow trying out or renting a mask. The in-store test is pretty good, but nothing beats trying out the mask underwater to see if it fits perfectly.
Before Diving
New masks have a layer of film that will cause fogging from the manufacturing process. This can be removed by using a mild abrasive product such as white, gritty toothpaste (gel toothpaste won't work). Scrub the inside of the mask for at least five minutes several times and make sure to rinse it completely. There are also mask pre-cleaner products available in dive shops.
Before each dive, the mask needs to be defogged. There are many brands of defog available, and most involve putting a small drop in the mask, rubbing it around with your finger, and then rinsing it lightly. Diluted baby shampoo will also work, as will spit if nothing else is available.
Mask Care
Masks should be rinsed with freshwater after diving. Store them out of the sun and in the plastic box they came in to prevent their shape from warping.
But it's Leaking!
So you're on a dive and your mask is leaking. First thing to do is to let your buddy know. Your hood or a hair may be the culprit and your buddy might be able to help remove them. If the problem is more serious, a buddy can help you get back to the surface safely.
Mustaches can also cause leaking, but sometimes a little petroleum jelly will help. Sunscreen can cause a mask to not seal, so it might be worth rinsing your sunscreen off right before diving. Mask straps should be snug, but not feel tight. A really tight strap can cause the skirt to pucker and not seal, letting water in.
If fog is the problem, let a littler water in, swish it a little and clear your mask. It might fog up again in a few minutes, but you won't have to abort your dive; just keep letting in some water and clearing it.
Start with a mask that fits, but remember some leaks might always happen. For me, if I smile underwater, my mask leaks a little (it's a blessing and a curse that I have so many great dive buddies who keep me giggling underwater!) This is why we learned how to clear our masks during training.
And finally - be sure to find one in your favorite color!
Featured Posts
Have you ever wished for a little extra boost underwater? Perhaps you are exhausted and your legs need a break or maybe you would like to further propel your fin kicks to keep pace with some elusive marine life. There are ma...

Snorkel with millions of non-stinging jellyfish in Palau's Jellyfish Lake.

Florida is one of the world's premier destinations for cave diving and Devil's Eye cave system should be on any cave divers list of places to dive when visiting the region.