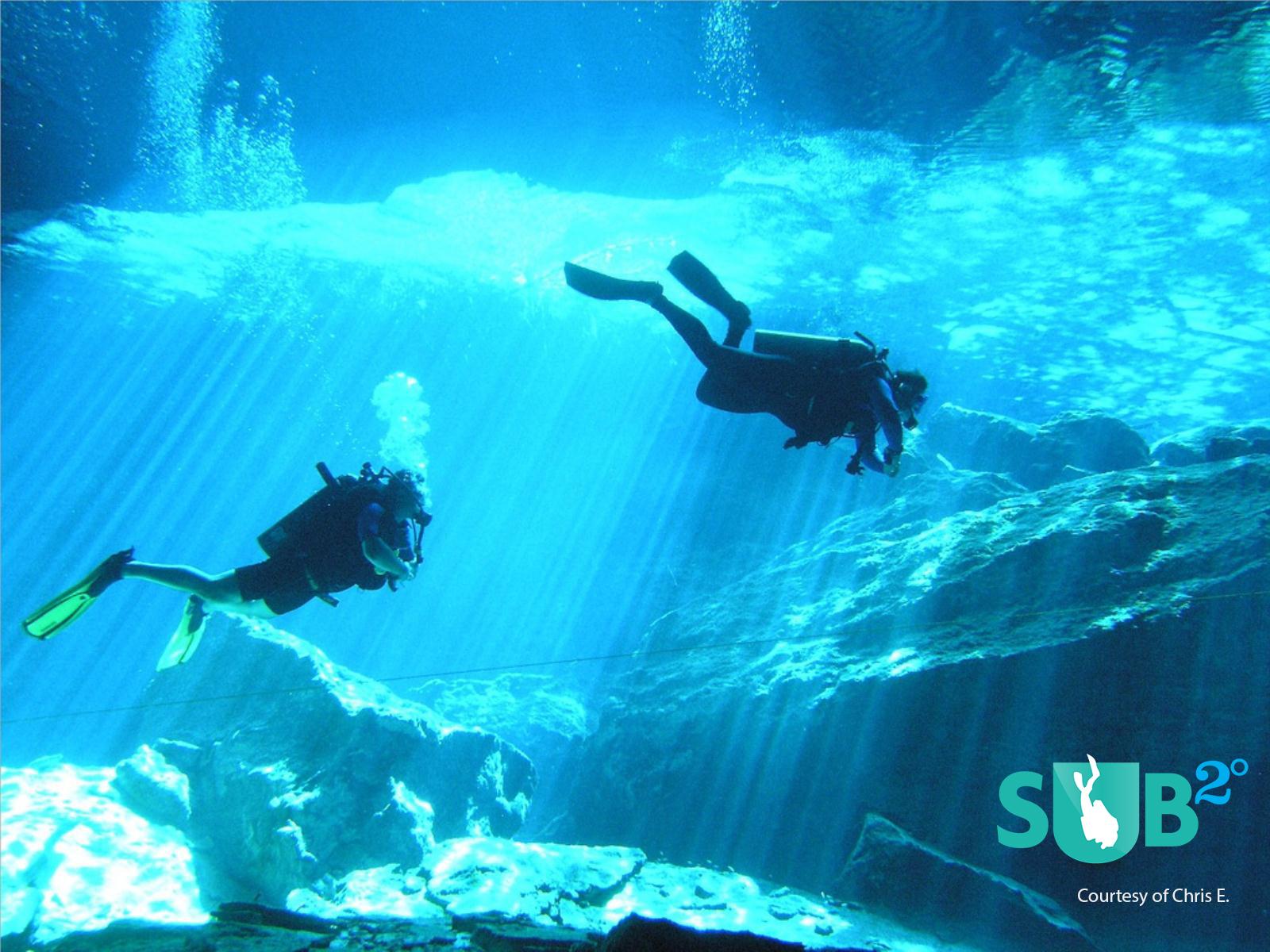 Published Jan. 19,
2015
0
Diving the Cenote Caverns, Riviera Maya
There are few dives in this world more breathtakingly cinematic than a Mexican cenote. As you dive, shafts of blue light lance the water around you. Wide open spaces collapse suddenly into dark and twisting passageways, before expanding out into another cavern.
Giant looming shadows of dark rocks break the ethereal greenish glow of water-filtered daylight, giving contrast as you float through an alien landscape of impossible limestone formations.
The Sacred Wells
The Mayans called these "sacred wells," and as soon as you get in the water, it's pretty clear why. The Yucatan peninsula is geologically unique: below it lie some 300 miles of interconnected passageways full of crystal clear water, an adventure-movie landscape, and the occasional sign of human sacrifice.
Coming from open water diving, dropping into a cenote is like dropping into an aquarium. The most incredible part of diving a cenote is the visibility: it's not uncommon to get 500 feet or more. This isn't to say you can see for 500 feet.
Cenote cavern diving means you may find yourself exploring long twisting passages through the rock, or curving routes around the entry point.
How They Formed
Every cenote is different, of course. They were formed long ago as dry caves. For thousands of years, water dripped down the cenote walls. In the process, limestone stalagtites and stalagmites formed. The water carved out long passageways through the rock, and different paths merged and diverged.
The Mayans knew these cenotes well. To the Mayans, the twisting and unknowable underground mazes were the entrance to the afterlife and to the underworld. There are cenotes that today contain Mayan artifacts and signs of their rituals.
More practically, the Mayans often relied on these natural wells as their principle sources of potable water. It was the cenotes, therefore, that made it possible for the Mayan civilization to reach the heights that it did.
The Diving
Compared to regular cave diving, cenote cavern diving does not require extra training.
This is thanks to one of the caverns' most stunning features. As you swim through the water of a cenote, dramatic beams and curtains of light pierce the water around you. Cenote cavern diving follows routes with natural light and easy access to the surface -- easier than most caves, at least.
Most dives are fairly shallow, which means you can easily spend over an hour enjoying the scenery. The water is a comfortable but not too warm 25C. You still want at least a shorty wetsuit, and some people may want a 3mm or 5mm one. Either way, it's good to have boots and gloves to protect yourself and the caverns in case you accidentally brush against them. Some people also experience ear infections from bacteria in the water: washing out the ears with swimmer's ear before and after the dive will go a long way to preventing them.
As you get deeper, into more cave diving-like routes, the darkness closes in. All of a sudden you're floating through tunnels whose ornaments and marks were formed thousands of years ago by forces hard to imagine. Jagged limestone spears protrude from the ceiling and the floor to either side of you, giving way occasionally to holes and side routes that lead you know not where. Your entire world is revealed just through the searching beam of light in your hand, and those of your fellow divers.
Technical Diving
If you're willing to get more technical, caves like the Cenote Jailhouse offer stranger sights. Here you might find some 10,000 year old mastodon bones, as well as an endless collection of incredible rock formations. They call it the jailhouse for its bars: long, straight vertical formations. Unlike most shallow cenotes, this dive has two parts -- there's the shallow freshwater part, characterized by a darker color, and the saltwater, deeper part with a brilliant white.
Between the caverns and the deep caves, the Mexican cenotes offer a full range of dives in some of the world's most unusual geology. Snorkelers and swimmers start at the surface. Open-water divers float their way through the dramatic light curtains of the cavern dives. Cave divers and technical divers go further, pushing the limits: the cenote system has hosted its share of hundred-meter decompression dives and miles-long rebreather treks. Where it all ends, perhaps only the long-dead Mayan priests really know.
Photography Courtesy of Chris E.
Further Reading
Featured Posts
Just south of Manila, Puerto Galera is easy to reach and part of the "Coral Triangle", which has one of the highest marine biodiversity in the world. Puerto Galera has all the critter finding a muck diver could dream, color...

Often referred to as the soft coral capital of the world, Fiji has way more to offer than its nickname implies. Although an amazing abundance of soft corals are found around Fiji, the islands also have some impressive hard c...

Every year, between June and September, hundreds of whale sharks can be found in the deep waters northeast of Isla Mujeres, Mexico.