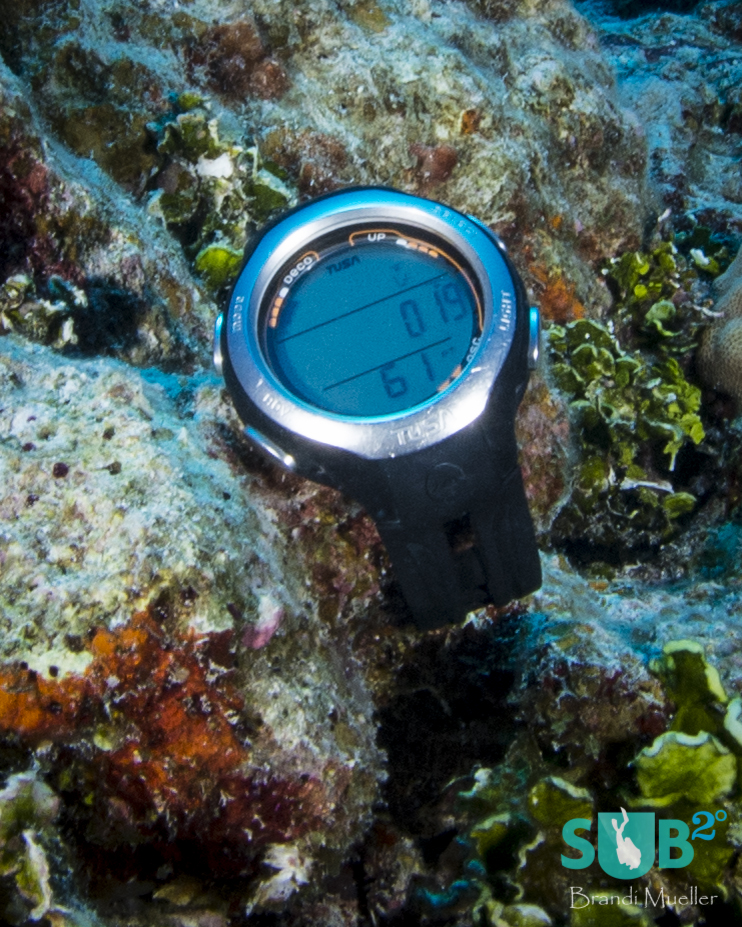 Published June 5,
2014
1
Demystifying Dive Computers Part 2
What to Look for in Dive Computers
With so many options in dive computers today, it can be tough to decide what computer is right for you. The first step is to consider the type of diving you do and are planning to do in the future. If you have no interest in technical diving, you probably don't need a computer that does multi-gases such as trimix. However, if you are considering technical diving, it might be worth spending the extra dollars initially to get a computer that does both, instead of buying another in the future.
Conservation
Different brands or models may use different algorithms to determine bottom times and will have more or less of a degree of conservation. Find out what the no-stop decompression limit times are for a certain depth and compare it between different computers. Some have the ability to slightly change the conservation, giving you slightly more or less bottom time.
Size and Display
The size of the computer and the numbers on the display are important. You might love a small computer, but if you can't read the display it won't be good for you. The number of buttons varies as well; it's usually easier to change settings, such as changing the date and time, if there are more buttons.
Console or Wrist
Computers can be worn on the wrist or attached in a gauge system. Some computers are air integrated so that a transmitter is attached to the first stage of the regulator and wirelessly transmits the tank pressure to the computer, or the gauge mount computer reads tank pressure. Even cooler, Oceanic has a mask with a computer on a heads up display, providing computer information right in the mask.
Alerts
Most computers 'turn on' when they get wet, although this function can be turned on and off. Audible alerts can also be turned on and off; of course, turning them off may reduce safety, because the sound alerts a diver of a problem, and without the warning the diver may not realize the problem. Most dive computers also show an automatic safety stop between 20 and 10 feet, showing a three-minute countdown on the screen.
Deco Stops
Almost all computers will calculate decompression stops if the no-deco recreational limits are exceeded. This is important because if an unexpected event happens and you cross into deco, you want a computer that tells you how deep and how long your deco stops need to be.
Dive Logs
Computers are also great because they store previous dives like a logbook. The number of stored dives varies between computers, but it's usually 10 to 50 dives. Many computers are PC-compatible and can download dive information to a computer program. Divers can then see their dives, sometimes including charts that show the diver's depths through each entire dive.
Other Features
The ability to put the computer into gauge mode, which only displays depth and time or free dive mode, which records depths and times of free dives, neither of which calculates decompression times.
A timed countdown until it is safe to fly.
The ability to recalibrate the computer to dive at altitude.
Nitrox (enriched air) capabilities, including adjusting the percent of oxygen for a certain nitrox blend.
Disadvantages of Dive Computers
It is rare, but computers can fail. Whether it's a dead battery or mechanical/electrical failure, a diver needs to be aware of what to do in this case. PADI and other instructional agencies suggest that a diver immediately end the dive, making a slow ascent and stopping for an extended safety stop. Some divers choose to wear two computers or at least have back-up gauges with depth, air pressure, and a timing device.
Prevent battery problems by replacing them when the low battery alert appears or by putting in a new battery before a trip. Some computers will lose the residual nitrogen calculations from prior dives if the battery is replaced. Keeping your dive computer in good working condition and having it serviced can also prevent problems. Rinse it in fresh water after every dive to prevent corrosion and salt accumulation.
Divers are not meant to share dive computers, even between buddy teams, because if one buddy is slightly deeper, the dive computer will not receive accurate information for both divers. If a buddy team has different computers, follow the most conservative if they are slightly different.
And remember…
Dive computers are only as safe as the diver makes them. Pushing dive computers to their limits is no safer than pushing dive tables to their limits. It is best to stay conservative. Susceptibility to decompression sickness involves many factors including age, weight, hydration level, physical condition, exertion levels during the dive water temperature, and others – none of which your dive computer will know. So although you should trust what your computer tells you, you also need to use common sense and dive conservatively and safely.
Back to Part 1
Featured Posts
Have you ever wished for a little extra boost underwater? Perhaps you are exhausted and your legs need a break or maybe you would like to further propel your fin kicks to keep pace with some elusive marine life. There are ma...

Snorkel with millions of non-stinging jellyfish in Palau's Jellyfish Lake.

Florida is one of the world's premier destinations for cave diving and Devil's Eye cave system should be on any cave divers list of places to dive when visiting the region.