DEMA 2014

Exploring the many exhibitors at the 2014 DEMA Show in Las Vegas.

Prawno Apparel

Lia Barrett, creative director for Prawno Apparel, shows off their fashionable ocean-minded clothing line.

Erin Quigley Talks about Editing

Underwater photography editing wizard, Erin Quigley, gives a talk on how to use editing programs like Adobe Lightroom to make digital underwater photographs better.

Manta Pacific Research Foundation

Several of the founders, board members, and researchers from the Manta Pacific Research Foundation.
0
DEMA 2014 Top 5 Highlights
This past week was the 2014 DEMA (Dive Equipment and Marketing Association) yearly gathering in Las Vegas. The trade-only event for dive professionals is a four day extravaganza of all things diving. The latest and greatest gear is on display and you can find out about every dive dream destination sometimes while drinking kava with local Fijians or talking with your favorite liveaboard's boat captain.
This year was no disappointment and all the expected representatives where there showing off their newest toys, dive education materials, and more.
As for the less expected, here's my DEMA 2014 Top Five including some amazing seminars and events I'm glad I didn't miss:
#1 Erin Quigley's editing seminars at the Image Resource Center
Erin Quigley is the queen of editing underwater photographs. She gave three talks with fantastic demonstrations of just what can be done to improve (and even fix) underwater photographs with just a few clicks of a mouse. And while there's always debate on what's legal and not legal with editing photos, she presents a clear case for editing and just makes it looks so easy.
On her website you can find easy to follow guides and videos and catch up on what you missed at DEMA.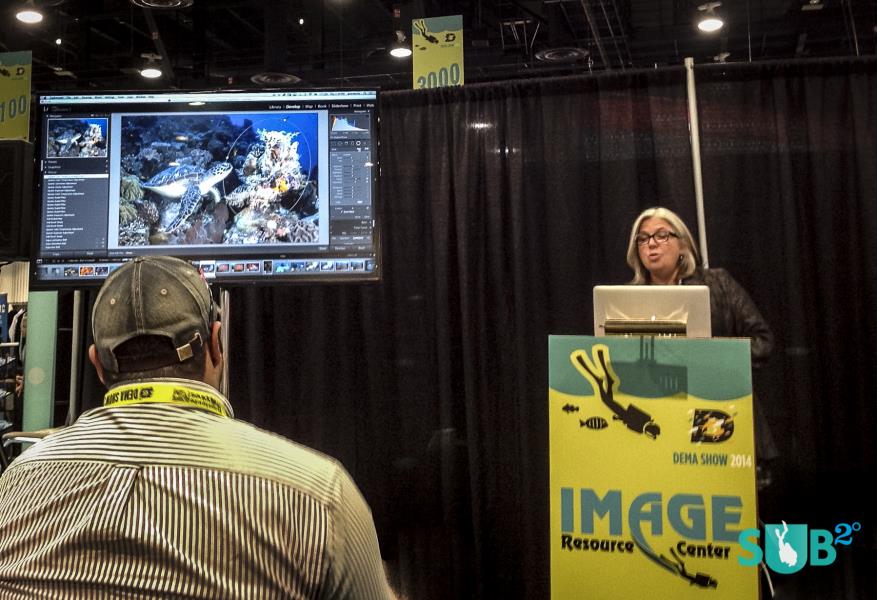 #2 Underwater Photography Gear
There's just so much to talk about! As an Ikelite shooter I'm super excited for their newest release of a housing for the Nikon D750 (stay tuned for my upcoming images) and their new ball arm system that allows for the additions of accessories to be clamped into the arms (hello multiple focus/video lights, gadget holders, etc.)
Backscatter's flip filters for GoPro housings were very popular which allow for three different red depth-filters to be flipped on and off depending on your depth to get the best colors. Light and Motion introduced their super powerful 3,000 lumen Sola 3000 which fits in the palm of your hand and their mega-powerful Sola Video Pro with 8,000 lumens!
#3 Manta Pacific Research Foundation Seminar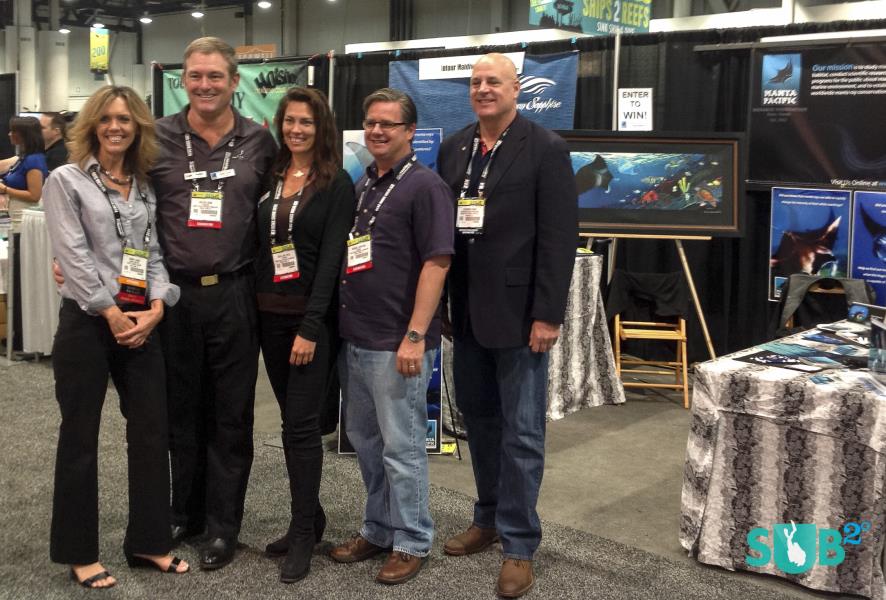 MPRF put on a fantastic talk on mantas by Keller Laros, a founder of MPRF (and one of this year's "Sea Hero" recipients; have you seen the video where he rescues a dolphin by cutting it free of fishing line?) and Dr. Csilla Ari. Keller gave an excellent argument on how divers and dive operations can support scientific research such as in the case of Kona's Manta Ray Night Dive.
Every day divers contribute photos to help identify which mantas are showing up at the site as well as contributing to conservation causes. Dr. Ari talked about her manta research including breakthrough data showing manta's ability to quickly change their coloring and markings on their dorsal side, head, and ventral edges which may change the way we describe different manta species. More information on MPRF.
#4 DivePhotoGuide and Wetpixel Underwater Imaging Party
What's better than a party at a rooftop pool deck in Vegas? Having much of the Underwater Photography industry's as the partiers. Around 300 people showed up to mingle and talk about diving and photography (and various other subjects). This fun event was definitely the party to be at.
#5 My favorite Holiday Gift Ideas
Tank2O's stainless steel water bottle in the shape of a scuba tank. (You know you want one!)
I also gave myself a few clothing items from Prawno Apparel who have created super cute and fashionable ocean-wear with designs inspired by the underwater photography of Lia Barrett.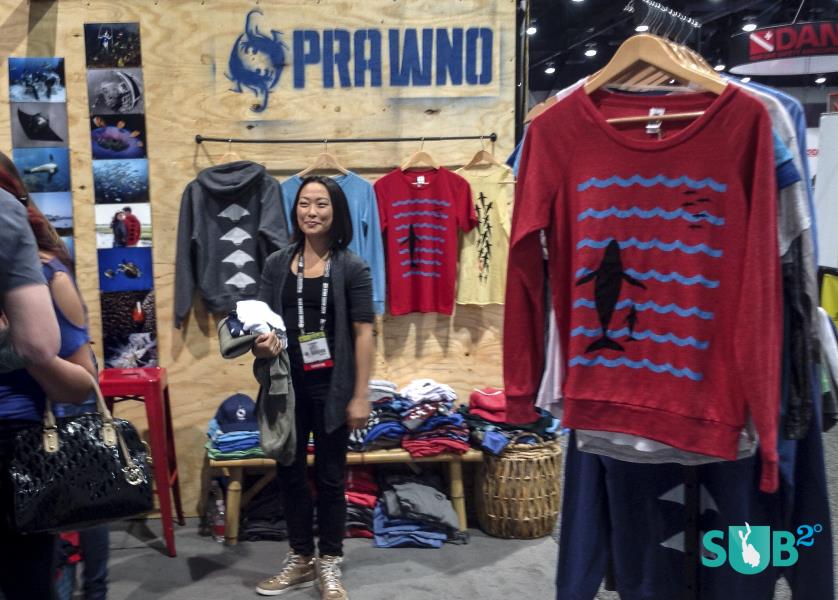 With another DEMA finished it was great to see old and new friends and now all I have left to do is make all my new goodies fit in my suitcase….
Where you at DEMA this Year? What was your most memorable experience?
Featured Posts
Have you ever wished for a little extra boost underwater? Perhaps you are exhausted and your legs need a break or maybe you would like to further propel your fin kicks to keep pace with some elusive marine life. There are ma...

Snorkel with millions of non-stinging jellyfish in Palau's Jellyfish Lake.

Florida is one of the world's premier destinations for cave diving and Devil's Eye cave system should be on any cave divers list of places to dive when visiting the region.