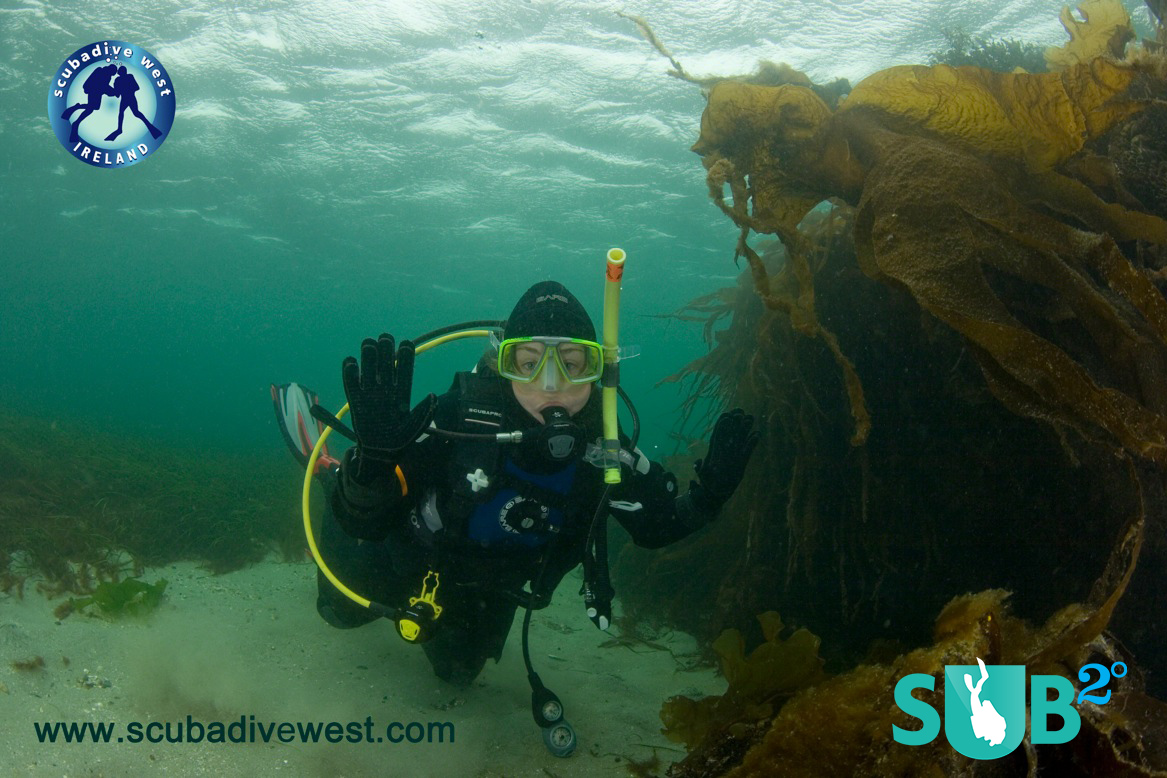 Published June 2,
2013
0
Child's Play: Diving with Kids
I was well into my thirties before I finally got around to learning to dive. For others it started earlier.
Ashling (fourteen) and Connor (twelve), my brother's children, once witnessed me coming back from a dive on the west coast of Ireland whilst on a family holiday. The elation I feel after a dive is hard to hide, and it must have rubbed off on them.
I was plied with questions for days afterwards: Is it cold? How long does it take to learn? How do you communicate? How far underwater are you allowed to go? Aren't you scared? How old do you have to be before you can dive? I promised both of them that if they did well in their end of year school exams I would take them on a try-dive the following year.
Eleven months later on a perfect Irish summer's day, we drove towards a tiny dive shop in Connemara on the remote west coast of Ireland, in a sheltered cove perfect for novice divers.
They were both a little nervous but Cillian, the instructor, was wonderfully patient. In the classroom overlooking the cove he took them through the equipment and the usual safety briefing, and explained how the lesson was going to go. We found them some kits and helped them suit up. The excitement mounted as they walked down the jetty to their first shore dive.
One last wave, and we left them to the rest of their lesson, afraid that our watching eyes would confuse or distract them.
Forty-five minutes later we returned to the jetty, expecting them to be back on shore. There were no signs of life on the jetty or in the dive shop. They couldn't still have been out there, could they? Anxiously I scanned the cove looking for clues, but found nothing. Finally I saw a black head bobbing out of the water: a seal or a human? Three black heads emerged, then disappeared again. Cillian was gently guiding them back to the jetty in less than six feet of water.
As they surfaced, I saw their faces light up. Ashling was playing it cool but I could tell she had loved the experience. Connor, the quieter one, was still paying close attention to everything Cillian says, but shot a shy smile at us as they emerged. They sauntered out of the water, fins in hand, sagging under the weight of their tanks, like they had been diving all their lives.
The experience was not over yet, of course. There was equipment to rinse and put away, paperwork to complete, dive logs to fill out.
Later, over huge bowls of seafood chowder and mountains of fresh brown bread (well, we all know diving is a hungry business), they told all. The feeling of weightlessness! Cillian helped them with their buoyancy sometimes, though. They weren't afraid at all. They learned how to clear their masks of water, and share a regulator, whilst kneeling in the shallows of the cove. They went down more than seven metres! They saw ray, lobsters, conger eels, sea stars and even an elusive octopus, all in less than half an hour.
In one morning they had blossomed in confidence. They had learned a whole new lexicon, experienced a whole new world; done something new without the supervision of loved ones, and come home with stories to tell.
That night before bed, our resident artist Connor sat up in bed with his ever-present sketchpad, and drew a pictorial dive log. The divers in the picture had impressive dive helmets on, but otherwise it was one of the best and most accurate log entries I'd seen: full of life and detail, illustrating how exciting and rewarding an experience this was for them both.
One year later, we visited the same spot, this time with their dad in tow for his very first try-dive. His children showed him around, helped him into his gear, took it all in their stride second time around. They were pros. Next step is open water certification for both of them: but only if they keep those exam results coming.
Featured Posts
Often overlooked, the island of Guam is surrounded by fantastic diving. White sand beaches and calm, clear waters invite divers to explore the ocean and see the healthy coral and plentiful fish populations below.

Papua New Guinea is one of the world's best dive destinations and Milne Bay offers fantastic reef diving and muck diving in the same location. Clear waters and phenomenal creatures make for an excellent dive trip that's enti...

Shark feeding dives are no longer just for the avid diver or thrill seekers. Bahama's crystal clear waters are the best environment to come nose to nose with a frenzied school of sharks after they smelled the chum.