Not Shy At All

Stingrays are probably even more present in Alimatha than Nurse Sharks, they are absolutely not shy and will literally push you out of their way.

Alimatha, Maldives - Night Dive

Fantastic Night Dive at the Legendary Alimatha Night Dive in the Maldives.

Close & Friendly

Nurse Shark getting close & super friendly, as usual.

Epic Stage is Set @ Alimatha

Although this shot isn't totally in focus and some other divers are shining their torches at this beauty I felt a connection with the shark and the shot. It was shot below the jetty.

Hair Cut by a Sting Ray?

Another cowtail that was literally giving us a head massage when we were ducking quick enough

Friendly Sting Ray

Another cowtail that wanted to make out with my camera.

Not Shy At All

Stingrays are probably even more present in Alimatha than Nurse Sharks, they are absolutely not shy and will literally push you out of their way.
1
Alimatha, Maldives, Legendary Night Dive
Alimatha Jetty Night Dive, Maldives
Alimatha is one of those dive sites that are pretty much unavoidable.
Its just that GOOD.
90% of the boats in the Maldives do the central route and out of them, probably 95% do the Alimatha night dive.
I have been to Alimatha 3 times prior to writting this article, the day after my 4th visit.
Surprisingly, I was still blown away, despite knowing exactly what to expect.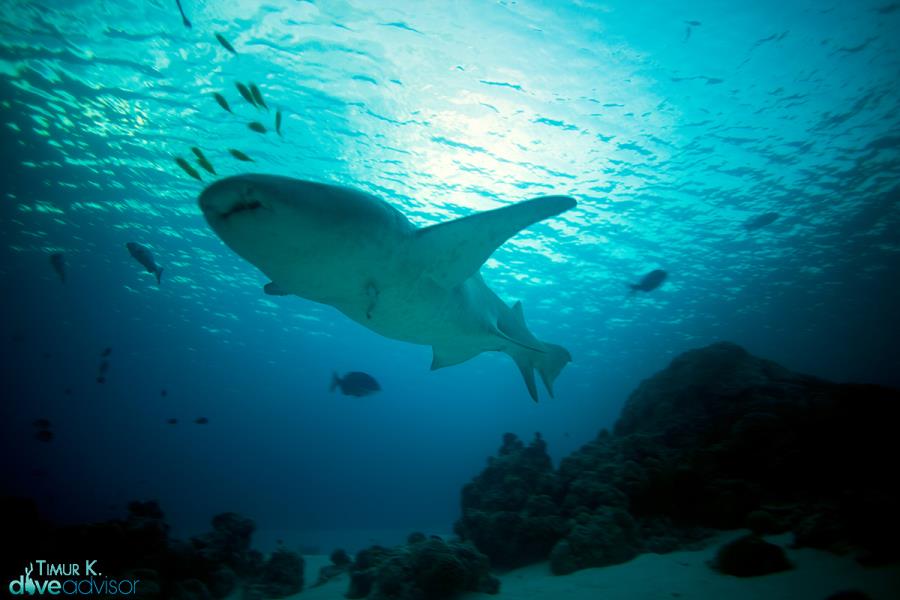 About The Dive Site
Alimatha is one of the old school, old timer Italian resorts in the Maldives, which has a lather large jetty that sticks out into the water.
From what I was told, the kitchen cleans/guts incoming fish right on the jetty and chucks into the water right off the jetty.
Over the years, they have trained the lazy local marine animals to take advantage of this free for all buffet.
Essentially, its just a sandy bottom that gets progressively deeper with some rocky patches and a jetty.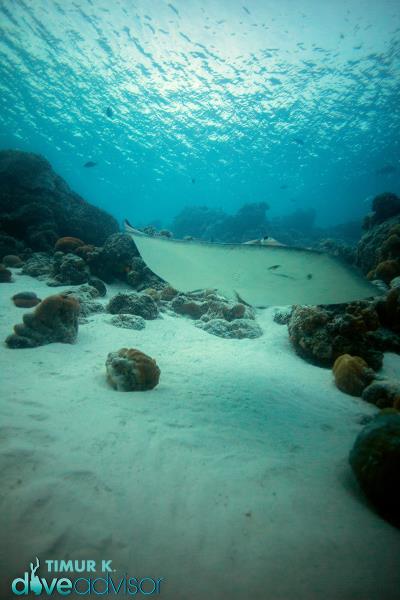 How It Began
On this 4th time, our dive guide made a very wise move, which I highly suggest that you nudge yours to do, should you end up on a liveaboard in the Maldives, and that is to start the dive at sunset, not in the darkness.
In the beginning this was counter intuitive. Later I realized she was a genius.
We got in the water at about 5.30-5.45, or about 30 minutes before complete sundown.
There were more than 15 liveaboards surrounding the Island, and as usual, Alimatha becomes an absolute chaotic zoo just after sun down.
As we got in the water, there was still plenty of light and no other divers in sight, so we had the first pick on which spot to occupy to settle down in.
Initially, I was sceptical about diving so early as I thought that the action wouldn't be there.
I was wrong.
The reef looked dead at first, but a few minutes into the dive, en route to our spot, I looked up to see a huge nurse shark heading straight towards me.
Soon we found a nice sandy patch on the sloping reef at about 12 metres and I got in position on my knees facing upwards.
Then the madness began.
The Action
Shark, after shark, giant trevally's and sting rays were literally like a mob that were over running us. It was virtually impossible to concentrate on any one subject as you would get distracted by another.
The timing was perfect and the dusk low light gave a nice effect for the photography - a stark contrast with shooting at night, which is virtually impossible.
At one point, it got a bit intimidating with 8-9 huge tawny nurse sharks circling us non stop, literally brushing us out of the way. They are harmless, sure, but nonetheless at one point it got a little bit uneasy with the sheer mass of animals bumping into you.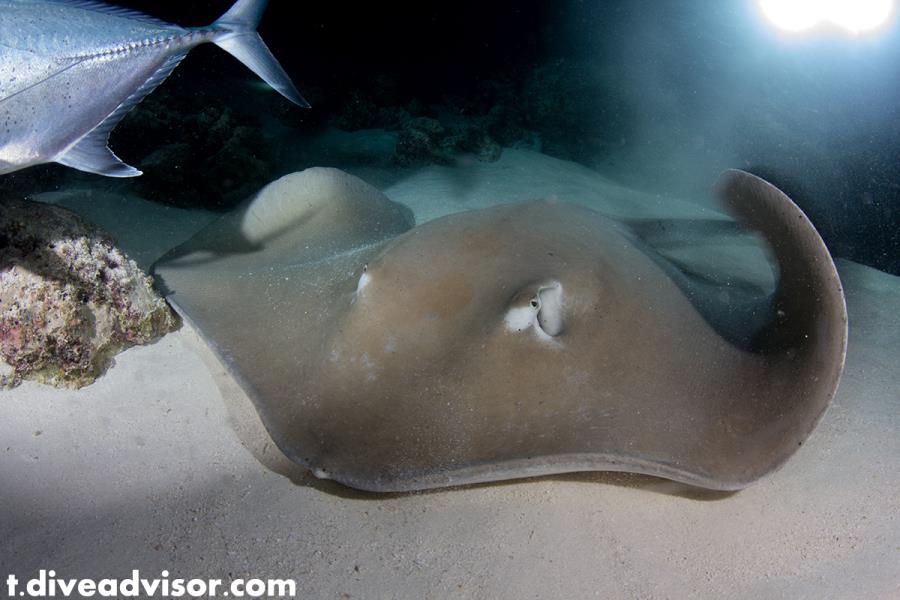 The cowtail stingrays were the same.
They literally didn't care for the divers and would just unceremoniously push us aside.
At one point, I looked back into the slightly deeper part of the reef and there were literally 60-70 sharks passing through, some were absolutely enormous, close to 3-4 metres long.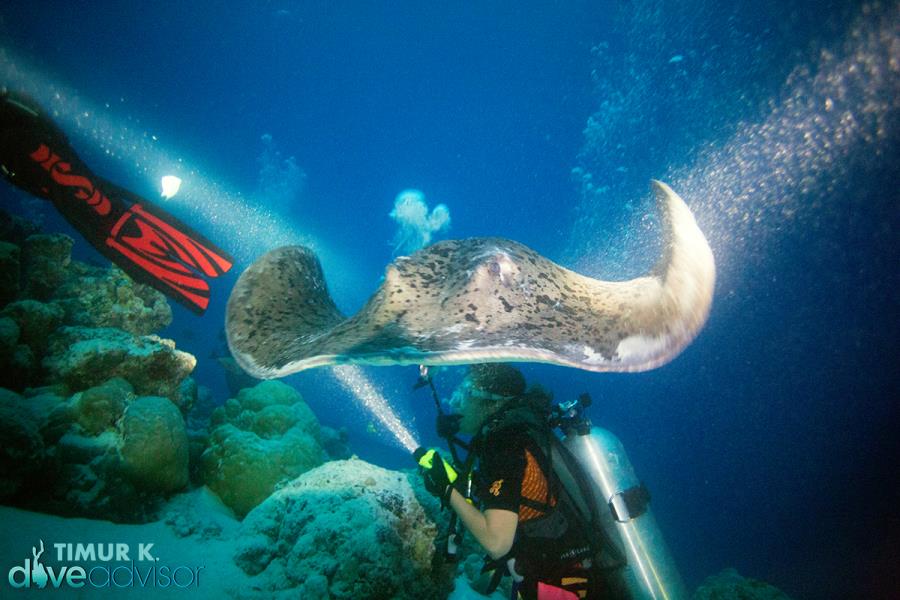 The End of The Dive
As it got darker, the amount of incoming divers and snorkelers was getting insane. There were hundreds of flashing lights, sounds of boats passing above us and mixed in with the insance action described earlier, it was very chaotic.
Towards the end, we moved up shallower to where the jetty enters the water. The downfacing lights from the jetty made great backdrop lighting for the subjects.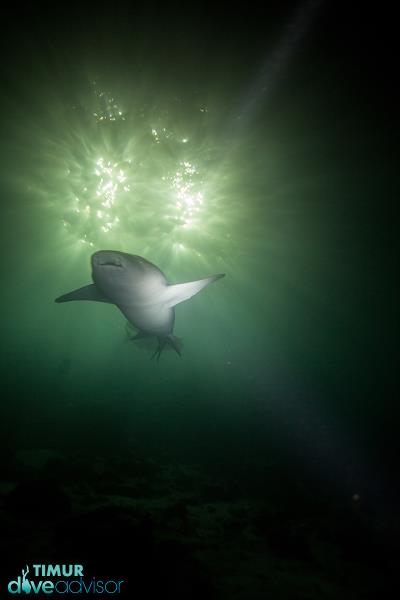 The only problem was the dozens of torches that were shining onto the sharks.
As we came up, there were about 20 boats and it took us a good 10-15 minutes to locate ours.
The abundance of boats is the biggest danger on this dive, and there have been several mortalities related to propeller caused injuries.
My only advice is this: urge your dive guide/instructor/cruise director to start the dive BEFORE SUNSET! It will make a world of a difference, and you will actually be able to see the same action, but actually see all of it.
Further Reading
Featured Posts
Often overlooked, the island of Guam is surrounded by fantastic diving. White sand beaches and calm, clear waters invite divers to explore the ocean and see the healthy coral and plentiful fish populations below.

Papua New Guinea is one of the world's best dive destinations and Milne Bay offers fantastic reef diving and muck diving in the same location. Clear waters and phenomenal creatures make for an excellent dive trip that's enti...

Shark feeding dives are no longer just for the avid diver or thrill seekers. Bahama's crystal clear waters are the best environment to come nose to nose with a frenzied school of sharks after they smelled the chum.