Liveaboard Information
Cabins: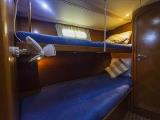 Twin Cabins x 4 (3 sq meters)
Max occupancy: 2
Details
Additional Notes
About
The Vision III Liveaboard is a 54ft comfortable sailing yacht that have everything you need for an unforgettable diving trip to Cuba. The Vision III Liveaboard has 5 cabins, 4 washrooms and showers and can accommodate up to 8 divers.
The cuisine aboard the Vision III Liveaboard is a mix of Cuban and International, with fresh fruits, juices, soups, salads, sandwiches and fish, seafood, beef or chicken for entrées. The crew will even cook any fish you catch during your sail.
Diving aboard the Vision III you will explore the beauty of the Canarreos Archipelago. You will be able dive new dive sites with amazing walls, drop offs, huge schools of fish and sleeping sharks, and when not diving there is the chance to explore the islands and national parks in the area.