Liveaboard Information
Cabins: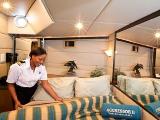 Master Stateroom x 1 (96 sq feet)
Max occupancy: 2
Details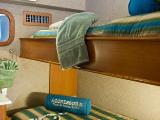 Deluxe Stateroom x 6 (49 sq feet)
Max occupancy: 2
Details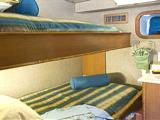 Twin-Share Stateroom x 2 (42 sq feet)
Max occupancy: 2
Details
Dive Certifying Bodies we are affiliated or certified by

PADI , Dive Shops, Dive Resorts, Dive Boats and Recreational Facilities

Compressors Generators Cruising Speed

Accomodate Rebreathers NO
Additional Notes
About Us
The Turks & Caicos Aggressor II is a 35 Meter yacht, designed and powered for comfort, safety and stability. She is diesel-powered, cruises at 10 knots and has 110-volt power on board. She sleeps up to 18 guests in privacy and comfort. Guests may choose from nine staterooms.
There are six "deluxe" staterooms featuring double and single berths, flatscreen DVD player and ensuite bath. The "master suite" for couples, has one large double bed with ensuite bath and flat screen DVD player. Two "twin" cabins have two single berths, flat-screen DVD player and they each share a head with an entrance through the cabins.
The Turks & Caicos Aggressor II has a beautiful salon, spacious sun deck with shading, chaise lounges and deck chairs, wet bar, hot tub, grill, and complete photo center with digital cameras. In the salon, there is a computer station with a scanner and e-mail capabilities. Custom-designed chase boats with outboard motor are available for shore excursions. The sheer walls of Providenciales begin at 40 feet, plunging into the deep blue abyss and include crevasses and ledges that are decorated with huge orange Elephant Ear sponges, Gorgonians and Crimson Rope Sponges.
The itinerary April through December departs from Providenciales, Turks & Caicos Islands. The itinerary January-April operates out of Grand Turk, Turks & Caicos Islands (one charter) and Puerto Plata, Dominican Republic for the Silver Bank whale charters. Turks & Caicos Aggressor II for Whale Watching in the Dominican Republic ( These are non diving liveaboard, ask us for more informations
Certifications

PADI

Open Water Diver or equal rating, snorkel with no certification

PADI

Open Water Diver or equal rating

PADI

Open Water Diver, or equal rating

PADI

Open Water Diver, or equal rating

PADI

Adventure Diver, or equal rating

PADI

Adventure Diver, or equal rating

PADI

Open Water Diver, or equal rating

PADI

Open Water Diver (or equal rating) + Rescue Diver (or equal rating) + EFR Primary and Secondary Care (or equal rating) within past 24 months + medical statement signed by physician
Equipment

| Equipment category | rent | Sell | brand (Model) |
| --- | --- | --- | --- |
| Rebreathers | YES | NO | |
| Rebreathers | YES | NO | |
| Rebreathers, Full-systems | YES | NO | |
| Regulators, First-stage only | YES | NO | |
| Buoyancy Compensators, Jacket-style | YES | NO | |
| Fins, Open-heel | YES | NO | |
| Diving Suits, Wet | YES | NO | |
| Lights, Hand-held | YES | NO | |
| Computers, Integrated | YES | NO | |