Liveaboard Information
Cabins: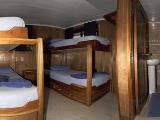 Quad Cabins x 2 (0 sq meters)
Max occupancy: 4
Details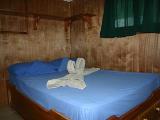 Double Cabins x 1 (0 sq meters)
Max occupancy: 2
Details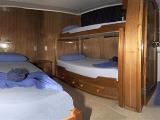 Triple Cabins x 5 (0 sq meters)
Max occupancy: 3
Details
Beds: Qeen + Single x 2
In suite bathroom: Yes
AC: Window Unit
TV: No
Description:
Private bathrooms with sink, toilet and a good shower with hot water. Each cabin has its own easily adjustable air-conditioning system. Holds up to 3 people. Please enquire for special price if you would like to book the cabin for 3 people
Additional Notes
About
The 'Tortuga' is a unique floating hotel allowing divers to explore the Jardines De La Reina. The 34m long double decked steel house boat is permanently anchored in a protected channel and is extremely stable, so there's no chance of getting seasick - no matter the weather! The Tortuga Liveaboard has eight guest cabins, which can accommodate 2-3 divers, with a maximum of 21 divers on board. Each cabin has individually controlled air-conditioning and en-suite bathrooms. There is an air-conditioned dining room, where you will enjoy 3 hearty meals per day. Cuisine is a combination of Continental Italian, Cuban and seafood. The foredeck and and afterdeck offer a perfect place to relax and enjoy pizza appetisers, cocktails, and maybe a Cuban cigar before dinner.
Diving from the Tortuga you will board a skiff and the experienced and professional guides will take you to show you the pristine beauty of the Jardines de la Reina (Gardens of the Queen) Marine Park where you can encounter huge schools of sharks, jacks, tarpon as well as healthy corals, walls and canyons. The Tortuga is a great choice for your scuba diving liveaboard holiday in Cuba. Contact us today to reserve your space.