Liveaboard Information
Cabins: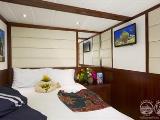 Master Stateroom x 3 (95 sq feet)
Max occupancy: 2
Details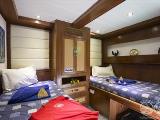 Deluxe Stateroom x 7 (89 sq feet)
Max occupancy: 2
Details
Transportation to & from the nearest Hotel or Port NO

Dive Certifying Bodies we are affiliated or certified by

PADI , Dive Shops, Dive Resorts, Dive Boats and Recreational Facilities

Compressors Generators Cruising Speed
Additional Notes
About Us
The Red Sea Aggressor operates from the Port Ghalib yacht marina and resort area. It is a beautiful gated upscale resort community that is home to the 120 ft., 20 passenger Red Sea Aggressor. The host hotel, the beautiful Crown Plaza Sahara Sands is only a few minutes to the yacht. This safe waterfront resort community includes an Intercontinental Hotel, Marina Lodge and Crown Plaza Sahara Sands with lots of restaurants and shopping. Guests are able to drive right up to the boat and step onboard. All three hotels are only a few minutes to the yacht with transportation provide by the resorts.
Certifications

PADI

Open Water Diver or equal rating, snorkel with no certification

PADI

Open Water Diver or equal rating

PADI

Open Water Diver, or equal rating

PADI

Open Water Diver, or equal rating

PADI

Adventure Diver, or equal rating

PADI

Adventure Diver, or equal rating

PADI

Open Water Diver, or equal rating

PADI

Open Water Diver (or equal rating) + Rescue Diver (or equal rating) + EFR Primary and Secondary Care (or equal rating) within past 24 months + medical statement signed by physician
Equipment

| Equipment category | rent | Sell | brand (Model) |
| --- | --- | --- | --- |
| Rebreathers | YES | NO | |
| Rebreathers | YES | NO | |
| Rebreathers, Full-systems | YES | NO | |
| Regulators, First-stage only | YES | NO | |
| Buoyancy Compensators, Jacket-style | YES | NO | |
| Fins, Open-heel | YES | NO | |
| Diving Suits, Wet | YES | NO | |
| Lights, Hand-held | YES | NO | |
| Computers, Integrated | YES | NO | |