Liveaboard Information
Cabins: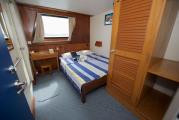 Master Stateroom x 1 (7 sq meters)
Max occupancy: 2
Details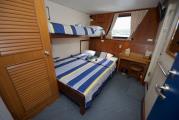 Deluxe Stateroom x 2 (7 sq meters)
Max occupancy: 2
Details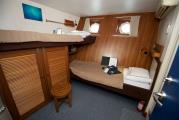 Twin Cabins x 5 (6 sq meters)
Max occupancy: 2
Details
Beds: Twin x 2
In suite bathroom: Yes
AC: Window Unit
TV: No
Description:
These spacious airy twin cabins (#1, 2, 6, 7, 8 on the deck plan) have twin beds in bunk style and can be shared. All with private toilet and shower, port hole in #1 & 2, picture window in #6, 7 & 8. Individual climate control, monitor with media player, hair dryer and bathrobes..
Additional Notes
About 
Raja Ampat or 'Four Kings', is the name given to these islands and comes from a local myth. Located in the heart of The Coral Triangle, Raja Ampat is known to have the richest coral reef ecosystem in the world. The four main areas offering itineraries are: Raja Ampat, Cenderawasih Bay, Banda Sea and Triton Bay. If you haven't experienced the diving in this area, it is fantastic due to the diversity and abundance of marine life. The area of the Four Kings is comprised of over 1500 islands and home to 600 types of corals, 1,500 fish species and over 600 types of mollusks.