Liveaboard Information
Cabins: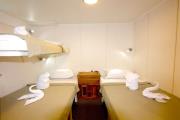 Twin Cabins x 4 (0 sq meters)
Max occupancy: 2
Details
Additional Notes
About the Boat
The 26m Nortada liveaboard presents a different kind of Galapagos dive liveaboard experience. With only 4 cabins on board and catering to a maximum of 8 guests, the Nortada offers divers a more intimate and personal experience. Each of the 4 cabins is air-conditioned with an en-suite bathroom, and has lockers and drawers for personal belongings. Relaxation areas include the air-conditioned lounge and dining area with entertainment system and open-air seating area and sun deck.
Diving from the Nortada means small groups using the two 3m inflatable tenders to get closer to the action and to the best dive sites. The comprehensive itinerary allows divers at least 20 dives per week, and features world famous dive sites Wolf and Darwin, plus the exciting addition of the top three dive sites in the north-west region of the archipelago. Guests can hope to see Flightless Cormorants, Galapagos Penguins, Marine Iguanas and several other endemic species, along with Manta Rays, Mola-Mola and different types of Baleen Whales. Nitrox is available for an additional cost, as is rebreather support and technical diving. For added safety all divers are provided with a Nautilus Lifeline bi-directional VHF/DSC marine radio with GPS, dive alert and DSMB.
The Nortada is available for individual bookings and full charter. Call us or reserve online today to start your amazing Galapagos dive adventure.