Liveaboard Information
Cabins: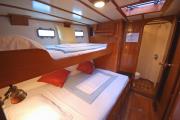 Double Cabins x 4 (0 sq meters)
Max occupancy: 2
Details
Additional Notes
About the Boat
The Nautilus motorsailor exceeds 20mts length and 50 tons TRB. Built in Taiwan in 1984 with rich Oriental and solid wood with fiber hull.
Its wide deck offers plenty of space with areas to don our equipment, areas covered and sun break. The ship's interior is lined with wood with a wide bridge where passengers can leave their belongings within reach of the deck. Further forward, we have the main lounge with TV, library, first aid kit, and two cabins each with its private bathroom where passengers can have their privacy and comfort, or just to rest in the bunk beds.
Next to the saloon is the kitchen and reserved for the crew the machine room. The ship also has two passenger cabins more, each with its private bathroom and also separate cabins and services for the crew.
Yacht Nautilus has two mast Ketch type, it is completely protected around with a stainless steel railing.
Other services available at the boat are 110V 60Hz electric current for charging batteries and cell phones, limited fresh water for washing equipment, large oxygen tank.
#34 of 62 Boat Tours & Water Sports in Puerto Ayora
TripAdvisor Traveler Rating
Based on 30 Reviews
Great dive centre with professional staff I wish I could give an excellent review. Everything went very well. The staff is what sold us on the dive. I have been to many dive centres and this place made us feel very comfortable. The equipment... Reviewed 7/12/2019

Read Full Review

Great experience We did 4 dives in 2 days incl. Gordon Rock. The organization for the transport is good as is the boat itself. The Crew was friendly and the dive equipment & instructor very professional. Highly... Reviewed 5/2/2019

Read Full Review

One of the best experiences in my life I am a scuba diving instructor, but when I came to Galapagos, I came as a guest. I walked into the diveshop in Santa Cruz to book in a group of sailors of the World ARC fleet. We discussed schedules... Reviewed 1/24/2019

Read Full Review
Read All Reviews
© TripAdvisor 2021 Traveler Reviews