Liveaboard Information
Cabins: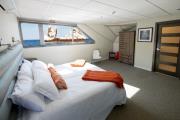 Premium Suites x 2 (0 sq feet)
Max occupancy: 2
Details
Beds: Qeen
In suite bathroom: Yes
AC: Central System
TV: Yes
Description:
Two spacious premium suites are available on the main deck. These rooms have ensuites with double sinks. Large windows, plenty of sunlight, large storage area and personal flat screen TV. Available in single or double occupancy.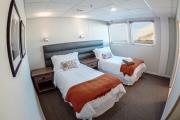 Superior Suites x 6 (0 sq feet)
Max occupancy: 2
Details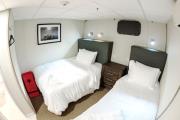 Staterooms x 8 (140 sq feet)
Max occupancy: 3
Details
Additional Notes
Luxurious, Stable and Safe Ship
When it comes to your safety and comfort, there is simply no comparison between our beautiful Belle Amie and older, narrow, unstabilized, noisy smaller dive boats. The Belle Amie is very wide in the beam (which is a good thing when it comes to boats!), stabilized with deep draft and a bulbous bow to give you the most comfortable ride possible. Our ships are heavily sound proofed to allow you to have a good nights sleep and equipped with over-size watermakers allowing you to shower as often and as often as you like. The full width superstructure on all 4 decks gives an outstanding amount of space - our over-sized superior and premium suites even have full-size king beds!!
Most important of all, our ships are unique in the dive boat fleet in being built to meet SOLAS safety standards. Our certified ISM Safety Management System is audited annually by BV Bureau Veritas and provides the ultimate in dive boat safety. These are the same standards used by the largest cruise ships in the world.
#14 of 65 things to do in Cabo San Lucas
TripAdvisor Traveler Rating
Based on 79 Reviews
Valentina Socorro dive trip We wanted a trip with lots of sharks and guaranteed Mantas. We chose to go with Equator diving based near Manchester on the live aboard Valentina. The journey there was long to say the least from... Reviewed 3/13/2020

Read Full Review

The ultimate undersea fantasy Socorro Island is a world away in the world. The Revillagigedo Archipelago is in the middle of the pacific ocean with the closest port 250 miles away. I experienced Southern Sport, a nice liveaboard... Reviewed 2/25/2020

Read Full Review

Phenomenal Bucket list dive destination and well worth its fame! I went on a 7 day liveaboard with a few friends onboard the Nautilus Belle Amie. In total we had 5 days of diving and had 18 dives total... Reviewed 3/16/2019

Read Full Review
Read All Reviews
© TripAdvisor 2021 Traveler Reviews