Liveaboard Information
Cabins: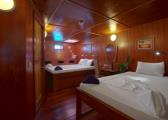 STANDARD CABIN x 12 (25 sq meters)
Max occupancy: 2
Details
Beds: King + Single
In suite bathroom: No
AC: Window Unit
TV: No
Description:
The cabin is spacious at 20-25 m². All 12 cabins have identical design and are equipped with a king size double bed and a king single bed. However, the cabins are booked only for double occupancy. Ten of the cabins are located below deck and two on the middle deck. All cabins have their own approximately 6 m² large bathroom with side window. Each bathroom has a large vanity with mirror, a luxurious shower and a flush toilet. A 2 towel per person is provided.
Transportation to & from the nearest Hotel or Port YES

Immediately after leaving the airport building you get into the covered arrival area, with check-in counters of tour operators and islands. Here awaits you already one of our dive guides, easily visible holding a sign which carries the name of the Nautilus Boat Liveaboards. Once all arrived guests have gathered it goes even further towards the water taxi jetty. Here is already waiting one of our Divingdhonis and parts of our boat crew which will help you with the luggage.

Dive Certifying Bodies we are affiliated or certified by

PADI , Dive Shops, Dive Resorts, Dive Boats and Recreational Facilities

Compressors Generators Cruising Speed

Accomodate Rebreathers NO
Additional Notes
About
With its length of 43 m, the Nautilus Two is an extremely spacious liveaboard. Made entirely of wood and in traditional Maldivian design, excellent workmanship, advanced equipment ensure that the Nautilus Two is not only looking great. In 12 spacious, luxurious guest cabins can accommodate up to 24 divers, kite surfers and holidaymakers during their dive travel in luxury rooms.
Power supply of 230V from European sockets are available around the clock, also two water treatment plants supply the ship with sufficient fresh water. In the 120 m² large parlor our bartender expected you after the dive with a cold beer on tap, cocktails, soft drinks or fresh fruit juices. An old fishing dhoni is the space division in this area.
It divides the restaurant area which is on the port side and the lounge area with rattan furniture and the Barco sub on the starboard side. Our chef will cook for you a varied menu using local and Asian specialties, as well as out of the European cuisine. Of course, your self-caught fish is cooked to your request accordingly.
The perfect wine to ensure you can find on our drinks menu. Fuel up sunshine on the huge sun deck, relaxe in the Jacuzzi or on a comfortable lounge chair in the shade while the Nautilus Two brings you to the next destination of your dive trip in the Maldives.
Certifications

PADI

Open Water Diver, or equal rating

PADI

Open Water Diver or equal rating

PADI

Adventure Diver, or equal rating