Liveaboard Information
Cabins: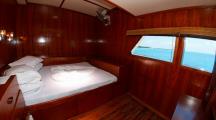 Double Cabins x 2 (17 sq meters)
Max occupancy: 2
Details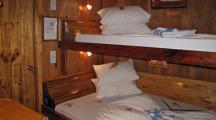 Standard Cabins x 5 (10 sq meters)
Max occupancy: 2
Details
Transportation to & from the nearest Hotel or Port NO

Compressors Generators Cruising Speed
Additional Notes
About Us
The tours start every Sunday leaving from Medhufushi. The routes usually go through the Meemu Atoll and sometimes even travel up to Felidhoo Atoll. In the Meemu Atoll we dive reefs and channels like the Manta spots Valley of the Ray oder Boahura Express, Mantas & More, Rayvilla Wreck, Kingdom of Fish, Western Highlight, Happy Corner and Lucky Reef. Further North, dive sites like Fotteyo and Golden Wall are on the agenda.
With a lot of luck we can see hammerhead sharks there. The Sheena is an authentic Maldivian diving safari vessel. Comfortably furnished, it fulfils every divers wish. Diving center managers on Medhufushi are responsible for the management of the vessel. They and their crew of experienced and highly motivated instructors will be happy to show you diving in the Maldives at its best.
This comfortable vessel under our management will be two times a year renovated and modernized. The Sheena has a spacious salon, as well as several decks offering either shade or exposure to the sun (in total there are 4 shaded decks: in front of the salon, behind the salon at the stern and behind the cabins on the upper deck, all of which are furnished with sun loungers and mats. In addition to the main sun deck, there is also a second sun deck located in front of the wheel house with a comfortable relaxation area.
The MY Sheena starts every Sunday from Medhufushi. The transfer from the international airport in Male is done through TMA (Trans Maldivian Airways) and takes about 40 minutes.