Liveaboard Information
Cabins: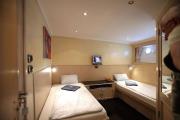 LOWER DECK CABIN x 8 (7 sq meters)
Max occupancy: 2
Details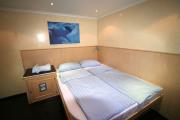 UPPER DECK HONEYMOON CABIN x 4 (8 sq meters)
Max occupancy: 2
Details
Additional Notes
About
With a length of 41 meters and a width of 8, 5 meters, the "M / Y Seven7Seas" is one of the most modern and largest Safaris. High demands on equipment and comfort make a holiday on the Seven7Seas a unique experience.
All decks are covered with noble teak. On the upper and sun deck you will find lounge chairs and tables in the covered area. In the bow area and aft as well as on the second upper deck there is plenty of space for sunbathing. The elegant ambiance continues in the 6 pleasantly spacious double cabins (single beds) and the 3 deluxe cabins (double bed) with individually controlled air conditioning. For diving boats very exceptional, not only has its own, but has a very spacious bathroom .
For the dive operation, aluminum and, on request, steel bottles (12 L / 15 L as well as double 10 L) are available. There is also a toilet and a shower, as well as ample space for boxes and equipment on the middle deck. The large dive platform is finally reached by two stairs and offers a large stainless steel sink with fresh water for flushing equipment as well as 2 hand showers.