Liveaboard Information
Cabins: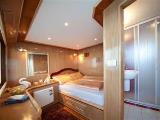 UPPER DECK SUITE x 3 (12 sq meters)
Max occupancy: 2
Details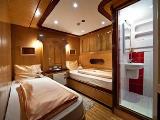 TWIN CABIN LOWER AND UPPER DECK x 9 (9 sq meters)
Max occupancy: 2
Details
Additional Notes
About
The MY Seawolf Dominator was just completely remodeled, now we can show you the new pictures.
You'll be surprised!
MY Seawolf-Dominator is a 36 m long and 8.5 m wide wooden boat and was built in 2007 specifically for diving safaris and completely modernized in March 2015th
The boat has 9 double rooms and 3 suites with private bathrooms, minibars, sound system, individually adjustable air conditioning and can accommodate 24 divers.
The air-conditioned saloon, air-conditioned dining room and sun deck, equipped with chairs provide ample space for relaxation and entertainment with DVD and music.
MY Seawolf Dominator is equipped with two 750 horsepower engines Daewoo.
Three compressors of Bauer fill the tanks.
The 2 power generator with 80 KW producing 220 and 12 V and supply current to charge batteries for lights or underwater cameras. Adapters are not required.
For divers with appropriate training nitrox diving 32 is free.