Liveaboard Information
Cabins: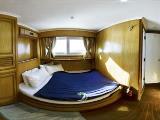 Double Cabins x 3 (0 sq meters)
Max occupancy: 2
Details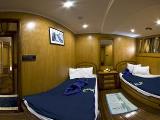 Twin Cabins x 8 (0 sq meters)
Max occupancy: 2
Details
Transportation to & from the nearest Hotel or Port NO

Compressors Generators Cruising Speed
Additional Notes
About
Built in Alexandria's best shipyard, MY Excellence is a new class of 5-star Luxury wooden boats designed for optimal speed and stability.
This majestic looking vessel has 22 berths in 11 spacious cabins, all equipped with air condition and En-Suite facilities. The oak and mahogany interior design gives the cabins a distinctive elegance.
The Salon is extremely spacious and is equipped with the latest in multimedia entertainment.
MY Excellence's half shaded deck is the perfect spot for socializing between and after dives, while the top deck is ideal for both tanning and star gazing.
All decks are made of the finest teak wood to give this boat the finish its name deserves.
Especially designed for divers, MY Excellence is no compromise between luxury and efficiency.
All routes are possible. Special itinerary on request.